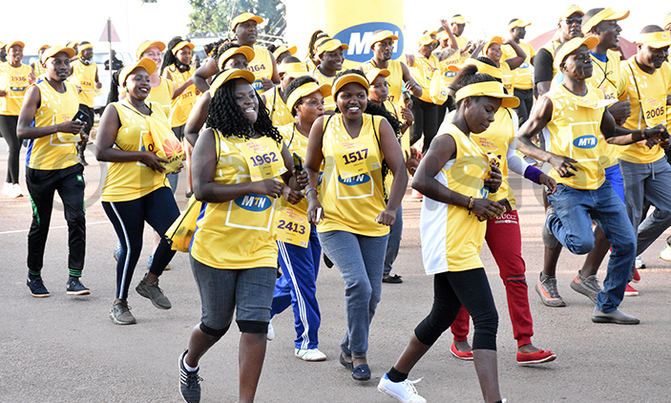 All proceeds from this year's marathon go towards maternal health care
MTN Masaka Marathon
Men
1. Salim Kwemboi
2. Titus Kibet
3. Nelson Wokand
4. David Salimo
5. Vicent Chemutai
Women
1. Doreen Chemutai
2. Emmy Chebet
3. Annette Chelangat
4. Sharon Chepkwemboi
5. Vanis Chemutai
The winners of the 10km run of the MTN Marathon in Masaka have set their sights on winning the main marathon in Kampala next Sunday.
Doreen Chemutai and Salim Kwemboi disclosed this after winning the 10km run that took place in Masaka on Sunday.
Chemutai who also won the Soroti run said she is looking forward to winning the main race on Sunday.
"The weather here was good, though the route was challenging because of the several hills we had to climb, but it is good that it prepared me for the main event which I want to win," Chemutai said.
She posted a time of 34:90 while Kwemboi ran a total time of 29.45 in the 10 km.
Chemutai from Prisons beat stiff opposition from Emmy Chebet of UPDF and Annette Chelangat of Arua Club who finished second and third respectively.
Kwemboi, 20, of Uganda Wildlife Authority who finished sixth in the Soroti leg commended the organisers for designing a challenging route.
The Masaka district resident district commissioner, Herman Ssentongo, flagged off participants and urged corporate companies and the general public to support this noble cause.
"We are existing because our mothers had access to better maternal health care and it that reason that we should support MTN in this noble cause," Ssentongo said before flagging of the participants who were in the hundreds.
All proceeds from this year's marathon go towards maternal health care. Vision Group, Stanbic Bank, Huawei and Rwenzori Water are some of the major partners of this year's marathon.