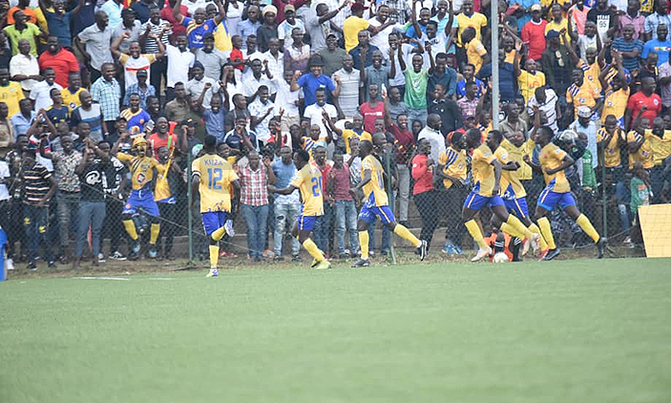 KCCA had the lion's share of the ball in the first half and could have scored at least three goals
StarTimes Uganda Premier League
KCCA 1 Vipers 0
BUL 0 Proline 0
Maroons 2 Wakiso Giants 2
Tooro United 1 Express 2
After all the anticipation and excitement ahead of the highly billed faceoff between KCCA FC and Vipers SC, it was the former who emerged unscathed after 90 minutes on Saturday at Lugogo thanks to Muzamiru Mutyaba's 32nd minute strike.
Muzamiru Mutyaba scored a well-crafted goal following excellent build-up play between Erias Ssekisambu and Mustafa Kizza that saw Vipers 13 game unbeaten run put to an end.
KCCA had the lion's share of the ball in the first half and could have scored at least three goals but Kizza, Ssekisambu, Jackson Nunda and Keziron Kizito conspired to miss gilt-edged chances coupled with the brilliance of Vipers goalie Fabien Mutombola.
Former Vipers forward Ssekisambu was one of KCCA's best players on the day and a constant threat to Vipers' defence especially in the first half where left-back Aziz Kayondo struggled to keep up with his pace.
In the second half, fans witnessed a complete change of approach to the game from both sides as Vipers stepped up and took the game to the home team.
KCCA goalie Jamil Malyamungu was forced into a number of saves in on several occasions as Vipers tried to find the equaliser in the earlier moments of the half.
Best moment of the game for the visitors came in the 79th minute after substitute Allan Kayiwa had a powerful shot parried away by Malyamungu for a corner kick.
Defenders Samuel Kato and John Revita were all put to test by Vipers forwards who launched several attacks in the final 10 minutes of the game.
KCCA head coach Mike Mutebi in his post-match press conference appreciated the performance of the players and further brushed away those with a view that the absence of his three key players Allan Okello, Charles Lukwago and Nicholas Kasozi would affect his side's performance.
"They played with determination, especially those in defence. You have seen Samuel Kato in the second half, very well composed. Everyone has put up an excellent performance in today's game," Mutebi said.
"I will repeat it, I have two very gifted players in each position, therefore, this business of Lukwago and Okello are away and KCCA will underperform, that's a weak thought. Today, for example, we played without them, didn't we win?" he added.
One of Mutebi's assistants, Badru Kaddu, was sent off by centre referee Brian Nsubuga.
Despite the loss, Vipers maintained top spot on the league table though the 14 points gap from defending champions KCCA has now been cut to 11 points. KCCA who have four games in hand remained fifth on the table with 22 points.
After the match, Vipers tactician Edward Golola sent a warning message to the rest of the league that despite the defeat but they are not going to back down on their title hunt.
"It is disappointing that our unbeaten run has come to an end and our possible title challengers have reduced the points gap. But that does not mean we are going to back down on our title challenge," Golola vowed.
"In the first half, we looked poor, KCCA dominated us a lot. However we improved our game in the second half and we were only unlucky not to score," he explained.
Vipers were also without their lead striker Fahad Bayo and captain Halid Lwaliwa who are on national team duty while midfielders Bobosi Byaruhanga and Abdul Karim Watambala are sitting UACE exams.