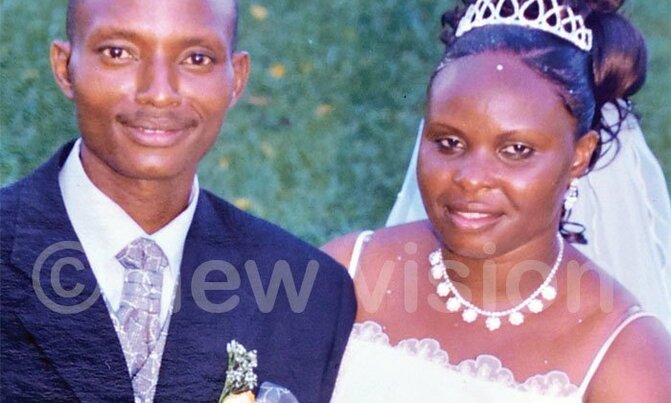 We take a trip down the memory lane of celebrity marriages, some of which excited the public only to fail in the face of the same shortly after.
LIFESTYLE MARRIAGE DIVORCE

KAMPALA - As fans still express their opinions on the glamourous introduction ceremony of local artiste Rema Namakula and Hamza Sebunya that took place last week, we take a trip down the memory lane of celebrity marriages, some of which excited the public only to fail in the face of the same shortly after.

Joel Isabirye and Rebecca Jingo

The fairytale wedding of Joel Isabirye, a programmes director and Rebecca Jjingo, a radio presenter that took place on December 5, 2013, was no more by November the following year

The love war between radio personalities Rebecca Jingo and Joel Isabirye fast spiraled to a point of no return, that is, with Jingo saying it is over!

Following a number of fights at their home in Najjera with conflict versions of what transpired as Jingo's friends and Isabirye's account of things conflicted, their marriage ended in 2014.

Judith Babirye and MP Musoke Sebulime
Just as the queen of gospel music in Uganda, as Judith Babirye was preparing her gomesi for that great moment with Paul Musoke Sebulime, on 28 July 2018, self-proclaimed marriage analysts had already predicted that the marriage was not going to last.

Indeed, their prediction came to pass. The fun lasted barely a year as the lovebirds were not able to celebrate their first anniversary.


Babirye and Sebulime

Pastors Aloysius and Teddy Bugingo
Early this year the nation woke up to shocking news that Pastor Aloysius Bugingo of the House of Prayer Ministries in the city suburb of Bwaise had left his wife Teddy Naluswa Bugingo after 29 years in marriage and moved in with a one Susan Nantaba Namakula a.k.a Makula way back in 2016.
Pastors Aloysius and Teddy Bugingo on their wedding day 29 years ago

Pastor Bugingo has since continued to make news through his disgracing comments about his wife Teddy and their children.

Stecia Mayanja

She has made a name for herself not only on the music scene but marriage as well.
In less than 10 years, she has so far introduced four men to her parents. These include; Charles Sekyewa, Fred Kitaka, Meddie Bwete and Abbas Mubiru.

She went ahead to marry Abbas Mubiru, however, the marriage ended abruptly and it's alleged that she is now dating a one Shabban, a musician too.


Stecia Mayanja dancing with Abbas Mubiru during their wedding ceremony

Silver Kyagulanyi and Jalia Namazzi

They also made headlines when their marriage hit the rock. Jalia Namazzi accused artiste Silver Kyagulanyi of infidelity. Namazzi lives in the UK while Kyagulanyi in Uganda.
Kyagulanyi and Namazzi on their wedding day

Julie Mutesasira

Gospel Artiste Julie Nalugya aka Julie Mutesasira and her Pastor husband Steven Mutesasira of Redeemed of the Lord Evangelistic church separated after 13 years of marriage. Julie relocated to Canada.
Julie Mutesasira

Nobert Mao and Naomi Achieng Odongo

The Family Court recently dissolved a 16-year-old marriage between Democratic Party (DP) president Nobert Mao and Naomi Achieng Odongo.

In his judgment delivered on May 27, 2019, judge Godfrey Namundi granted the duo custody of Nathan Hale Rwotbar, with Mao having primary custody and Achieng visitation rights upon sufficient notice to Mao.

Jackie Senyonjo

Gospel artiste Jackie Senyonjo divorced her husband Pastor Geoffrey Senyonjo of Kasanga Miracle center.

It is alleged Pastor Senyonjo married another woman and Jackie moved to Canada.



Princess of Toro, Ruth Nsemere Komuntale

Princess Ruth Komuntale tied the knot on November 17, 2012, with her African-American beau Christopher Thomas during a colourful ceremony at St. John's Cathedral in Fort Portal witnessed by hundreds of notables both local and international.

Unfortunately, after the media were awash with rumours of their separation for several weeks, the Kingdom issued a statement confirming the rumours.


Prof. Gilbert and Dr. Margarate Bukenya

Former Vice President Gilbert Bukenya and Dr. Margaret Bukenya wedded on September 21, 1974, at St. Augustine Chapel at Makerere University. They both worked at Mulago hospital as physicians.
Dr. Margarate and Prof. Gilbert Bukenya

Margaret recently filed for divorce on different grounds mostly infidelity. She said she could no longer put up with her husband's adultery adding that he even went ahead to abandon their family home in Ntinda, Kampala and went to Garuga in Wakiso district.

Haji Moses Kigongo and Olive Kigongo

The NRM National Vice Chairman, Haji Moses Kigongo separated with his wife Olive Zaitun Kigongo the president and chief executive officer of the Uganda National Chamber of Commerce and Industry. He had a whirlwind romance with TV news anchor, Faridah Nakazibwe who abandoned him shortly after for a youthful medical doctor to whom she got engaged.


Katongole Omutongole and Tendo Tabel a.k.a. Titi

The two radio personalities divorced after Katongole was entangled in a number of infidelity scandals including defilement.
Katongole Omutongole and Tendo Tabel a.k.a. Titi

Iryn Namubiru

Ugandan songstress and celebrity Iryn Namubiru's marriage technically ended after she separated with French hubby Franck Morel.

It is alleged that Morel had on several occasions fought Iryn whose fame and lifestyle as an artiste put them on a collision course.
Namubiru and Morel

Rumours made rounds that on September 25 Morel threw Namubiru out of their marital home, hurling her handbag at her. She has since been staying in her own apartment.