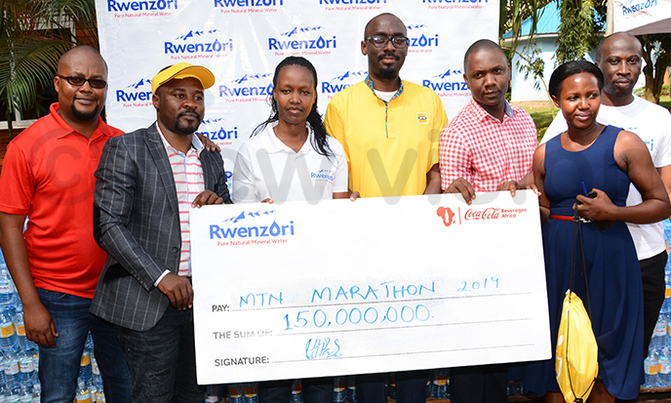 The sponsorship package includes sh75m cash and 4000 cartons of water
The public has been urged to avoid last-minute registration for this year's MTN Kampala Marathon in order to avoid regret and inconveniences.
The MTN senior manager brand and communications, Martin Ssebuliba, made the call after he received a sh150m cheque from Coca-Cola Beverages through its brand, Rwenzori Pure Natural Mineral Water at Namanve on Saturday.
Coca-Cola Beverages Africa (CCBA) Uganda Director Business Development and Commercialization Director, Flavia Nabaasa, in the company of other staff; Lee Newton Ogong, Moses Luyima, Joshua Muwanguzi, Sufi Ssempa and Annette Nabirye, presented the cheque to Ssebuliba.
Nabaasa said the company was committed to improving Uganda through its regular business operations and partnering with causes like running for improving maternal health services across the Country.
"It is a pleasure to once again handover our sponsorship package to the MTN Marathon. This is mainly because of the value that we attach to this marathon and to the thousands of Ugandans who have benefitted from the different causes over the years," said Nabaasa.
"Rwenzori Pure Natural Mineral Water is an appropriate flagship brand for the MTN Marathon because of its hydrating, refreshing qualities, and its acceptance across the country regardless of faith or culture.
"Our heritage in Uganda is not just pegged to being a symbol of refreshing hydration; it also includes decades of humanitarian causes either initiated or sponsored by us. It is therefore natural for Rwenzori Pure Natural Mineral Water to be part of the MTN Marathon - which brings together people from different nationalities, with different beliefs and speaking different languages, all for one common goal - to give back and improve the lives of those in less privileged communities."
Rwenzori's sponsorship package includes sh75m cash and 4000 cartons of water.
Flavia advised runners to ensure that during and after the MTN Marathon, they discard the plastic bottles carefully to enable recycling at the Plastic Recycling Industries, another subsidiary of the Coca Cola Beverages Africa Group.
"The PRI is one way we give back to the Community by removing used plastics from the environment, therefore limiting environmental hazards; but on top of that we recycle these plastics and export plastic flakes, thus bringing in foreign exchange through exports, and also provide a raw material for increased local manufacturing - which creates employment."
CCBA Uganda will deploy plastic collection points along the MTN Marathon route in order to limit the wrongful disposal of used plastic water bottles by the thousands of people who will be participating.
"If all Ugandans join hands in limiting environmental damage by collecting plastics for recycling, then we will have an even bigger positive impact in Uganda. The MTN Marathon is giving us another opportunity to demonstrate this, even as we run together for other causes," she added.
Ssebuliba said the collaboration with Rwenzori is strengthened by running for a good cause.
"Our partnership with Rwenzori for the MTN Kampala Marathon stretches many years' back and we're proud that together with this reputable brand, we're growing this event to rival the world's best.
"Unlike previous years we have seen a lot of response and on Wednesday alone we got over 1000 people, so those interested in running are encouraged to do it fast because we don't know how much stock will be left by next week," Ssebuliba noted.