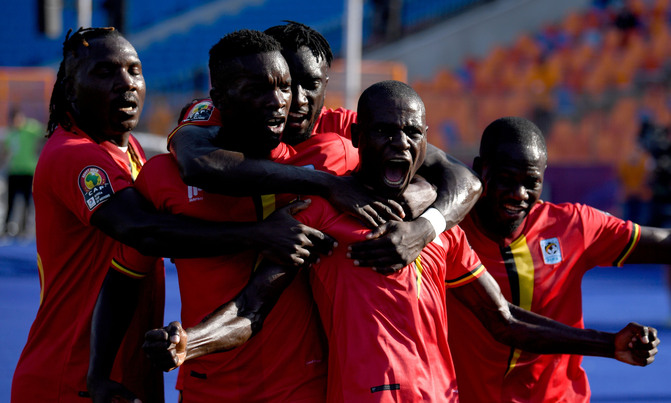 Uganda hopes to qualify for the Africa Nations Cup finals for the third consecutive time.
UGANDA CRANES

Uganda hopes to qualify for the Africa Nations Cup finals for the third consecutive time. All that Johnathan McKinstry and his charges need to do is win all the home games -starting with the fixture against Malawi at Namboole Stadium on Sunday.

Cranes played out to a goalless draw in their first 2021 Nations Cup qualifier against Burkina Faso in Ouagadougou and a win against the Flames will take them top of Group B.

New Vision Sports takes you through Uganda's past Nations Cup appearances.

Uganda past AFCON appearances

1962 in Ethiopia- This was Uganda's first appearance at this level. Her past international encounters had been largely East African.

Coached by Samson Yiga, the Cranes qualified after beating neighbours Kenya in a three-match duel.

Uganda beat Kenya in the first leg in Nairobi courtesy of an Odong Kongo goal. Harambee Stars hit back with also an away win in Kampala in the return leg with a Munialo Opicho goal. Uganda qualified after winning the resultant play-off 2-0 with Jimmy Sewava and Hassan Fauza's goals.

The Africa Cup of Nations tournament drew four countries of which Egypt and Ethiopia automatically qualified as defending champion and host respectively.

Uganda was drawn against Egypt in the first semi-final and lost 2-1. Ntare School student John Bunyenyezi had got Uganda's consolation.

In the third-place match, Tunisia overwhelmed Uganda 3-0. In the final Ethiopia beat Egypt 4-2 after extra time.

1968 in Ethiopia- This was Uganda's second appearance at Africa's football showpiece. To qualify the Cranes first beat Kenya 5-4 on aggregate then drew Egypt in what unexpectedly turned out as a lucky shot for the Cranes.

The final qualifier ended in a 1-0 home loss for the Cranes. Then everything turned in Uganda's favour as The Pharaohs couldn't host the return leg due to Egypt's six-day war with Israel. Uganda thus advanced on a walk-over.

In the final tournament, Uganda started off with a 2-1 loss to Ethiopia whose goals came from Girma Asmeron and Luciano Vassalo. Polly Ouma pulled one back for the Cranes.

Algeria thereafter demolished Uganda 4-0 with Ahcene Lalmas getting a hat trick and Mokhtar Khalem the fourth.

Ivory Coast then beat Uganda 2-1 after Laurent Pokou and Eustache Mange's goals as Dennis Obua pulled one back for the Cranes.
Final group standing
| | | | | | | | |
| --- | --- | --- | --- | --- | --- | --- | --- |
| COUNTRY | P | W | D | L | F | A | Pts |
| Ethiopia | 3 | 3 | 0 | 0 | 6 | 2 | 6 |
| Algeria | 3 | 1 | 0 | 2 | 5 | 6 | 2 |
| Ivory Coast | 3 | 2 | 0 | 1 | 5 | 2 | 4 |
| Uganda | 3 | 0 | 0 | 3 | 2 | 8 | 0 |

DR. Congo (then Zaire) beat Ghana 1-0 in the final to emerge champions.

1974 in Egypt- The qualifiers saw Uganda beat Somalia 5-2 in the preliminary round. Next was a win over Kenya before the Cranes revenging their previous edition loss to Algeria with a 3-2 aggregate win and qualify for Egypt.

Placed in Group A, Uganda started off the final tournament with a 2-1 loss to hosts Egypt. Ali Abugreisha and Ali Khalil were Egypt's scorers while Stanley Mubiru "Tank" got one for Uganda.

The Cranes then drew 2-2 with Ivory Coast. Kobinan Kouman had a brace for the West Africans just like Uganda's tournament hero Mubiru.

Uganda then wound up with a 1-0 loss to Zambia courtesy of an Obby Kapita goal. There was however some relief for the Cranes as they progressed by place from the group bottom finish in the previous tournament.
Final group standing
| | | | | | | | |
| --- | --- | --- | --- | --- | --- | --- | --- |
| COUNTRIES | P | W | D | L | F | A | Pts |
| Egypt | 3 | 3 | 0 | 0 | 7 | 2 | 6 |
| Zambia | 3 | 2 | 0 | 1 | 3 | 3 | 4 |
| Uganda | 3 | 0 | 1 | 2 | 3 | 5 | 1 |
| Ivory coast | 3 | 0 | 1 | 2 | 2 | 5 | 1 |

Congo beat Zambia 2-0 in a final replay to emerge champions. The two teams had drawn 2-2 in the first match.

1976 in Ethiopia- The qualifiers had Uganda thrashing Mauritius 4-0 in the first round. The Cranes then paid back their 1974 beating by Zambia by edging the KK Boys to a slot to the final tournament.

In the tournament proper in Ethiopia Uganda again lacked spark losing it's opening Group A match to Ethiopia 2-0. Next was a 2-1 loss to Egypt whose goals came from Abdou and Taha Basri after Dennis Obua giving the Cranes a temporary lead.

Uganda wound up its group matches with a 2-1 loss to Guinea. N 'Jo Lea and B. Sylla found the back of Uganda's net before Jimmy Muguwa got the Cranes a consolation. With no point, Uganda finished bottom of its group.
Final group standing
| | | | | | | | |
| --- | --- | --- | --- | --- | --- | --- | --- |
| COUNTRIES | P | W | D | L | F | A | Pts |
| Guinea | 3 | 2 | 1 | 0 | 5 | 3 | 5 |
| Egypt | 3 | 1 | 1 | 1 | 4 | 3 | 4 |
| Ethiopia | 3 | 1 | 1 | 1 | 4 | 3 | 3 |
| Uganda | 3 | 0 | 0 | 3 | 2 | 6 | 0 |

Morocco beat Guinea in the final to lift their fir first Nations Cup.

1978 in Ghana- The eleventh edition of the tournament stands out as Uganda's most successful football outing ever. The Cranes upstaged the heavyweights to narrowly miss out on the title.

Equally dramatic was Uganda's qualification for the final tournament in Ghana. In the preliminary round, Uganda walked over neighbors Tanzania.

So what is it that could stop Julius Nyerere's boys from making a trip to Kampala when teams had previously travelled to Uganda from as far away as Algeria.

Tanzania didn't make the trip because of the tension between the two nations that eventually went to war in 1978.

Uganda got a walkover. In the second round, the Cranes drew with Ethiopia in Addis Ababa's dreaded high altitude. Then the Cranes won 2-1 at Nakivubo in a match best remembered for Jimmy Kirunda's dying minutes winning header.

Based in the inland city of Kumasi, Uganda started its Africa Cup of Nations run in Ghana as underdogs, but that didn't stop them from overrunning Congo 3-1 courtesy of Phillip Omondi, Edward Ssemwanga and Godfrey Kisitu goals.

Uganda then slipped against Tunisia 1-3 before outwitting tournament heavyweights Morocco 3-0 to top Group B. Kisitu, Moses Nsereko and Omondi were the day's stars with a goal each.

It was the first time Uganda was getting out of the group. A semi-final date with Nigeria followed. Many predicted that Uganda's luck had finally run out. But they were mistaken. With talents like Omondi, Nsereko, Jimmy Kirunda, and Paul Ssali, coach Peter Okee had a solid unit.

Okee was again in charge as the Cranes beat the Green Eagles 2-1 thanks to Abbey Nasur and Omondi's goal. It was wonder boy Omondi again in the spotlight as he tore the opponents' backline to shreds. Okee had led Uganda to a historic final.

The final against hosts Ghana, however, turned out to be another story. Not even Okee could inspire the Cranes against the Black Stars.

Strange stories are told of the Ugandans spending a sleepless night after being booked in a hotel whose ground floor was a discotheque.

Then come match time and Uganda's dressing room had some peculiarly smelling stuff that further disoriented the visitors. In the final proper Opkoku Afriyie hit a brace to give Ghana the title before 40,000 fans in Accra's Sports Stadium.

Uganda had lost the final but Okee had still helped it write history as the first East African country to not only get out of the group but also reach the final of Africa's biggest football competition.

2017 in Gabon- After a 39-year absence, Uganda finally returned to the Africa Cup of Nations final tournament.

The Cranes whose bad away record had always resulted in qualification heartbreaks, finally, put their act together with a near-perfect home record and wins in Comoros and Gaborone to grab a ticket to Gabon.

Burkina Faso topped the group and Uganda and Togo advanced as the two best second-placed teams.

Based on the coastal town of Port Gentil in Group D, the Cranes were after the long absence at this level understandably in dizzy heights.

Serbian tactician Milutin Sredojevic was not about to take any chances. Rather than be remembered for a high digit punching bag he opted to pack the bus and the approach paid off with close defeats.

They lost their group games to Ghana and Egypt before drawing with Mali to finish with only a point and a goal at the bottom of their pool. Farouk Miya scored Uganda's only goal in 270 minutes.

2019 in Egypt- Uganda is one of those places where bad things happen and they are quickly forgotten.

At times it is just days before we forget some of those horrible things and simply move on.

A classic case is our just concluded Nations Cup outing that was undermined by a pay scandal.

True, we had an otherwise impressive outing highlighted by our eventual round qualification where we eventually lost to heavyweights Senegal.

But the pay scandal that had the Cranes players in a sit-down strike and coach Sebastien Desabre eventually also quitting will always serve as a sore point to our tournament.

Players were up in arms over what they described as unpaid qualification bonuses amounting to as much as $10,000 per player.

There were, even more, cries over FUFA's failure to fulfill even other financial obligations.
Final group standing
| | | | | | | | |
| --- | --- | --- | --- | --- | --- | --- | --- |
| COUNTRIES | P | W | D | L | F | A | Pts |
| Egypt | 3 | 3 | 0 | 0 | 5 | 0 | 9 |
| Uganda | 3 | 1 | 1 | 1 | 3 | 3 | 4 |
| DR Congo | 3 | 1 | 0 | 2 | 4 | 4 | 3 |
| Zimbabwe | 3 | 0 | 1 | 2 | 1 | 6 | 1 |