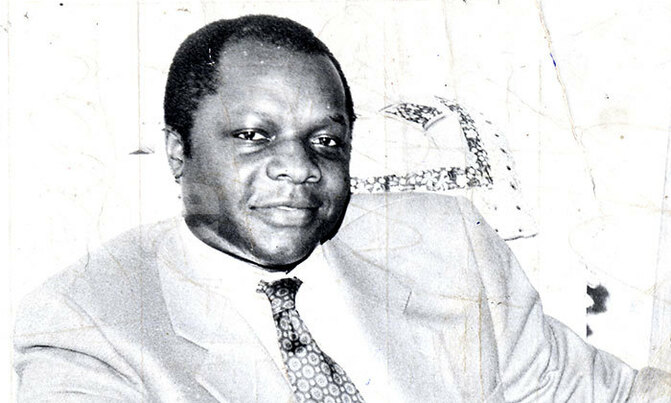 Baganda notables, chiefly Hon. Joyce Mpanga, got to know that a security report had awakened Amin to that reality, they advised those close to Mutebi to advise him to keep away
The ugly event of May 24, 1966 in which Col. Idi Amin attacked Mengo palace on the orders of Prime Minister Milton Obote occurred when the then 11-year-old prince Ronald Mutebi and his sisters; Princess Dorothy Nassolo and Sarah Kagere were in England for studies.
At the time, Prince Mutebi, was at King's Mead School, Sussex, which he joined in 1963. Indeed, when his father, Kabaka Sir Edward Mutesa, arrived in London after surviving the Mengo attack; he visited prince Mutebi and the two were photographed standing together. In that photo, prince Mutebi, who was dressed in a fitting T-shirt and a pair of shorts, is seen holding a book, while Kabaka Mutesa, who was dressed in a dark double-breasted suit, had his eyes keen on prince Mutebi.
In fact, when that historic photo was published by newspapers, it pleased Baganda that Kabaka Mutesa had arrived in London amidst the difficulties he faced as he fled into exile. Additionally, that photo augmented Baganda's hostility to Obote's plot in which he hoped to convince the then 47-year-old Prince George William Mawanda to accept succeeding Kabaka Mutesa as the 36th Kabaka of Buganda.
Obote had confided in his cousin, Akena Adoko, the head of general service unit, that by installing Kabaka Mutesa's elder brother, Mawanda as the new Kabaka, he (Obote) would psychologically impress Baganda that he was not against Kabakaship as an institution, but Mutesa as an individual. Mawanda, was five years older than Kabaka Mutesa and also 15 years older than Kabaka Mutesa's younger brother, Prince Alexander David Ssimbwa, who at the time was in detention at Luzira on Obote's orders.
When Taifa Empya newspaper published an article revealing Obote's intentions, Mawanda dismissed the reports, but one irritated Muganda sent a threatening letter to him stating, "Munnaffe Omulangira Mawanda, nekamala kakutanda n'okiriza okutuula ku Namulondo. Tujja kugwako kiyiifuyiffu omugole kyagwa ku nkyakya za bba, tukukube tukwogoloze" Meaning, "Our brother Prince Mawanda, we shall mercilessly beat you in case you are coronated Buganda King".
Generally, Baganda were optimistic that one day Kabaka Mutesa would return and regain his kingdom. In regard to that optimism, the 1966 song titled 'Amazima Lona' by Frida Sonko and Moses Katazza regained fame as several Baganda hopeful of Kabaka Mutesa's probable return often chorused "guma, guma ddaali wange, ndi mu kkubo nange nzija; nzija, nzija guma omwoyo; nange gyendi sikyebaka.'Literally meaning 'my beloved, take heart. I am on my way to you.' Obote was riled when briefed by a Muganda doctor that many Baganda were often reciting the above song in anticipation of Kabaka Mutesa's return.
MUTEBI BECOMES HEIR
In the same year (1969) in which prince Mutebi joined Bradfield College, his father also regrettably died after spending three years and six months in exile. Kabaka Mutesa died on November 21, 1969 at 28 Orchard House, Rotherhithe, Bermondsey in London.
(Note: A departed king in Buganda is called Ssekabaka). At the time of his death, Ssekabaka Mutesa was 45 years old, weighing 63kgs and his height at five feet and 'six' inches.
His attorney, Fred Mpanga, hurriedly telephoned the then Katikkiro of Buganda, Mayanja Nkangi, about the demise. Nkangi was also in exile in England, lecturing at Lancaster University. Nkangi's presence was important for prince Mutebi to perform a cultural ritual of covering a piece of barkcloth (akabugo) on the body (enjole) of his late father, thus qualifying him as his heir. In his will, Ssekabaka Mutesa chose prince Mutebi as his preferred heir. The witnesses to his will were; I.T.M Sewanyana, Musa K. Parma Ntanda and Robert H. Ntambi Mukasa. Aware that prince Mutebi was the rightful heir, Ssekabaka Mutesa's then 53-year-old sister, Princess Drusilla Nga'nda Ndagire hastily gave Jolly Joe Kiwanuka a piece of barkcloth to travel with to London to enable prince Mutebi perform that cultural ritual. James Lutaaya Kaganda (father of Brig (rtd) Andrew Lutaaya), a longtime friend of Ssekabaka Mutesa also travelled to London with a piece of bark cloth for that purpose.
Eventually, prince Mutebi performed that ritual after a requiem service at Wellington barracks chapel which was jointly led by Bishop C.E Stuart, John Taylor and the Rev. S.J Davies. It was attended by; Ben Kiwanuka, Bishop Adrian Ddungu (Masaka Diocese), Capt. Ronnie Owen, Kasozi Luganda, Fred Mpanga, Nkangi and Msgr. Anatoli Kamya, among others. Then on December 4, 1969, the body was interred at Kensall Green cemetery, London.
After prince Mutebi performed the aforesaid ritual, he gained the title of Ssabataka (head of all clan heads in Buganda).
SSABATAKA MUTEBI RETURNS
On February 2, 1971 after Idi Amin overthrew Obote on January 25, 1971; he freed from Luzira prison the relatives of Ssabataka Mutebi that included Prince Ssimbwa and Prince Badru Kakungulu.
Subsequently, Ssabataka Mutebi returned and temporarily lived with his mother, Kabejja Sarah Nalule Kisosonkole, at Nakasero in a house which Amin offered to them. At Nakasero, Ssabataka Mutebi was visited by Tim Lwanga (ex MP for Kyamuswa) among others. As part of spending their leisure time, Lwanga would drive Ssabataka Mutebi in a stylish Austin (Mini Moke) car around Nakasero. Actually, one day, Lwanga's father was concerned with the security of Ssabataka Mutebi and thus advised them not to drive beyond Nakasero.
After Ssabataka Mutebi returned from exile during Amin's reign; his late father's long-time friend, the exiled Rwandan King (Mwami) Kigeli V Ndahindurwa, also relocated to Uganda from Kenya. Amin thus provided Kigeli with a house at Buganda Road neighbouring Central Police Station (CPS).
On February 22, 1971, Amin appointed Abu Kakyama Mayanja (education minister) to head the ministerial committee that organized the return of Ssekabaka Mutesa's remains. Other committee members were; Lt. Col. Obitre Gama (internal affairs minister), Eng. James Zikusooka (works minister), Dr. J.H Gesa, (health minister), Wanume Kibedi (foreign affairs minister) and Charles Oboth Ofumbi (defence minister).
Amin's government then chartered a Caledonian Airways plane, owned by London businessman Adam Thomson, onto which Ssekabaka Mutesa's remains were loaded at Gatwick London Airport on March 30, 1971. On their way to Uganda, the remains were accompanied by foreign minister Wanume Kibedi, Prince Henry Kimera, Prince John Barigye, Paulo Muwanga (head of protocol-ministry of foreign affairs) and Maj. Lukakamwa (Uganda's High Commissioner to London), among others. The remains were received by Amin at Entebbe airport on March 31 in the presence of Ssabataka Mutebi and his mother.
After the reburial on April 3, 1971 at Kasubi Royal Tombs; Amin met a delegation of Baganda at International Conference Centre in Kampala. They requested him to allow the coronation of then 16-year -old-Ssabataka Mutebi as the 36th Kabaka of Buganda. However, Amin angrily replied that "Some of you lobbying for his coronation were the same people that requested Obote to abolish Kabakaship. Let him (Ssabataka Mutebi), who is still a teenager, concentrate on his studies."
Amin pledged to meet his education requirements. Thereafter, Amin invited only Buganda royals for an interaction at State House, Entebbe during which they feasted and also danced with gusto to Bakisimba and Muwogola drum rhythms.
Later, Ssabataka Mutebi returned to London to continue with his studies under the guardianship of his late father's friends; Capt. Ronnie Owen and Richard Carr-Gomm. In London, he fraternised with Jimmy Bemba, whose late father; Stanley Bemba, was DP treasurer in the 1960s. Ssabataka Mutebi also went on well with David Yorston, who is now a celebrated ophthalmologist, currently working as the programme director at Gartnavel General Hospital, Glasgow (Scotland).
Later, when the British government terminated its links with Uganda under Amin; Uganda's envoy to Paris, Ambassador Emmanuel Sendaula, relentlessly pleaded to his bosses in Kampala to channel Ssabataka Mutebi's welfare package through Paris. Ssabataka Mutebi used to go to Paris to meet his friends like Fulgencio Musoke, the son of Ben Kiwanuka.
HIS MOTHER'S DEMISE
On August 16, 1974, when Ssabataka Mutebi and his brother, Prince Richard Walugembe, were in London, their mother, Kabejja Sarah, died of cancer at St. Theresa Hospital in London at 11:30pm.
Her body was returned on August 21, 1974. Ssabataka Mutebi came along with it on the same plane. After arrival, it was taken to Banda at the residence of Kabejja's father, Seperiano Kisosonkole. On August 22, Amin met Ssabataka Mutebi at parliamentary building. He requested him to keep returning to Uganda for holidays even in the absence of his mother. After the burial, Amin twice met Ssabataka Mutebi and other royals at Nakasero State lodge and also at Ssabataka Mutebi's residence at Nakasero.
BACK TO EXILE
After Ssabataka Mutebi joined Magdalene College of Cambridge University, he was expected to return to Uganda during holidays and also one time to attend the wedding of his sister, Princes Kagere, to Bbale Mugera.
However, along the way, Ssabataka Mutebi stopped coming after security operatives authored a sensitive report to Amin. The six-page security brief highlighted to Amin that Baganda were already treating Ssabataka Mutebi as Kabaka. It cited events of August 23, 1974, when Ssabataka Mutebi did not attend the burial of his mother at Kyaliwajja, but instead branched off at Yard, along Jinja Road, to his Nakasero residence after attending the requiem service at Namirembe Cathedral.
Obviously, Ssabataka Mutebi's action was justified because Buganda tradition dictates that a Kabaka is not supposed to attend burial of any person, be it his close relative. Besides semantics, prince Mutebi had become the Kabaka of Buganda the moment he covered the body of his late father with a piece of barkcloth in 1969.
After reading that security report, Amin recollected the events of April 3, 1971 at the burial of Ssekabaka Mutesa when Nkangi and Mildred Lwanga convinced him, through a soldier called Abbas, to let Ssabataka Mutebi cover the remains of his father with a piece of backcloth for a second time.
That ritual amplified the fact that Ssabataka Mutebi was the new Kabaka, waiting for only coronation ceremonies since Ssekabaka Mutesa had stated plainly in his will that "My said heir (Prince Mutebi) should be considered first of all for succession to the Kabakaship." Generally, when Baganda notables, chiefly Hon. Joyce Mpanga, got to know that a security report had awakened Amin to that reality, they advised those close to Ssabataka Mutebi in London to advise him to keep away from returning to Uganda, aware that on August 22, 1971, Amin told Ssabataka Mutebi to forget about his kingdom restoration since Uganda was then a republic.
Because of the report, Ssabataka Mutebi kept away from Uganda when Amin was still president. Interestingly, although Amin had issues with prince Mutebi being treated as Kabaka, some in his government treated him as so whenever they found him in exile. For instance, when Amin's public relations officer, Al haji Edirisa Mayanja Njuki, one time met Ssabataka Mutebi in a café in London, he accorded him requisite respect. Actually, as the two ended their meeting, Ssabataka Mutebi told Njuki that "Twegayirire nyo Katonda omulungi, eggwanga lyaffe liddemu okutereera" Meaning-we must keep praying to the Good God to restore sanity in our nation. Source:
Sunday Vision, September 25, 2016 Pg07.