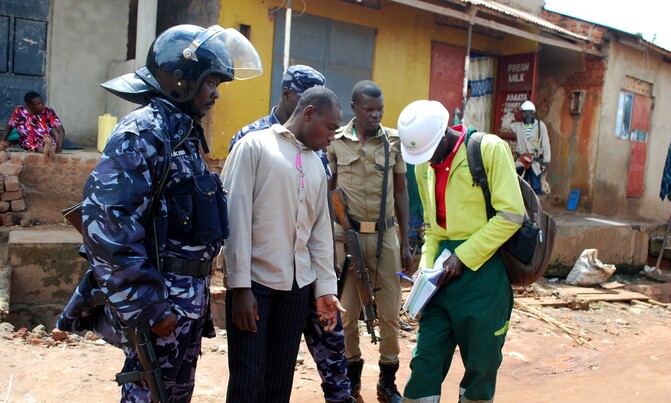 According to Christine Namutebi, Umeme's metering services manager for Kampala West, the operation was necessitated by the need to curb power losses.
Scenes of people wailing and pleading for mercy characterised Nankulabye Zone 4 in Rubaga Division in Kampala during an operation that lasted several hours today.
This exercise was conducted by electricity distribution company Umeme and Police against illegally connected consumers.
Both domestic and commercial consumers suspected of using the utility illegally were ordered to close their premises before being arrested and bundled onto Police tracks.
As the operations were ongoing, residents were fuming and accusing Police of arresting the wrong people.
Ronald Ssendegeya a resident said Umeme should have arrested only house landlords instead of tenants, some of whom did not know of the illegal connections.
"Tenants only pay rent dues to landlords, it is wrong for Umeme to arrest people who do not own the houses and the connections," he said.
Police officer escorting one of the Nakulabye residents that were arrested in an operation on electricity illegal connections
Nankulabye Kiyaye zone head of sanitation Mai Nakintu said it would have been better if Umeme officials had written to the area leaders notifying them of the operation.
"We know some of the people whom we suspect to engage in electricity illegal connections. The people they arrested were not the real culprits," she said.
According to Christine Namutebi, Umeme's metering services manager for Kampala West, the operation was necessitated by the need to curb power losses.
In Kiyaye zone alone, the company has been losing about 55% of the power supplied, according to Namutebi
"So, we had to come and do an operation so that we can reduce the activities on power theft," Namutebi said.
Such operations have been ongoing since September in areas of Kawempe, Nankulabye, Kalerwe, Bwaise, Mulago, and among other areas, Nateete.
Namutebi explained that this is starting to bear fruits as more people are flocking company offices to legalise their connections.
"We have seen more people in areas where these operations have been conducted come to legalise their connections. In Nankulabye, for instance, we receive more than fifty people legalise their connections daily which was not the case before,"
"We are glad about the results so far because over 300 customers have regularised their connections as a result of the operation. The public is now responding positively towards anyone climbing an electricity pole," Stephen Ilungole, the company's media relations manager told the New Vision.
Ilungole explained that the public has become more vigilant and is demanding for identification of anyone operating the network.
Umeme officials checking out an electricity meter they suspect to be tampered with.
At least sh60b lost annually
According to a June 2019 sector report by the Electricity Regulatory Authority (ERA), 20.2% of power supplied is lost. Of this, 16.4% is lost during distribution to the final consumers, while 3.8% is lost during heavy transmission.
A single percentage loss is estimated to cost between sh3b and sh4b and this is recovered from the tariff charged by distribution companies. This means that the consumers pay between sh60b and sh80b in electricity losses annually.
Over 400 arrested
Over 400 suspects have since been arrested while disconnections involving tampered meters and illegal connections have been carried out.
However, out of these, only nine charges have been sanctioned in the Standards, Utilities and Wildlife Court. Of these, three convictions have been secured, four suspects on trial, two will be produced in court, while three are still on the run, according to Ilungole.
Since the court's establishment in May 2017, eleven cases have been successfully handled and conviction of the culprits secured, according to the June 2019 report on the electricity subsector.
These have been convicted of cases such as tampering with electrical installations, conducting electrical installation without a permit, forgery of installation permit and completion of wiring certificates, theft of electric cables, as well as theft of stapling bolts.
The cases attract either fines, imprisonment or both. However, players say the sentences handed to the convicts are not deterrent enough to prevent other people from committing the same offences.