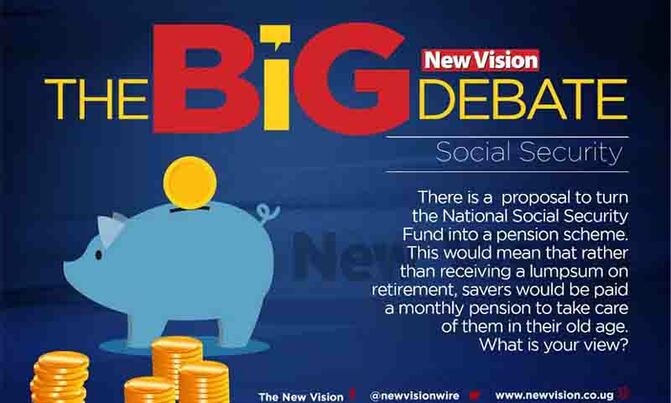 "They should have turned NSSF into a pension a long time ago and made civil servants contribute to there pension."
The proposal to convert the National Social Security Fund (NSSF) into a pension scheme has set tongues of contributors to the retirement savings organisation wagging.
According to the proposal, the fund will be turned into a scheme that pays regular pensions to savers instead of retirement lump sum payments. The proposal, in the 2019 State of Uganda Population report, says handing NSSF members all the money they have saved during there working life defeats the purpose of social security.
The social security and protection experts are now saying NSSF is ripe for conversion into a pension scheme. Long-term plan David Tumwesigye, a social protection advisor at the gender ministry, says converting the fund into a pension scheme has been the Government's long-term plan.
"NSSF started as a social security department in the gender ministry in 1967. The debate to transform it from a provident fund has been going on since the 1985 law that created NSSF," he adds.
Tumwesigye explains that a study was undertaken in 1998 to partly facilitate the transition, but the process was derailed by the internal turbulence that shook the foundations of the fund, including the Temangalo scandal.
"There is now an opportunity to turn the fund into a pension scheme because it has weathered the storm. The current stability provides that opportunity," he states. Tumwesigye, who worked at NSSF from 1998 to 2010, says once the fund becomes a pension scheme, it will be able to pay a uniform amount to every member over a period, regardless of the salaries one earned before retirement.
He says a defined social security pension scheme would be able to collect and invest the contributors' savings and pay them more than they saved. Tumwesigye says a pension scheme would be built around the solidarity principles and enable the current generation of workers to support the next to live dignified lives too.
"The pensions of the retirees today would be paid by the current generation of workers and the pensions of people working today would be paid by the future generation," he adds. Tumwesigye says the design of the pension fund would determine what happens in the event of the pensioners' death.
"Even NSSF today has survivors' benefits, and that allows people to collect benefits of deceased contributors. But the design would determine and that is the value of the pension schemes," he adds. Dr. Fred Muhumuza, a senior economist, says the pension proposal is informed by the fact that savers' contributions have been locked in government bonds and part of it mismanaged.
"As the fund grows the number of people it has to pay also increases and that is what is happening today. Yet part of the money is locked in government papers and they do not want to release it," he says.
Muhumuza explains that while some of the fund savers fail to put there savings to better use upon clocking the eligibility age for final payouts, there are contributors with success stories. "Of course, there are people who saved with NSSF when there salaries were low and got little money. But people who saved up to sh100m or sh200m have sizeable businesses," he says.
Muhumuza says a pension structured like the current government scheme for civil servants would not be helpful. "Getting sh200,000 per month does not help," he notes. Ramathan Ggoobi, a senior economist, says while a pension is a better security option, the Government should not attempt to determine how savers spend there savings.
"Savers know why they save and have plans. But of course, provident funds in countries like Mexico, the USA, and Asia tend to finance consumerism and take care of old age. In Europe, pension funds are more impactful," he adds. He says more reforms should be introduced to NSSF to be able to attract more savers from the informal sector.
The NSSF building in Kampala
''I am happy with the proposals before Parliament, especially the one delaying the tax. Delayed tax is tax half reduced. The health insurance scheme proposal is good," Ggoobi says. Sam Lyomoki, a workers' MP, supports a hybrid scheme that allows members to receive lump-sum payments and pensions.
He adds that the proposed midterm access at about 45 years would enable members to receive a certain percentage of there savings in a lump sum. Lyomoki says the fund's leadership should continue to improve and it must offer contributors' investment advice before handing them there benefits.
"We need to help people understand that it is not good to receive that money at 60 years and use it to build a house. We think if they get some money at 45 years, they would be able to build houses and use the other money to take care of old age," he adds.
Rich helping poor
The persons earning hefty salaries, he says, would probably get less than they saved and part of there money would be used to help low-income earners live comfortable lives in retirement. This, the experts say, would be enforced under a cross-subsidization principle, enabling the big savers to cushion low-income earners from vulnerabilities associated with old age.
"Today, the fund cannot give you minimum guarantees and cannot guarantee your interest. NSSF paid less than sh30,000 in final payout to sugarcane factory workers in 2000 because devaluation and inflation had eroded there savings," Tumwesigye says.
Financial crises can also affect pension schemes, but these are robust and assured of the regular flow of mandatory savings from all generations of workers, according to experts. A pension fund, Tumwesigye notes, would end the clamour by contributors to withdraw savings and allow NSSF to offer superior benefits and get insulated from competition.
"NSSF is not different from any savings group today. It has to offer superior benefits to be relevant and give savers valid reasons to keep there money in it," he says. Some sources say when Cabinet approved the NSSF (Amendment) Bill 2019, which is currently before Parliament; it sought to transform the fund into a basic mandatory scheme, which should become a fully-fledged pension scheme later.
The proposed amendments seek to extend the coverage of the scheme to all employees in the formal sector while encouraging voluntary contributions from the informal sector workers. They also seek to expand the benefits available to members, as well as encourage voluntary contributions above 5% from workers.
"Once you have turned it into a pension scheme, you would attract more savers from the informal sector and offer a wide range of benefits. It is a way to try to create an equitable society," a source says. Long overdue Patrick Katabaazi, a social protection specialist and co-ordinator of Uganda parliamentary forum on social protection, says transforming the fund into a pension scheme is long overdue.
He, however, adds that the fund was, unfortunately, designed as a fixed deposit account in a bank. "There is a window of opportunity to mobilise savings from Uganda's young population today to build a system that will deal with challenges, such as old age and disabilities," Katabaazi states.
He notes that if the country squanders the opportunity to build a pension scheme now when a big part of the population is young and productive, it would have to take care of many old people in the future. The Uganda National Household Survey 2016/17 put 50% of Ugandans under 15 years.
"The Government is struggling to look after only two million old persons today. The NSSF (Amendment) Bill is a lost opportunity because it does not offer sustainable solutions," he adds. Katabaazi says the 2011 public sector pension reforms should have converted the (public pension) scheme into a contributory fund and NSSF into a pension fund.
This, he adds, would have compelled civil servants to contribute to there retirement and save the taxpayers from making there personal savings in NSSF and pay for the retirement of public servants. Social security Katabaazi says claims by savers that the money in the fund is there resource and that they should be able to take it out when they want to represent a misunderstanding of social security.
He doubts if workers can make meaningful investments at 60 years. "Ghana is already operating a similar pension scheme. Several countries in the region are moving towards that and it runs well in Europe," he says. The fund's chief executive officer, Richard Byarugaba, says 60% of the contributors spend there lump sum packages within one year after getting it and adds that a pension type of investment would be ideal.
"The proposal is unpopular, but we shall continue to sensitise people about it's benefits. They want there money early and without taxing it," he says. However, once the proposed amendments are passed into law, Byarugaba says the savers would be given two choices; either to receive a lump sum or pension.
"Once the amendments are passed, the board will be able to introduce more products. One of them would be the pension type of investment, which will be optional," Byarugaba adds. However, workers' MP Agnes Kunihira, says the public pension sector needs reforms more than the NSSF.
"Everyone is looking at the sh13 trillion in NSSF and wants to suggest what should be done. Making the public pension contributory is good and that is where we need to focus because it digs into the Consolidated Fund," she adds. There are about 830,000 and 390,000 active members in NSSF and public pension schemes, respectively.
The legislator says the average individual savings in NSSF is sh30m and wonders how much each saver would get per month if it is turned into a pension scheme. "You will get a few people with sh100m or sh200m. We need to look at the conditions of all workers. I think targeting the little money in NSSF is unfair," Kunihira notes.
Lawrence Bategeka, a senior economist and Hoima Municipality MP, says NSSF in it's current form does not offer social security. "Most of the savers are not business oriented and have been losing there lump sum payments in businesses. A pension fund offers social security no matter how little it is," he adds.
Once Ugandans achieve social security, Bategeka thinks corruption would also reduce since people partly steal resources in a desperate attempt to attain social security. Prof. Augustus Nuwagaba, also a senior economist, says NSSF beneficiaries continue to blow away there savings in unsuccessful business ventures and adds that handing savers large amounts of money in one go is wrong.
'They should have turned NSSF into a pension a long time ago and made civil servants contribute to there pension. The Government is finding problems in paying pension because it is shouldering the responsibility alone," he says. Usher Owere, the general chairperson of the National Organisation of Trade Unions (NOTU), says the Government should concentrate on planning for the population and not workers' savings.
With only 5% of the estimated 11 million working population saving with the fund, Owere says, the experts should be concerned with the welfare of all Ugandans. "I have built schools with my NSSF money and created employment," he says


Reactions from New Vision readers

There is a proposal to turn the National Social Security Fund into a pension scheme. This would mean that rather than receiving a lump sum on retirement, savers would be paid a monthly pension to take care of them in their old age. What is your view?

Ongaya Daniel Jeremiah Let the owners of the money decide. It's adequately stupid and adequate madness to assume that you can think for every worker. Why must you do what you're even aware that it is wrong? Very shameful!

Sammy Ssanday It's not a bad proposal but let it be optional. Whatever happened to the pension scheme is still fresh in our minds

Lawrence Opar Angala How can NSSF be more concerned about the savers' welfare after retirement than the savers themselves? This is like weeping louder than the bereaved at a funeral.

Moses Patrick Ojilong SSalongo That would mean that the pension would not be time-bound. They should not say that my money is finished, right? Otherwise, lumpsum payment still makes sense.

Nandago Catherine But NSSF is personal savings. The two schemes are totally different. Let me hope someone is not scheming to steal contributors' savings. That how they start those crazy ideas

Richard Walusimbi Is this what we initially saved for?

Kinaalwa Peterson This government is having all its sights on NSSF, every now and then, they are coming up with several opinions on how to manage workers saving let the status quo remain with its associated rigidities.

Suna Paris People need to get their full savings at once. Our parents have things to do.

Basalirwa Athananthius I disagree. We toil to save hoping one day we shall be bosses with our own business but again pension will keep us poor.

Ole Stanley Morrish It's impossible our money shouldn't be swindled by corrupt officers. Some of our senior citizens who haven't received their money up-to-date.

Myk Miguel Obai So that the savings will keep sinking deep into the gov't black hole

Ouchokol Lawrence We are not surprised. We are still waiting for more mess in NSSF Uganda short changes every year with negative impacts. People want their money to invest wholesomely, you are now talking of pension again which the government is even failing to pay.

Michael Kakande I totally disagree. will never agree to this.

Andréà Felix What about the pension from the government, because I think the NSSF is money one has saved.

Patrick Sseremba Pps Hahaha, they are there praying for them to die to use their savings. Give them their wholesome money to sort themselves or else put another pension scheme separate from NSSF

David Oruka I feel lie abusing these thieves in my local language but I am fearing a few people here.

Rwabisharara Denis Why? Someone wants to encroach on our savings to entrench themselves in power.

Henry Lule Luyombya This is real thuggery you should pay a person's lump-sum once.

Emou Simon Jim They want to steal people's money that way.

Luke Nyadson Onzima I swear someone has cooked a way of fleecing poor oldies of their monies here...