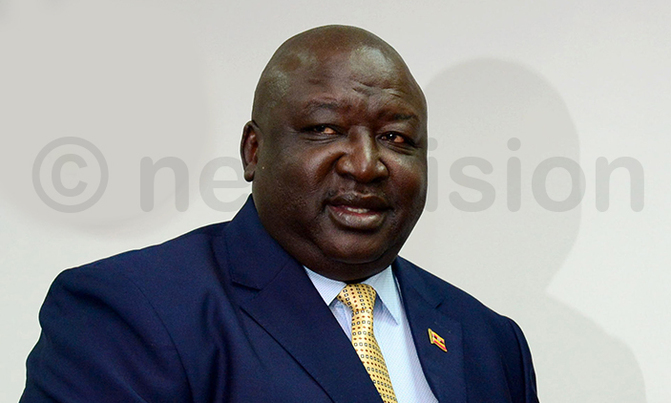 "It's not possible that even me as a minister, I do not have the capacity to influence anybody's visa application
The Ministry of Foreign Affairs has rubbished allegations that some of its officials are behind the British High Commission's decision to deny a Foreign Service Officer, Miriam Otengo entry to the Queen's land.
"It's not possible that even me as a minister, I do not have the capacity to influence anybody's visa application. The allegation that Ambassador (Dickson) Ogwang was behind denying anyone a visa is rubbish and unfounded so please disregard it," the state minister for foreign affairs Henry Okello Oryem has said.
Responding to Otengo's social media claims that Ogwang had a backhand in Britain's decline of her visa application, Oryem wondered why Government, "hasn't used such undue influence to block Bobi Wine (Robert Kyagulanyi) from globetrotting to blackmail Uganda if it has such capacity."
Otengo is the ex-wife of Amb. Ogwang with whom they separated last year following accusations of domestic violence which sparked the latter's recall back to Uganda as deputy ambassador to the United States.
The US State Department in January last year asked Ogwang to immediately leave the country following allegations of beating his wife.
The duo has since been working at the foreign affairs ministry however, sources say Otengo recently secured redeployment as Uganda's envoy to London but she was denied a Visa on grounds of misrepresentation of family background.
Early this week, Otengo broke social media when she freshly accused Ogwang of continuously trolling her including threats to negatively influence her Visa application to Britain. Otengo accuses her former husband- Ogwang of allegedly writing to the British High Commission to block her visa application.
"Am a survivor of GBV (Gender-Based Violence) and seeking justice. My abuser is torturing and tormenting me. My life is at risk, my career is hanging. This happened on Nov. 2017 in the USA, now am in Uganda. I can't take this, I need help," Otengo tweeted.
"At one point in our lives, we all need help, a shoulder, it's this time that I need the help, the shoulder to lean on, I need the justice, I invite you from all walks of life to the occasion of saving me. Every woman is a potential GBV victim," she added.
Efforts to get a comment from the British High Commission were futile by press time.
According to Oryem, the strained relationship is a personal issue that should not worry the country's diplomatic relationship with Britain.
"It's not possible for an individual to influence another country's decision but it is very immature for a foreign affairs official to start washing their dirty linen in public so it's up to you to challenge her to prove that another is responsible for denying her Visa," said Oryem, adding that Amb. Ogwang is a reputable diplomat whose qualification and integrity cannot be matched.
When contacted Amb. Ogwang denied having a hand in blocking Otengo's visa saying, "Her allegations are completely unfounded. I dare her to produce a letter that I have written to the High Commission blocking her Visa."
Miriam Otengo is the young sister to Rebecca Amuge Otengo who is the current ambassador of Uganda in Addis Ababa, Ethiopia. She is also the former Senior Private Secretary to the President.
Apparently, the Permanent Secretary, Ministry of Foreign Affairs, Amb. Patrick Mugoya has summoned the two in a move meant to diplomatically sort out their differences.
Ogwang's return wasn't the first time Uganda was recalling diplomats over domestic violence. In 2015, second secretary Robert Mugimba was transferred to Cairo while Amb. Charles Wagaba the former deputy head of Uganda Mission at United Nations was moved to Kinshasa over similar circumstances.
Police's annual crime report on gender-based violence indicated that cases reported and investigated increased by 4% from 38,651 to 40,258 cases between 2015 and 2016.