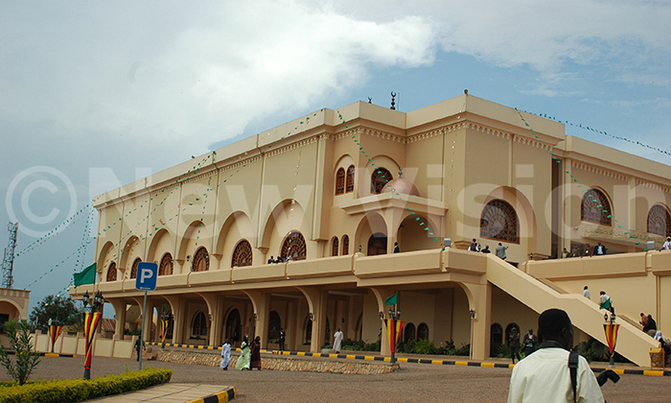 Kagimu, therefore, requested Gaddafi that the best gift he could give to Muslims in Uganda would be the construction of a magnificent national mosque
On October 31, 1976, President Idi Amin went to Masaka Suicide Revolutionary Mechanised Specialist Reconnaissance Regiment barracks to commemorate Prophet Muhammad's birthday.
He was accompanied by his wife, Sarah Kyolaba and sons Aliga and Mwanga. At the barracks, they were received by its then acting commandant, Maj. Nasur Ezaga. Also present were Gen. Mustafa Adrisi (minister of defence), Abdel Nasser (minister of information and broadcasting), Sheikh Suleiman Matovu (the mufti), Col. Ibrahim (commander of the marines), Lt. Col. Khamis Safi (head of religious affairs in armed forces), Cyprian Bwanika (mayor of Masaka), Lt. Col. Abdul Kisuule (commanding officer, Masindi Regiment) and Lt. Col. Adek (commandant, Simba Mechanised Regiment).
In his speech, a furious Amin complained that there was not a single bag of cement available at the Old Kampala Hill towards the construction of the national mosque, yet a lot of money was donated for that cause by Ugandans and by foreign governments of Libya, Saudi Arabia, Central African Republic, Qatar, Iraq and United Arab Emirates.
Amin further claimed that when he realised that some leaders at the Uganda Muslim Supreme Council had embezzled the funds meant for the construction of the Old Kampala mosque, he decided to withhold sh70m, which Saudi Arabian king offered towards its construction.
Amin also revealed how he felt embarrassed before Libyan leader Col. Muammar Gaddafi over the money he (Gaddafi) donated towards other Muslim projects in Uganda, but was also swindled by the same council members.
It is pertinent to note that Amin-Gaddafi friendship started in February 1972 after West Germany government brokered their first meeting in Tripoli Libya. Hitherto, on January 25, 1971, when Amin toppled President Milton Obote, Gaddafi was not happy with the news of Amin's takeover. That was so, because Obote and Gaddafi shared the same ideology of socialism, even though they were not friends.
With the blossoming of Amin-Gaddafi friendship, Gaddafi offered space in Tripoli towards the setting up of a Ugandan chancery. For that reason, Amin in his subsequent visit to Libya went with a team he entrusted with the setting up Uganda's embassy in Tripoli. They included; Ayub Hassan, Joseph Juruga, Amin Mutyaba, Charles Ongura and Stephen Wamono. Among the aforesaid, it was only Mutyaba who was fluent in Arabic. Thus, to ease the communication of the other members of Ugandan team who did not comprehend Arabic, Amin instructed them to liaise with Haji Habib Kagimu, who acted as their interpreter during their meetings with Libyan officials.
Kagimu speaks Arabic fluently because he studied in Libya in 1960s.
His role as an interpreter endeared him to Gaddafi. Without a doubt, it was Kagimu who successfully co-ordinated the establishment of Uganda's embassy in Tripoli after an Algerian conman fleeced Ayub of $23,000, which Amin had first released for its establishment.
In March 1976, Amin appointed Mutyaba as Uganda's charge d'affaires in Libya. Thereafter, Mutyaba was elevated to the position of ambassador.
Gaddafi's first biggest donation to Muslims in Uganda was in December 1972, when he donated sh21m to Uganda Muslim Supreme Council. The cheque was handed over to Sheikh Abdulzaak Matovu by the Libyan minister of internal affairs, Maj. Himed Khiwildi.
With the inflow of more of such funds, Amin developed the idea of constructing a magnificent national mosque and the headquarters of Uganda Muslim Supreme Council at Old Kampala. However, much of the sh77m, which was fundraised was swindled. In the process, an unbefitting structure was constructed.
POST—AMIN PERIOD
After Amin was toppled on April 11, 1979, Gaddafi and Saudi Arabian government first lost interest in Uganda since they could not ally with the new Uganda National Liberation Front (UNLF) government backed by their nemesis, president Julius Nyerere.
Mind you, Gaddafi and Saudi government were also aware of the hatred some UNLF officials had for Islam. For instance, one person who is now a presidential adviser and Dr Andrew Kayiira once proposed to president Yusuf Lule in 1979 to convert the previous mosque at Old Kampala into a hotel. However, Lule, who was once a Muslim, declined.
In particular, Saudi Arabian government was offended by the action of Tanzanian military, which on toppling Amin bombed part of its embassy building in Kololo. No wonder, in 1981, when Tanzanian backed Ugandan president Obote appointed Paulo Muwanga's loyalist, Sheikh Ali Ssenyonga as Uganda's ambassador to Riyadh, King Khalid of Saudi Arabia did not accept his appointment.
For that matter, throughout Obote's second regime, Uganda's mission in Riyadh had no substantive ambassador. Instead, Abubakari Nadduli acted as its charge d'affairs untill March 1986. Thereafter, Saudi Arabian King Fahad accepted prominent educationist, Prof. Badru Kateregga whom President Yoweri Museveni appointed as Uganda's Ambassador to that country.
In its renewed interest in Uganda in 1986, Saudi Arabian government secretly financed the subsequent campaigns of Sheikh Rajab Kakooza when he contested against Sheikh Saad Ibrahim Luwemba for the position of Mufti of Uganda. On the other hand, Gaddafi sponsored Luwemba, something that partly explains why Gaddafi and Saudi Arabia were not the best of friends. Eventually, Gaddafi's candidate (Luwemba), who was also the candidate secretly bankrolled by the National Resistance Movement (NRM) government won.
His victory motivated Saudi Arabian government to sponsor Kakooza's court battle against Luwemba. Luwemba also won the court battle and served as mufti until 1997, when he died. In his absence, Sheikh Ahmed Ssemakula became the acting Mufti until December 11, 2000, when Sheikh Shaban Ramadan Mubajje was elected as the new Mufti after defeating Kakooza and Sheikh Twaib Mukuye.
NEW MOSQUE
On May 11, 2001, Gaddafi visited Uganda at the invitation of President Museveni to attend his (Museveni) swearing-in ceremony at Kololo Airstrip since he (Gaddafi) sponsored part of the NRM campaigns that time against Col. Kizza Besigye's Reform Agenda pressure group.
For Gaddafi's accommodation, Libyan government paid handsomely and rented the residence of city businessman, Charles Mbire. After his arrival, Gaddafi told his long time friend Kagimu to organise his night tour of Kampala city that day. Gaddafi made it clear to Kagimu that he did not want Ugandan security personnel guarding him during the tour to be dressed in their military uniforms.
Indeed, when Gaddafi started on that tour in a Mercedes Benz at mid-night, soldiers of the Presidential Protection Unit (now Special Forces Command), complied with a number of Gaddafi's instructions.
From Mbire's residence, Gaddafi toured Makerere University Hill. While there, Kagimu showed him the tower of an old mosque at Old Kampala. He explained to Gaddafi how Amin had mobilised huge funds for the construction of a better mosque, but most of those funds were embezzled leading to the setting up of a wanting structure. Kagimu, therefore, requested Gaddafi that the best gift he could give to Muslims in Uganda would be the construction of a magnificent national mosque.
On May 12, Gaddafi attended President Museveni's inauguration. Towards its end, Gaddafi promoted Museveni's son, Muhoozi Kainerugaba from 2nd Lieutenant to Major. At the time, Muhoozi was the officer in charge of Combat Readiness and Operations in the Presidential Protection Unit.
Given the mixed reactions generated by Gaddafi's promotion of Muhoozi, State House later clarified that the promotion was honorary. It was also on the same visit that Gaddafi described Museveni as a revolutionary and advised him to rule without being subjected to elections.
Before Gaddafi ended his visit, Kagimu hastily arranged a meeting between Gaddafi and some Muslim leaders that included Mubajje and Sheikh Ahmed Mukasa, among others, from both Old Kampala and Kibuli factions. That meeting took place at Mbire's residence.
Before Gaddafi met those Muslim leaders, Kagimu coached them on how to request Gaddafi to fund the construction of a better mosque at Old Kampala. Indeed, Gaddafi was impressed by the choice of words they used in requesting for it.
Meanwhile, Kagimu hastily reached out to President Museveni and humbly requested him to officially write to Gaddafi with the same request in order to augment the earlier request made by Muslim leaders to Gaddafi. Indeed, Museveni did so.
Later, Gaddafi sent one of his presidential jets to Entebbe Airport, which took a delegation of Ugandan Muslim leaders to Sirte, Libya. While there, Gaddafi introduced them to Muhammad Ahmad al-Sharif, the general secretary of World Islamic Call Society, a non-profit entity established in 1972. Gaddafi instructed Sharif to make sure that World Islamic Call Society funded the construction of a magnificent mosque for Uganda at Old Kampala Hill. Gaddafi added to Sharif that if that was not done, Allah would on judgment day condemn him (Gaddafi) for having not constructed it, yet he was formally requested for it by a non-Muslim (Museveni).
Accordingly, a mosque with a sitting capacity of up to 15,000 worshippers was constructed. When Gaddafi was presented with videos and photographs of its works, he was impressed and, therefore, agreed to attend its launch.
At its inauguration, it was named 'Gaddafi National Mosque'. It also houses the headquarters of the Uganda Muslim Supreme Council. After Gaddafi was murdered, its administrators in Uganda renamed it 'National Mosque' in a bid to continue receiving its maintenance funding from Gaddafi's successor regime in Libya.
Source: Sunday Vision Nov 18 2018 pg09.