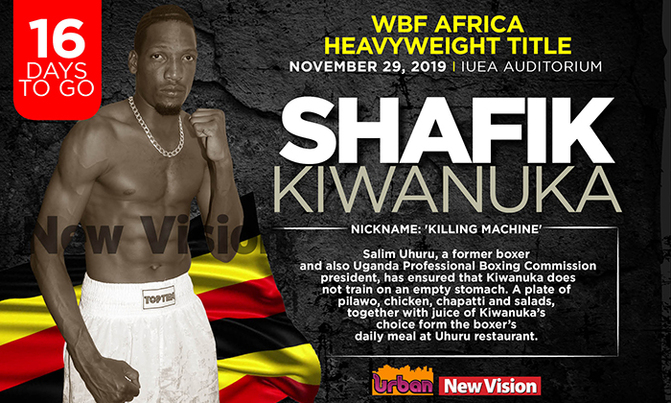 I am ready to ensure that Shafik has no diet issues until he fulfills his dream of a world title
November 29
WBF Africa heavyweight Title fight
Venue: IUEA's auditorium
Charges
Sh20,000
Sh 50,000
Sh100,000(table)
Many Ugandan sportsmen train on empty stomachs. Heavyweight Shafik Kiwanuka does not have to suffer such uncertainties. He is every day assured of a decent meal courtesy of an offer from popular Kampala city food provider Uhuru Restaurant.
"This is a commitment we made to support sports. My husband knows what most sportsmen endure and he is determined to ensure talent realises its full potential," said Hadijah Uhuru.
"Our prayer is that Kiwanuka keeps on getting better until he wins a world title."
A plate of pilawo, chicken, chapatti, salads together with juice of Kiwanuka's choice form the boxer's daily meal at the Wilson street restaurant.
"I have no complaints. I am assured of very good lunch here," said Kiwanuka on Friday as he enjoyed a sumptuous meal.
Hadijah's husband Salim announced the offer to Kiwanuka last year. "He can have any meal of his choice. And that is inclusive of drinks and an assortment of fruits," said Uhuru at the time.
Uhuru, also a former boxer, is also Uganda Professional Boxing Commission president.
"I am ready to ensure that Shafik has no diet issues until he fulfills his dream of a world title," stated Uhuru.
Kiwanuka is preparing for his third professional fight. He will on November 29 take on Zimbabwe's Thamsanqa Dube for a World Boxing Federation Africa title. Should he win the continental title, he will be destined for the big stage. That would automatically place him amongst the top 15 in major world boxing bodies like the WBC. At that level, a world title can come any time.
Nagoya-based fighter Peter Okello is the only Ugandan heavyweight to have got a shot at a major world title. That was in 2006 in Moscow when he lost to WBC champion Oleg Maskaev.