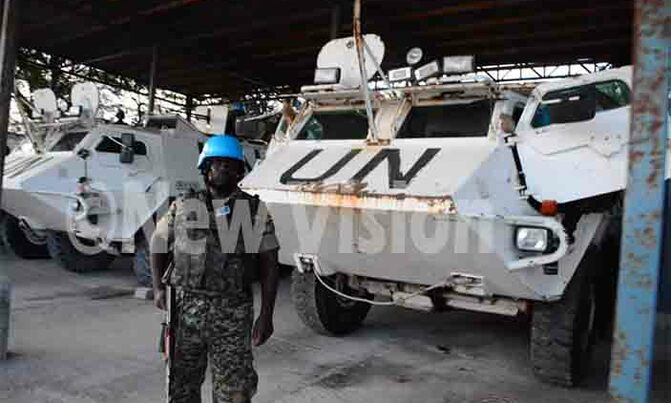 The force decried what they termed as 'numerous attacks by Al Shabab militia, which has at times hampered the smooth flow of our operations'.
SOMALIA - Most of the operation vehicles (Mambas and Gilas) are old and constantly breakdown which slows down mobility and puts our personnel at risk, Uganda's Formed Police Unit (FPU) operating in the war-ravaged Somalia have cried out.

Senior Superintendent of Police (SSP) Andrew Kaggwa, the Uganda FPU8 Contingent Commander told a delegation of Members of Parliament of the committee of defense and internal affairs on a visit to the AMISOM/Uganda People's Defense Forces and police bases in Somalia that due to the weather, most of the operational vehicles wear out fast and are grounded.

The AMISOM operational activities, especially in Mogadishu, the capital of Somalia, are alongside the seaside locations, where a combination of the moisture in the air (water) and salt in the air from the ocean lead to faster rusting on the military hardware.

The 160-man personnel based at Al Jazeera II camp in the Southern part of Mogadishu, which is protected by the Special Forces Command (SFC), provides operational support to AMISOM and Individual Police Officers (IPOs) in order to perform their advisory, training and mentoring roles to the Somali Police Force (SPF).

They also provide law enforcement support and operational support to the Somali Police Force and perform other operations as may be directed by the AMISOM police commissioner as well as supplement their effort to expand to other liberated areas outside Mogadishu.

The force included engineers, doctors, drivers, bomb technicians, and logistical support staff and operational personnel.

The meeting was attended by Police Deputy Operations Coordinator SSP Ibrahim Saiga and the SFC commander, Lot. Col. Mugisha

Other challenges, according to Kaggwa, include disease outbreak especially dengue fever, a mosquito-borne tropical disease caused by the dengue virus, which he said had attacked many personnel and treatment and recovery normally takes two weeks, which he said affects their deployments and operations.

A delay in the release of Mission Subsistence Allowance (MSA) to the beneficiaries was also cited as one of the challenges affecting all personnel including soldiers.

The force decried what they termed as 'numerous attacks by Al Shabab militia, which has at times hampered the smooth flow of our operations'.

Kaggwa, however, said FPU would continue to execute its mandate in AMISOM and when required and thanked the government of Uganda for availing them an opportunity to serve and 'tap experience' at a regional and international level.

The meeting accorded a minute of silence to Commissioner of Police Christine Alalo who died in a plane crash in Ethiopia, who was at the rank of Acting Police Commissioner under AMISOM and served under this unit.

Kaggwa appealed to the police authorities in Uganda to consider families of personnel serving under AMISOM during the on-going relocation exercise from Naguru Police Barracks. He said that there was an on-going tension and anxiety among the police forces after getting disturbing phone calls from home that their families had been ordered to relocate to Kikandwa.

"There is an outcry here that our forces are getting information that they have to relocate yet they cannot abandon work to return home to attend to the emergency. There should be some humane consideration to personnel on special deployment," he stated.

The committee chairperson, Doreen Amule in response said the parliament of Uganda was proud of their services and pledged to approach the police authorities to review relocation of families of personnel away for duty.

She applauded them for the sacrifice to serve in a volatile environment. "Government and all political leaders are happy with your performance under AMISOM, we applaud you for this sacrifice," she said.

She appealed to the personnel to continue exhibiting the same spirit when they return home, saying such conduct must not stop in a foreign land.