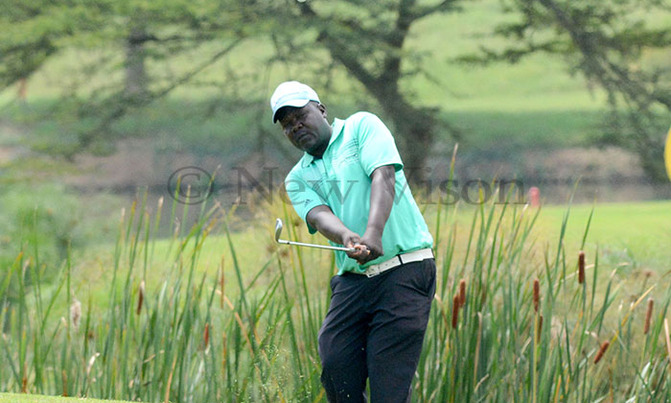 "Today's round was pretty much better than any round I have ever played on this course; I played one-under..."
GOLF
WAKISO - Five Ugandan professionals made the cut as Kenya's Dismas Indiza maintained top spot, after the second round of the Pam Golding Safari Tour Golf Open at the Lake Victoria Serena Golf Resort at Kigo in Wakiso district, Thursday.

Herman 'Deco' Mutebi, Ronald Rugumayo, Becca Mwanja, Abbey Bagalana and Phillip Kasozi are the only Ugandan pros that will partake on the sh37m prize fund having made the cut that was set at +4.

Indiza shot a second-round two-under-par 70 to maintain the lead, one stroke ahead of fellow national Edwin Mudanyi, who also returned the same score in the tightly contested event.

Indiza, a five-time Uganda Open champion and Safari Tour player, who leads the overall tour standings with 190.6 points, and holds the Serena course record (63gross), should have been further ahead but was undone by a double bogey on the par-3 hole No.15, but managed four birdies regardless.

"I wanted to play six under today and maybe four-under in the third round tomorrow and then go for it on the final day but things didn't work out. But I'm still there, so let me see how I will wake up," Indiza said.

Uganda's best-placed player Mutebi, who missed the cut in Entebbe, is targeting a top-ten finish after returning two-under to make the cut in 7th position.

"I putted very well today and I will be aiming for the same in the remaining rounds because I want to finish in the top ten and earn some good cash," Mutebi noted.

Uganda's Mwanja, a Safari Tour player was also delighted to make his first cut on the tour, in 12th place.

"Today's round was pretty much better than any round I have ever played on this course; I played one-under. I was in the zone, from the first to the last tee! I managed to birdie all the par-5's and bogeyed a few par-fours and I was at par on all par-3's," Mwanja who got 5 birdies on holes; 2, 8, 10, 15, 15, said.

"I only turned pro early this year and I had only made the cut twice locally but had failed to make the cut in the last four Safari Tour events, so this one is a welcome relief," Mwanja stated.

Henry Lujja who was one of Uganda's best in the opening round eventually missed out after returning five-over 77 yesterday.

"I deviated from my routine and when I double-bogeyed hole-No. 7, I couldn't stick to my game-plan after," Lujja said.

There were also near misses for Silver Opio and Ronnie Bukenya who missed the cut by one and two strokes respectively.

In the amateurs' competition, Uganda Open Champion Daniel Nduva is in the lead, nine strokes ahead of Uganda's David Spencer, going into the final round of the amateurs 54-hole contest.

Palm Golding Tour: Day-two (Top ten)

Dismas Indiza (KEN) 68; 70 138

Edwin Mudanyi (KEN) 69; 70 139

David Wakhu (KEN) 71; 71 142

Justus Madoya 74; 69 143

Greg Snow 74; 69 143

Sujan Shah (KEN) 70; 73 143

Herman Mutebi (UG) 75; 70 145

Mathew Wahome (KEN) 74; 71 145

Erick Ooko Obura (KEN) 72; 73 145

Ronald Rugumayo (UG) 72; 73 145


Amateurs: Top five

Daniel Nduva (KEN) 70; 67 137

David Spencer (UG) 70; 76 146

Godfrey Nsubuga (UG) 71; 76 147

Mike Kisia (KEN) 77; 71 148

Denis Asaba (UG) 76; 72 148