Dube laughed and said, yes, he had found one, and they were in the process of discussing lobola (bride price). We all laughed and left it at that, but apparently not Mwenda, and hence the Monitor story.
ENTERTAINMENT

KAMPALA - I didn't usually go to the office on public holidays, and this was Good Friday of 1996. But the night before had been South African reggae artist Lucky Dube's third concert in Uganda, and I had to write the story and work on the pictures.

When I got to the New Vision newsroom, then in a converted warehouse, all eager to start the story of an incredible performance, I was met with the news that the Editor-in-Chief, William Pike, wanted to see me urgently. And he wasn't in a good mood, I was told.

As I read the story I began to laugh, and Pike, who was still going on about my lack of journalistic curiosity, stopped and looked at me in confusion. "You think it's funny?" he asked.

It's not true, I told him; there was not an element of truth in the story. Then I looked at the by-line, Andrew Mwenda, and I understood what had happened. Lucky Dube had held a press conference at the then Nile Hotel the day before, and Mwenda had attended. I was curious about that because Mwenda had not usually covered lifestyle events, he was more into politics, so I wondered what he was doing there. In fact, he looked bored throughout the press conference and didn't ask a single question.

But during the press conference, a girl from Bukedde had asked Lucky Dube if he had found a Ugandan girl to marry, since the year before during a concert, the South African had said he was looking for a Ugandan girl to marry.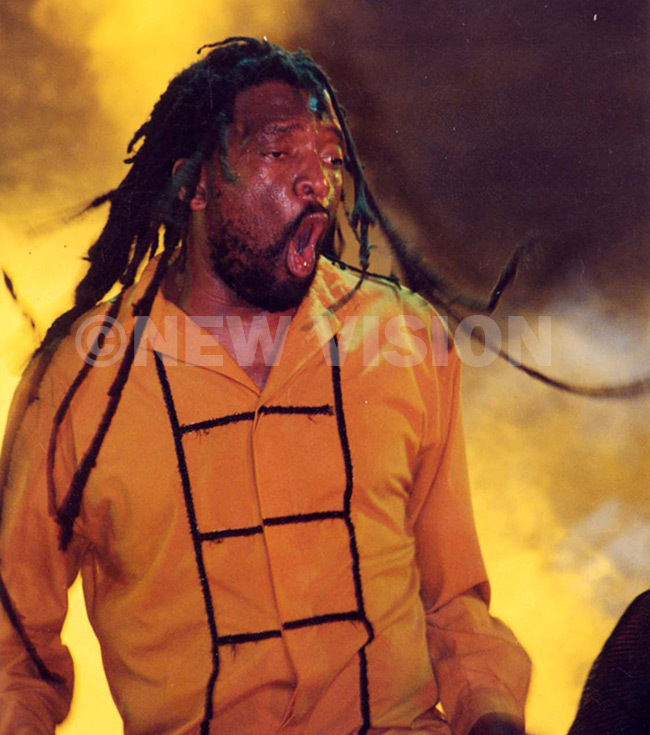 Lucky Dube performs at a concert at Munyonyo on October 8, 2000
Dube laughed and said, yes, he had found one, and they were in the process of discussing lobola (bride price). We all laughed and left it at that, but apparently not Mwenda, and hence the Monitor story.

I explained to Mr. Pike that almost every international artist that comes to Uganda says how he loved Ugandans very much and would marry one. We called Andrew Rugasira, and he confirmed the whole thing was not true. Pike, to his credit, apologised to me.

I went back to the newsroom, but I couldn't write anything. I was still shaken by the experience in Pike's office. I realised I could have lost my job. For the first and only time in my life, I really wanted to hurt somebody, and not in self-defence. So, I looked for Mwenda, but he was nowhere to be found (there were no mobile phones, then), and he never came to the concert that night.

It is unfortunate that when I think of Lucky Dube, that Mwenda story is what comes to my mind first. Unfortunate because Lucky Dube's concerts in Uganda marked a huge change in concerts and entertainment in Uganda.

His first concert in March 1995 was something we had never seen before, and the sound test that Thursday afternoon brought central Kampala to a complete halt. We had never heard that kind of sound before. Andrew Rugasira and his VR Promotions company had done something no one had ever done before.

We were used to Congolese promoter Tamukati and his never-ending retinue of Congolese musicians. He used what must have been someone's home stereo for sound, and the concerts did not start till a sizeable crowd had entered the venue. Which meant they were always late, at one time an Olomide concert didn't start till 2 am! But the Lucky Dube concerts always started on time.

The concerts were such a success that Rugasira brought Lucky Dube back in 1996, with a VIP show at the Nile Gardens and another at Nakivubo Stadium. The Nile show went without incident, but disaster struck at Nakivubo.

The policemen and women who were supposed to control the crowd were watching Lucky Dube perform, instead. So, the crowd rushed forward to get closer to the stage. A stampede ensued, and a woman was trampled to death. Dozens were injured. Later there was the talk of a lot of money going missing, but it was never confirmed.

The next year, 1997, maybe to make up for the losses of 1996, Rugasira again brought back Lucky Dube, but this time opted for one show, in Namboole. I didn't attend that show, because my good friends Robert Mubiru and Rebecca Namugga got married that day.

But Ugandans will forever talk about the day Lucky Dube was in Namboole. It was the first time the stadium had filled to capacity, and there were so many people that the longest traffic jam Uganda had ever seen happened that night between Kireka and Kampala. Thousands of people walked home that day, and still talk about it.

Lucky Dube would come back in 2000, with the first-ever concert in Munyonyo, and his last concert in Uganda was in 2003. Four years later he was shot and killed in Johannesburg, South Africa. We shall always remember him.




RELATED STORIES

Kalungi's Lens: MTN and growth of Ugandan corporate culture