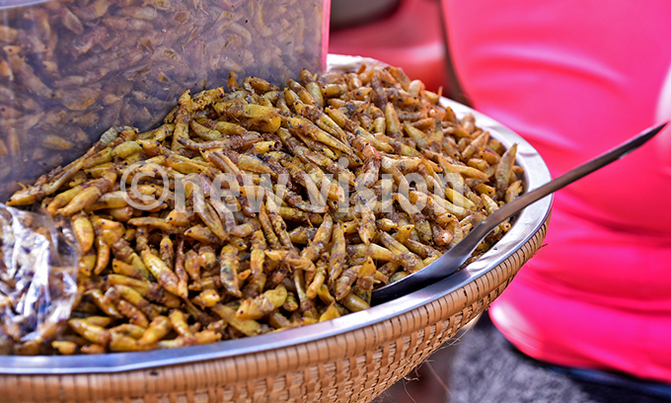 New Vision brings you a series of pictures taken by our journalists as the news unfolds.
Today we bring pictures of a delicacy that so many Ugandans look forward to before the year ends. Have you tasted grasshoppers (Nsenene) yet? How best do you want it served? With raw onions, green pepper, a little chilli or you have no choice whatsoever?
MIRIAM NAMUTEBI'S LENS IN NAKASERO MARKET AND AROUND TOWN
Grasshoppers are a special delicacy enjoyed in Uganda. They are small insects that are seasonal and they do come in the months of March to June and November to January.
Insect lovers cannot wait for their favourite snack that they enjoy with a cold beer, black tea or just water.


Believed to be a sign of happiness, they are seen in areas that are windy and special white lights, a trap that is used to attract and direct them into drums.
Where do they come from?

They are mostly harvested in the areas of Masaka, Fortportal at the Gahinga hills, Hoima Kaiso road and of late Rwanda in the Virunga mountains along Kagituma border.

They are packed in sacks of around 25-35kg and driven all the way to Busega, Kyengera and Katwe.


The markets where they are taken after for plucking, cleaning, sometimes cooking and selling include Nakasero,Nateete,Kitintale,Bugolobi market and Kyaliwajala Namugongo market among others.
Preparing grasshoppers
There are two ways of preparing grasshoppers in the markets.

Nateete Ku katale is famous for boiled grasshoppers. Nakasero is more famous for fried grasshoppers, and they add preservatives to store them for a longer period of time.


They add sunflower and cooking oil to make a special oil that they use to fry these insects.

Boiled grasshoppers are sold immediately because they can't last for more than two days.
Myths of where they come from

According to Vincent Muhoozi, a leader in the market and a former trader of grasshoppers, a job he did for 15 years, the insects move with the wind, so the traders capture them by blocking the wind with iron sheets.

Reason for being in Masaka is that the grasshoppers are blown by the wind on Lake Victoria into the swampy area of Lwera. When they get to Lwera, the nearest lights that they see are those in Masaka, so they take that direction.

The myth also that some are found on Lake Albert and the wind blows them to the Hoima lights.

In Rwanda, they are found in a place called Virunga mountains along River Kagera near the Kagituma border.

Some of the Baganda also believe that during ancient times, the Kabaka would send the insects among his subjects as a sign of pay for the good work done throughout the year.

The other myth is that women were never to eat grasshoppers. They were barred from eating them as it was believed to cause deformity among unborn children.

Some people also believe that there is a special hill where they hide throughout the year and come out during the cold.

It is also believed that they are only found in areas that are along the equator line.
Prices

Two weeks ago the small silver pack was sh15,0000 because of the scarcity. But since they were in abundance now, the pack is sh5000.


Prices are determined by availability and the time of the month. In January, they will be at a higher price because the peak season will be done thus scarcity.

Power used on the lights used for attracting the grasshoppers

If you ask Umeme officially to connect you to the three-phase, you pay 2 million shillings at the start, but by the end of the season, the trader would have spent approximately sh4.5m on electricity only.

Market dues for each sack sh2000 for a sack of 25kg-35kg.
Aisha Nassanga

One of the famous nsenene chefs in Nakasero market. She cooks the insects till they achieve their golden brown colour and delivers them hot and spicy.
In a small makeshift structure, she occupies a small corner where two big saucepans are placed on huge charcoal stoves. As she stirs and spices up, customers are waiting in line with polythene bags for the delicacy.

She has an everyday job of selling bananas and Gonja but whenever its grasshopper time, she abandons her job to cook the delicacy for different individuals as its more beneficial.

A 49-year-old widow and mother of 6 who has done this job for over 20 years and has managed to build a house for her children. She has also managed to educate them and live a modest life.

She believes they are a sign of happiness and a unifying factor in the country as people from different tribes and continents eat them. Most people look forward to t5hat time of the year to enjoy this delicacy.