We bring you Uganda's contribution towsrds these peace talks
PEACE TALKS REFUGEES JOHN GARANG SALVA KIIR RIEK MACHAR

South Sudan's President, Salva Kiir and his political rival, Riek Machar are meeting in Kampala today Thursday for talks aimed at resolving key differences.

The two are meeting in the presence of President Yoweri Museveni and the head of the Sudan Sovereign Council, Abdel Fattah El-Burhan, at State House in Entebbe.

We bring you Uganda's contribution towards these peace talks.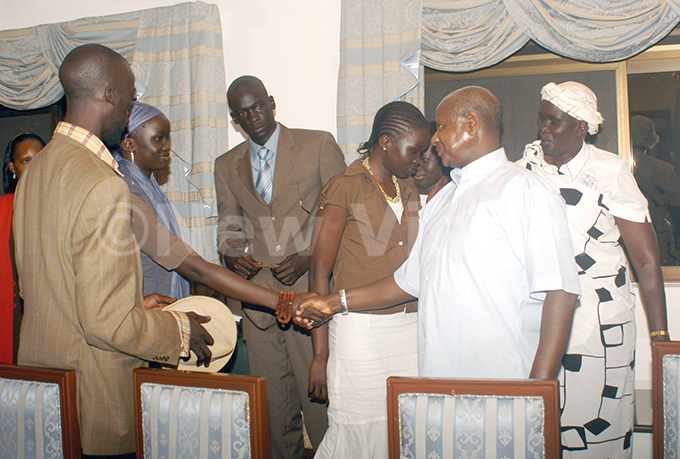 President Museveni meets late Garang's Family 19.08.05

HOW IT STARTED

December 2013
A political struggle between Kiir and Machar led to Machar's removal as vice president causing violence to erupt between presidential guard soldiers from the two largest ethnic groups in South Sudan i.e. Dinka ethnic group and Nuer ethnic group. Soldiers from the Dinka ethnic group aligned with Salva Kiir and those from the Nuer ethnic group supported Machar.

In the midst of chaos, Kiir announced that Machar had attempted a coup and violence spread quickly to Jonglei, Upper Nile, and Unity states. Since the outbreak of the conflict, armed groups targeted civilians along ethnic lines, committing rape and sexual violence, destroying property and looting villages, and recruiting children into their ranks.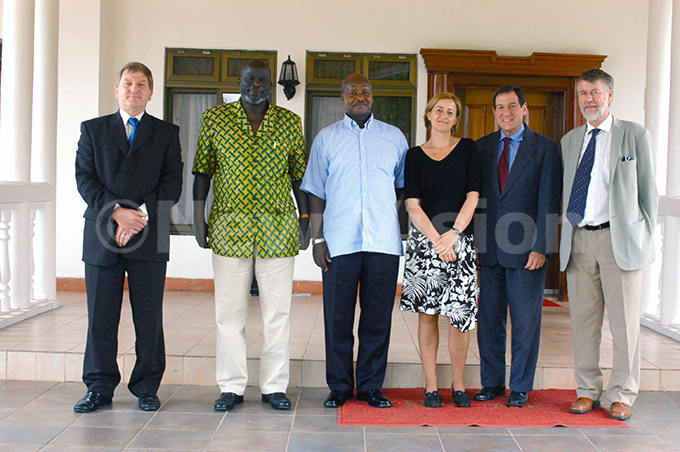 (L-R) British High Commissioner, Fransor Gordon, former Sudanese Vice President, Late John Garang, President Yoweri Museveni, Netherlands Ambassador Mrs. Yoka Brandt, American Ambassador, Jimmy Kolker and Danish Ambassador, Stig Barling, pose for a photo after meeting in Rwakitura, Mbarara on July 30, 2005.



Late December 2013
The UN Security Council authorized a rapid deployment of about 6,000 security forces, in addition to 7,600 peacekeepers already in the country, to aid in nation-building efforts.

May 2014
The Security Council voted in a rare move to shift the mission's mandate from nation-building to civilian protection, authorizing UN troops to use force.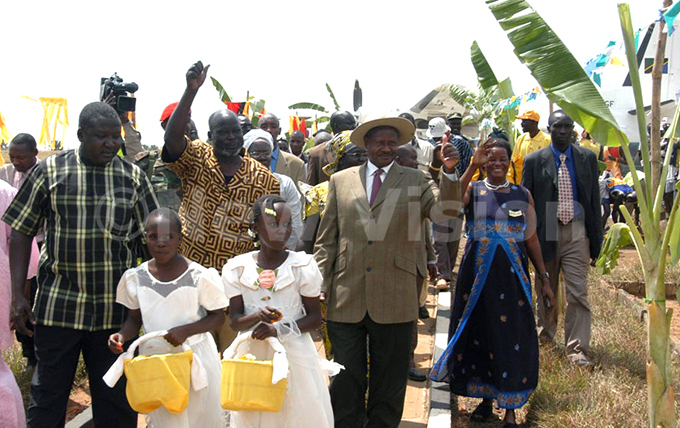 President Yoweri Museveni (R) and Former Sudan's First Vice President, Late Col John Garang, wave to the public on arrival at Gulu International Airport on January 27, 2005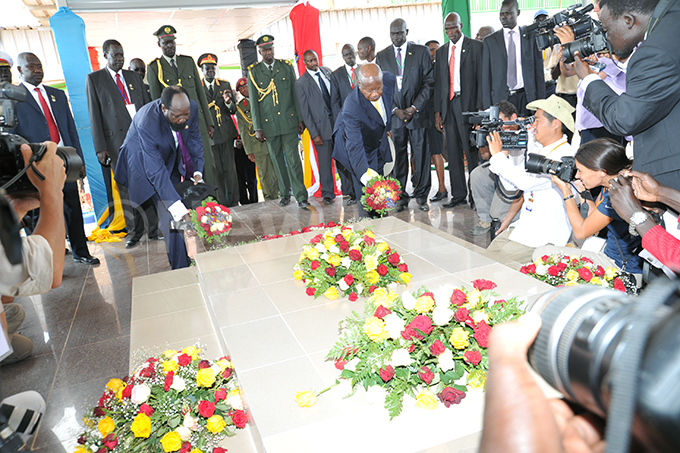 President Salva Kiir and President Museveni lay wreaths on the grave of the late John Garanga



The 1000 mile journey to peace talks

August 2015
Under the threat of international sanctions and following several rounds of negotiations supported by the Intergovernmental Authority on Development (IGAD), Kiir signed a peace agreement with Machar.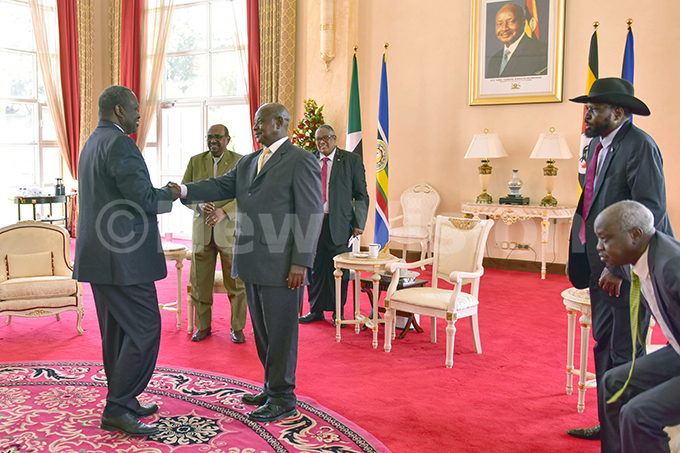 President Yoweri Kaguta Museveni receives the former vice president of South Sudan, Riek Machar as the Sudan President, Omar Bashir and the President of South Sudan, Salva Kiir look at the State House in Entebbe on July 7, 2018.


April 2016
As the first step toward ending the civil war, Machar returned to Juba and was once again sworn in as vice president, after spending more than two years outside of the country.

Soon after his return, violence broke out between government forces and opposition factions, once more displacing tens of thousands of people. Machar fled the country and was eventually detained in South Africa.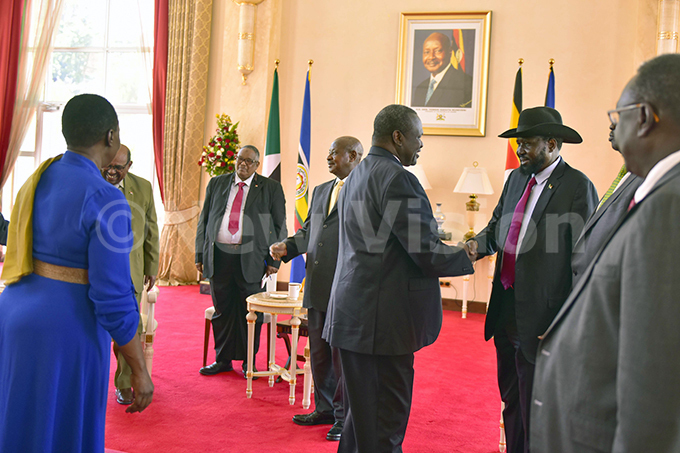 The President of South Sudan, Salva Kiir receives his former vice President, Riach Machar together with his delegation on July 7, 2018.


2017 and 2018
A series of cease-fires were negotiated and subsequently violated between the two sides and other factions. (Reference: Global conflict tracker)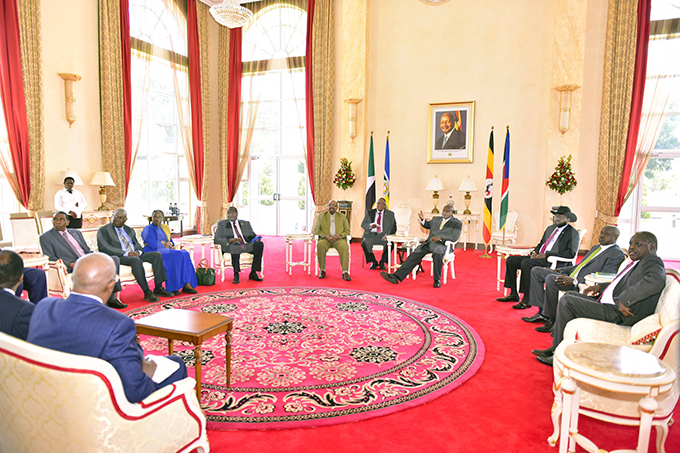 The President of the Sudan Omar Bashir, President of Uganda Yoweri Kaguta Museveni and the President of South Sudan Salva Kiir among other ministers and delegates during a peace talk meeting at the State House in Entebbe on July 7, 2018.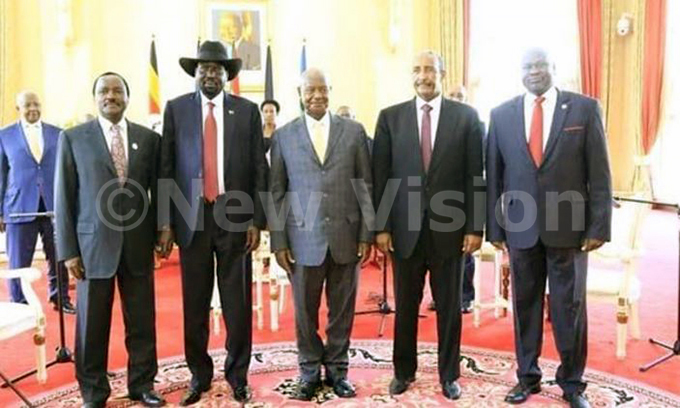 South Sudan's President Salva Kiir and Riek Machar after a power-sharing meeting



Sudanese President Omar El Bashir comes face to face with the Leader of the SPLA late Dr. John Garang de Mabior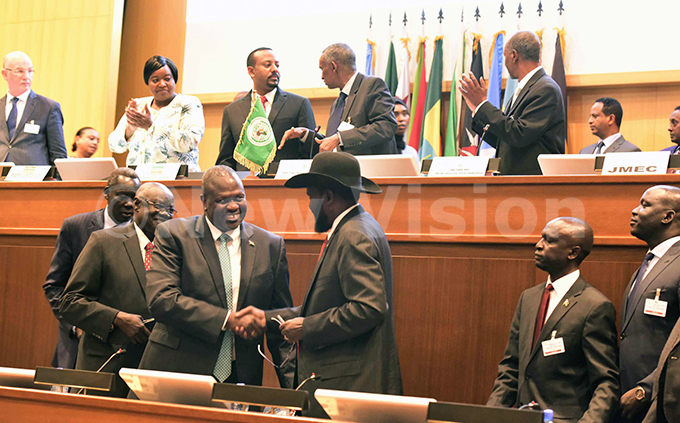 South Sudan President, Salva Kiir Mayardit and Riek Machar sign peace agreement during IGAD Summit in Ethiopia



Uganda-South Sudan relations

October 14, 2019, President Yoweri Museveni arrived in Juba for Sudan peace talks

President Yoweri Museveni was in the South Sudan capital Juba where he joined regional leaders for an impromptu meeting in their quest to chart out the way forward to achieve total peace in Sudan. Other attendees included Prime Minister of Ethiopia, Abiy Ahmed, Sudanese parties including the Revolutionary Front represented by Dr. El-Hadi Idris Mustafa and the SPLM North represented by Gen. Abdalla Aziz Adam El Hilu.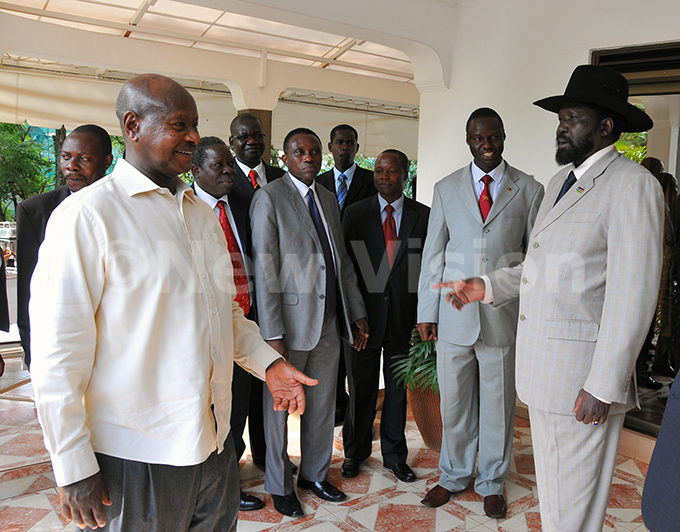 President Yoweri Museveni (L) and his guest President Salva Kiir of Southern Sudan chats with MPs from Teso who met Museveni at State House Nakasero on March 12, 2009. Photo by Enock Kakande


August 24, 2019, President Yoweri Museveni held bilateral talks with President Salva Kiir

Salva Kiir came on a two-day working visit to Uganda at the invitation of President Museveni. The discussions also included matters relating to the extension of roads and electricity to South Sudan's capital, Juba. Museveni also introduced Kiir to members of the East African Business Council with whom he had earlier held a meeting.

April 04, 2019 President Yoweri Museveni received and held a meeting at State House Entebbe with his South Sudan counterpart, Salva Kiir.

In a bilateral meeting, Kiir briefed his host on the progress of implementation of the Peace Agreement, indicating that it was largely on course with the exception of a few issues that needed to be resolved.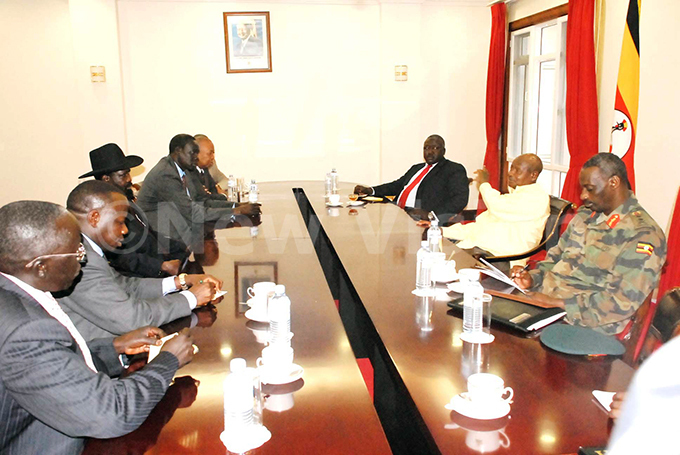 President Yoweri Museveni meets South Sudan President, Salva Kiir at state house Entebbe on December 18, 2010.



October 31, 2018 President Yoweri Museveni was in Juba for the peace celebration day

The celebrations were under the theme "Celebrating the dawn of peace, appreciating friends, cherishing reconciliation and Unity," took place at the John Garang Museum in Juba.

August 05, 2018 Uganda asked South Sudan leaders to stick to peace agreement

South Sudan's President, Salva Kiir and his rival, Riek Machar signed a final power-sharing deal, raising hope of an end to a civil war that tore the country and claimed thousands of people. The deal was signed in the presence of Sudanese President Omar al-Bashir and his counterparts from Kenya, Uganda, and Djibouti, along with foreign diplomats.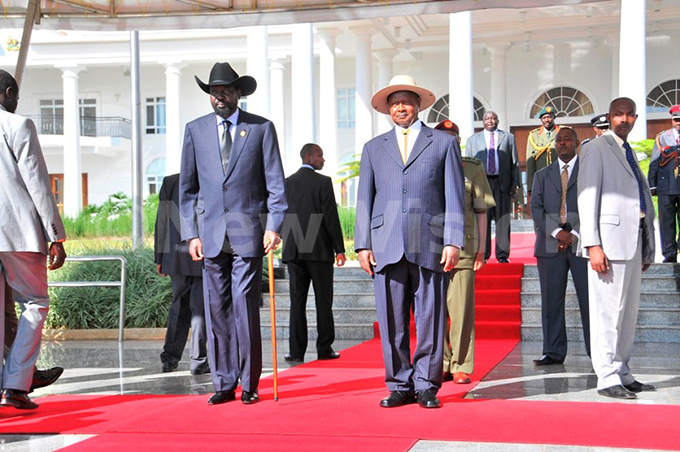 South Sudan President Salva Kiir and President Yoweri Museveni at State House Entebbe on November 17, 2011 (Photo by Kennedy Oryema)


June 2018 South Sudan's Kiir and Machar participated in negotiations mediated by Uganda and Sudan after almost five years of civil war in South Sudan. Later in the same month, they signed the Khartoum Declaration of Agreement that included a cease-fire and a pledge to negotiate a power-sharing agreement to end the war.

October 03, 2017 President Museveni received a special message from S. Sudan's Salva Kiir

President Museveni met a delegation of the Sudan People's Liberation Army (SPLA), led by General James Ajong Mawut, the Chief of Defense Forces of Republic of South Sudan conveyed a special message and a letter of appreciation from President Salva Kiir of South Sudan to President Museveni, commending him for the continued support and solidarity with the government of South Sudan. The President and the General discussed UPDF - SPLA security cooperation and training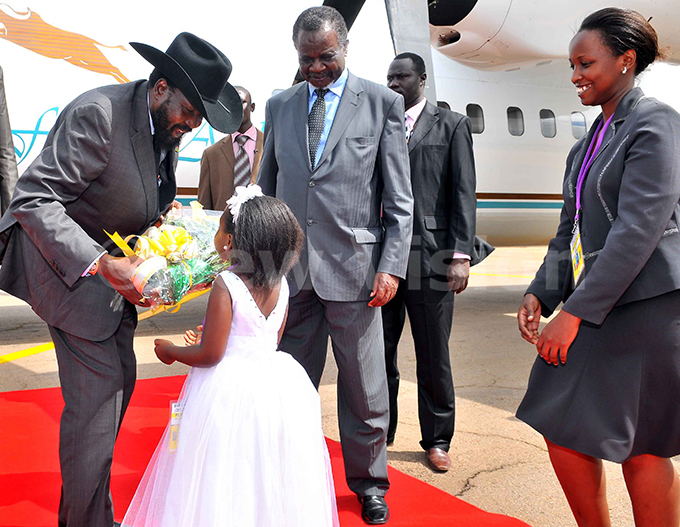 President Salva Kiir receives a bouquet of flowers from Rochelle Kamugisha of Aga Khan Nursery school as ICT Minister Aggrey Awori (center) and Protocol official Jill Nuwagira (right) look on at Entebbe International airport on May 11, 2011. (Photo by Arthur Kintu.)


October 08, 2012 - President Museveni of Uganda and His Highness the Aga Khan inaugurated the Bujagali Hydropower Project. President Museveni was Salva Kiir fo South Sudan.

July 27, 2002, The historical handshake

For the first time in 19 years, Sudanese President Omar El Bashir came face to face with the Leader of the SPLA Dr. John Garang de Mabior. The two met under the mediation of President Museveni at the International conference center.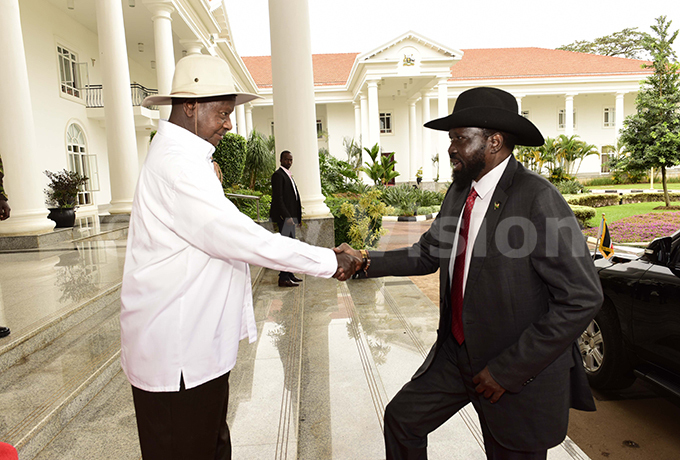 President Yoweri Museveni meeting South Sudan President, Salva Kiir Mayardit, at State House Entebbe in July 2019

RELATED STORIES