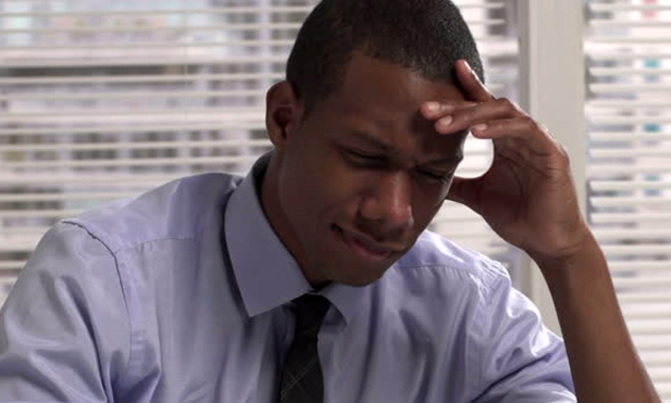 Actually I'm not shocked by this story... a friend of mine went through such... it's usually more about staying close to the parents and when the parents of the girl think the guy is not financially suited to be an in-law...
RELATIONSHIPS

We have been married for two years, and both of us come from strong Christian backgrounds. All was well during the first eight months of our marriage until my wife's father started frequenting our home.


He would make sure that he comes whenever I was away. In fact, a few times he found me at home, he would refuse to enter the house and instead call his daughter to his car. They would sit in the car and talk for hours and then drive away without even saying bye to me.

He even started giving her a lot of money secretly which she would spend partying with her friends till late. We started having disagreements frequently. The most recent was when I discovered that he had advised my wife to start taking family planning pills secretly, claiming that we were not yet in a position to support children and that we needed to work for more years before thinking of a family.

We tried to seek advice from my wife's parents and my parents, but my father-in-law shocked everyone when he suggested that we divorce, arguing that it seems we rushed into marriage.

What can I do to save my marriage?
#VisionUpdates

Efe Lix: I think your wife is becoming "a father's daughter" but don't force life, her family has insisted on leaving their child, go on with life. There are other very beautiful ladies very ready to settle. But remember to demand your dowries.

Arap Chesulut: They say that the first to make an allegation is always right until another comes to cross-examine. We would want to hear the side of your father-in-law and his daughter.

I'm a father of many girls, and like every father, I wish the best for my girls. I don't think your father-in-law could be acting in this manner if you were a gentleman.

Natukunda Nelly: May God see you through. There's a reason why this father- in- law is not into u. Do u Respect him? Number two, if he insists on a divorce, does the daughter your wife support it? If yes, accept and find your soulmate elsewhere. If not, let your father-in-law back off.

Ngabo Immy: Sometimes rejection is nature's way of protecting you from unforeseen circumstances. Take their advice and divorce her. The father is not tearing you apart, she is. She shouldn't be listening to him. Do you really want to have kids with a woman who can't make up her own mind? You will be fighting forever. Divorce her and take it as a lesson.

Patience Kwizera Mpamizo: Actually I'm not shocked by this story... a friend of mine went through such... it's usually more about staying close to the parents and when the parents of the girl think the guy is not financially suited to be an in-law... I have a friend who went through so much and he decided to walk away because indeed the father-in-law was over imposing. He first isolated my friend from his family and friends and even then that wasn't good enough.. he eventually broke him emotionally by degrading him and the daughter didn't help the matter at all. Anyway... God alone. May all marriages are not about self... and if you ask me, I feel the pain that such parents exist

Cathy Kacucu Okello: This world never ceases to amaze me, That man is competing with you already. Looks like they have been having a secret relationship and he thought he would get away with it but his heart is telling him different things. Jesus when will you come back?

Derick Natwaluma Agaba: Let your wife decide on whose instructions to take between you and her father. That will show you which direction to take my dear brother. She should remember that in the first place, she married you, she didn't marry her father. My brother, you need to see beyond your nose. Otherwise, something is not clear here.
Namakula Slyvia: That one isn't a father but is a husband to your so-called wife. They are in love with it.

Pori-Pori P'Langoya: Your wife is the major problem here, if she wasn't ready for marriage she shouldn't have wasted your time. I feel for you darling, but sit her down and discuss, you could reach a solution as a couple. Good luck.

Oule Patie: My brother you have nothing but to ask God whether the person u are in love with is your wife. If she is your then she will be your wife, come what may believe me.

Phoebe Miriam: What does your wife make of all this? Does she love you? What does she really want? Sit and talk to your wife...find out whether she wants the marriage or not! My friend, let me advise you that if your wife is not into the marriage you're better off letting go! If you find she loves you and still wants the marriage you two can stand and build on each other's strength while you lean on each other for support...

Labaja Bladinah Acheing: Put your wife down n talk to her, let her decide to stay in the marriage or go back and let her father marry her. If she truly love's you and wanst to spend the rest of her life with you, she will remain by your side.

DeusDiaz Tumuramye: I hear that such a girl was so pampered! Hmmmmm to hell with such a relationship! That father needs to be ambushed and beaten six lashes on the stomach

Edith Anyango: People saying she sleeps with the Dad, do mummy's boys also sleep with their mothers? The way society judges women...

Ayeta Judith: Your wife is a fool, Will she marry her dad?

Best is to divorce her because you two won't have peace if the father-in-law is still alive.

Henry Kiramba: Just clap your hands loudly and say thank you Lord for saving me from a witch. You don't need to have a drum size head to decide about this. You have already seen the smoke and you wait for the fire to burst!?



Karumuna Kagubare: Let her go Never marry such a woman. If you tempt to marry her be ready to be ruled in your own home. There are many ladies out there willing to be married and can make a good home. Remember to choose good mummy for your kids is better than choosing a wife for your life

AngelEyez Okot: You have to let her go to her parents. Let them sort themselves first. It appears the girl does not know what she wants, otherwise, she would just tell her dad to back off. Such are the "dads" who have been molesting their daughters. You investigate, you may find it's true.

Glon Lewin: Clearly the guy is against you. The only thing that will save you is if your wife to listen to you, but if she is listening to the dad, looks like the marriage is headed for doom.

Komugisha Monic: Actually, divorce her. I feel her father's opinion is the daughter's too according to the story. Maybe she is hiding something, maybe she was using you but she loves her father. There is nothing else apart from an intimate relationship between the girl and her dad, that's my conclusion

Solomon M Rutehenda: If your wife is into her father's advice, divorce the lady.
Never commit yourself to someone whose head is controlled by other parties. Not worth a sacrifice. Period

Katusiime Gloria: If the lady loves you truly, she will remain by your side don't worry. Your wife has a final say not parents.

Julie Masika Akankwasa: Are you sure your father-in-law was not sleeping with your wife, his daughter. He just doesn't want his daughter to conceive for him. Hehehehehehhe I have seen strange things like that!

Mozz Jean: There must be something wrong with you that your father in law doesn't like about you. Something you're not mentioning here. Either YOu live a very irresponsible life or your wife probably tells him everything about u including bedroom matters

Kabanda Kabanda: What if your father-in-law is sleeping with your wife (his daughter)?

Muwaga Paul: Dad's daughters are serial liars better get another woman because that one is no longer yours and don't be surprised when your wife introduces you to her friends as a brother

Kagire Enid Byara: How I wish we could also get the girl's side of the story!

If that man is her father, I'm sure he wishes his daughter well. I have a feeling there's something you're not telling us! The Man is protecting his daughter, he's most definitely seeing things that we on facebook don't see. My future son in law, where ever you are ready for this kind of treatment from us, we shall not allow you to give our daughters a hard time.

Carol Mukisa Cartnel: What is mum-in-law saying in all this? I don't always advise people to divorce but I am afraid I will because your WIFE is as good as married to her dad! Which father gives advice to his child about family planning! Mercy be upon you, my brother.

Mujuni Robert: The problem of the youth today is that you marry someone's daughter and you stay with her for more than two years without introducing yourself to the family of your wife and when a parent sees you not in position of coming home to be known, he will classify you as someone who will fail to care for his daughter in future because once you fail to respect the parent you cannot respect the daughter. That is why the father-in-law cannot respect you as the son-in-law because he doesn't know you. Then he starts to advise the daughter to leave when it is still early and if that is the case the father in law is right and according to that statement you have made please leave the woman and find your class.

Titus Bahweza Rube: Say yes to the divorce and get a response from her. It's better we lose what we love so much than being destroyed by what we love.

Sarah Komie: A woman who can't think with her head solely is another trouble.
Before getting married to my husband, I had to inquire whether he's not a mother's boy but good enough he's like me. We both lost our mothers while young that's how I survived.

Mukalu Yassin: There's no way you can save your marriage when the father of your wife doesn't like you and your wife as well, because she's your wife to convince her parents that your capable and you can, so if not look for another woman.

Omollo Tanga: Maybe you are not man enough, two years and you have not put something inside. My friend you are still baby, her father is right you should divorce.

Again you married your wife and some man starts to disturb her, show that man that is your home instead of crying for us here. Box that nigga and warn him to mind his business

Meison Ug: When you don't become a man in your house, that's what happens. the in-law has his family, and you have yours, and those are two different families.
What is the message here? Sir, I mean, stop that stupidity and be the head of the house. Otherwise, you are done. Wake up.

Fredrick Egulau: It's the money. What has your wife done with this money, is she making riches out of it, just like her dad, if her father thinks, he is rich enough, please, just love his daughter more, make your money, and later prove mzee wrong. Help your wife appreciate the man in you, dad won't be there for the rest of her life, you will. If dad wants to come home, he does it in your house, anything beyond the house should be greatly minimized, her address changed.

Moses Egwanyu Jr.: If what is said above happened exactly like that, then walk away. There are only two rules. Rule 1: Nobody messes up with someone's wife or husband. Rule 2: See rule one. If anyone does mess up with a wife or husband, point their head where it belongs. For your case, it is the father-in-law. Walk away. Just one more time, walk away.