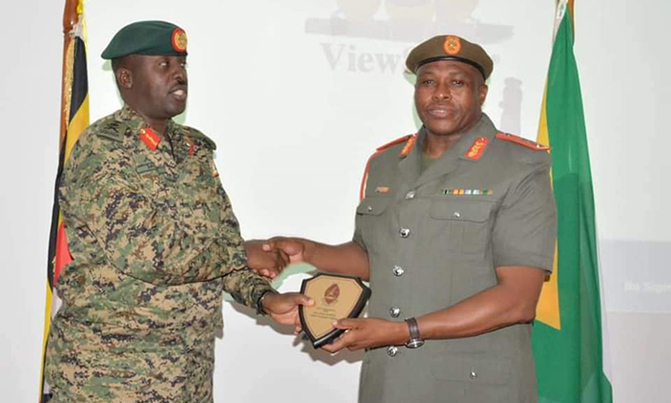 The Chief of Defence Forces appreciated the South African National Defence Forces for choosing Uganda as a study destination
Uganda and South Africa share a history of achieving social economic transformation through similar protracted struggles, the Chief of Defence Forces, Gen. David Muhoozi, has said.
"Both Uganda and South Africa have a historic relationship in terms of fighting liberation struggles despite the tensions that existed before independence." Gen. Muhoozi said.
Muhoozi made the remarks while meeting visiting officers of the Security and Defence Studies Program (SDSP) from the Republic of South Africa.
During the meeting at the Ministry of Defence and Veteran Affairs headquarters in Mbuya, Gen. Muhoozi noted that the shared history between Uganda and South Africa still there exists.
He added that the Uganda People's Defence Forces (UPDF) is built on an outlook that focuses on uplifting national interests as opposed to one that embraces self-identity.
Muhoozi appreciated the South African National Defence Forces for choosing Uganda as a study destination, which he said, broadens the lenses around the world because of the existing interconnection through the available information.
The general further remarked that both Uganda and South Africa need to work together to exploit opportunities, most especially those in agriculture, sports and nature, to promote stability and prosperity.
He urged visiting officers to shape narratives through having positive perceptions, saying that networks exist to mitigate challenges like terrorism, crime, youth explosion, diseases, risk mitigation, needs assessment and migrations.
The Head of Delegation and the Chief Joint Training Officer of the South African National Defence Force Maj. Gen. Lawrence Kholokani Mbatha, extended his gratitude to the UPDF in the restoration of peace and stability, both in Uganda and beyond.
He pledged the commitment of the South African National Defence Forces (SANDF) towards efforts aimed at creating lasting peace and stability in the region. Both delegations exchanged mementoes in honour of each army's distinguished service.
The South African delegation was also taken to a guided tour of the Parliament of Uganda, Kaweweta Recruit Training School, Senior Command and Staff College-Kimaka, Source of River Nile, Quality Chemicals Limited, and Namugongo Martyrs Shrines, among others.
The meeting was also attended by the UPDF Chief of Personnel and Administration, Brig. George Igumba, the Defense Spokesperson, Brig. Richard Karemire, among other UPDF Senior Officers.