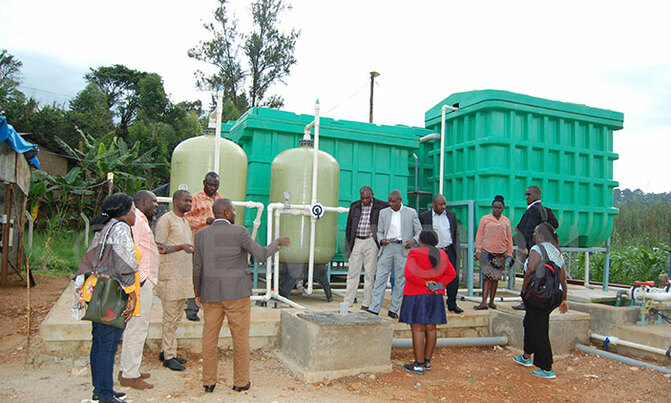 Begumya said the damage caused to the environment through mining is alarming and threatens livelihoods in the district.
ENVIRONMENT MINING
Residents and local authorities in Kitagwenda district have asked the government to halt the activities of gold mining companies for alleged environmental degradation.
Eriabu Begumya the chief administrative officer for Kiatgwenda district told the parliamentary committee on natural resources on Wednesday at the district headquarters that the district is battling serious environmental degradation emanating from the gold miners who crossed from Kicheche sub-county in Ibanda district to Kitagwenda.
Begumya said the damage caused to the environment through mining is alarming and threatens livelihoods in the district.
"We have a very big problem of environmental degradation and the companies are protected by the soldiers they crossed from Kicheche sub-county and now they are in Kitagwenda we need the government to help us and halt their activities," Begumya said.
He said the environmental degradation was also threatening River Mpanga which crosses through the district.
Kitagwenda CAO Begumya making a point during a meeting with the MPs on the natural resources committee on Wednesday
"Several small rivers are drying up and we are only left with River Mpanga which is the major source of water for the people," Begumya said.
He notes that many empty holes are being dug daily as people comb the land for minerals yet nothing is done to restore the areas.
He said t the district cannot stop the mining companies because they lack resources and personnel in the department since it is still new.
Begumya said that it requires effective regulatory mechanisms and strong political will to prevent exploration and mining companies from clearing bushes and polluting water sources and air.
Anthony Kalyegira the district natural resources officer said that the district is currently sensitising communities on the dangers of destroying the environment.
He said the central government should restrict mineral activities to only individuals and companies compliant in environmental mitigation plans.
"We are greatly concerned with the levels of environmental degradation in the district but we are also encouraging communities to plant trees," Kalyegira said.
Aogon Silas the Kumi Municipality Member of Parliament said that the police force should introduce environmental protection unit police in all parts of the districts in the country to help the local governments fight environmental degradation.
"Some of the local governments don't have the capacity to fight people involved in the destruction of the environment the police should help the local governments because they are losing the battle against environmental degradation," Aogon said.
The MPs on the natural resources committee visited several projects in Kabarole and Kitagwenda districts.
The field visit for the MPs on natural resources committee organized by the Uganda and sanitation NGO Network (UWSANET) was aimed at sharing with the members of the committee the different efforts being done by the civil society organizations in partnership with key stakeholders towards saving the environment from pollution, and unsustainable water resources management and use.