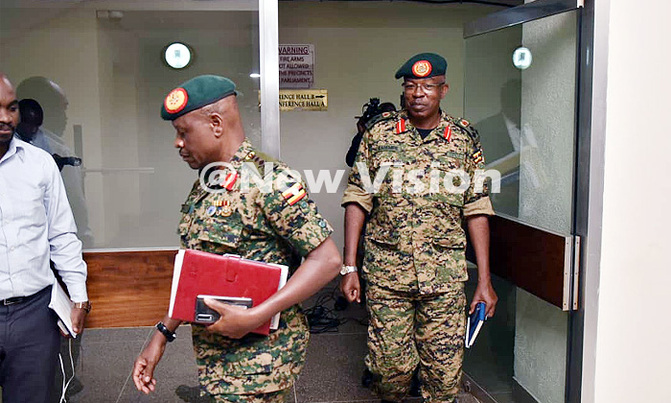 MAKERERE PROBE: Ministry of defence officials are asked to leave and return to the education committee on Wednesday with the necessary documents to support their presentation.
ROLLING NEWS THROUGHOUT THE DAY


Presented by Joseph Kizza

@joekizza

(Scroll down the page for earlier updates)

_____________________________


4:30pm | Good evening!

That's it for today. Can't exhaust all the news that there is, so I'll be back tomorrow aka Wednesday.

Don't forget to scroll down this page for earlier updates.

Cheers!

_____________________________


4:25pm | TOTO Christmas Festival returns!!!!

'Tis the season to make merry! And guess who will headline at this year's edition . . .


TOTO Christmas Festival is back this holiday season

Fresh from winning the East Africa's Got Talent (EAGT) competition, youngsters Esther and Ezekiel Mutesasira will headline performance at this year's #TOTOFestival.

Mark your calendars, 8th Dec 2019 is D-DAY#VisionGroup pic.twitter.com/vit1qb10qG

— Vision Group Uganda (@VisionGrp) November 5, 2019

_____________________________


4:15pm | Check out the 'Equator in London'

The 2019 WTM London event is happening in London, and Uganda is conspicuously represented.

Ugandan tweeps have been sharing photos from the event. User @BrianKatumba10 is one of them.


Have you been the #Equator yet?@VisitUganda is in #London for #WtmLondon19. Showcasing the unique culture, and the various attraction in the #pearlofafrica. Visit stand AF640 in Excel London - Royal Victoria Dock, 1 Western Gateway to find out more about #Uganda pic.twitter.com/rcNHUysURC

— African Star Traveler 🇺🇬🇷🇼🇰🇪 (@Briankatumba10) November 5, 2019

_____________________________


3:45pm | Defence officials told to return to committee

Miriam Namutebi at Parliament:

Ministry of defence officials have been asked to leave due to lack of documents to support their presentation before the education committee. They have been asked to return on Wednesday.

This is one of the groups (others are Makerere University and education ministry) the committee is investigating on the recent developments at Makerere University.



_____________________________


3:37pm | Lake Albert boat disaster: 7 bodies recovered

News coming in is that seven bodies have so far been retrieved from the waters of Lake Albert following Monday morning's boat accident.

_____________________________


3:30pm | First Uganda-DR Congo Business Froum launch

There has been a press briefing/media launch for the First Uganda-DR Congo Business Forum at the ministry of foreign affairs.



_____________________________


3:15pm | Plans for Mahatma Gandhi Heritage, Convention Centre

Earlier, before plenary, Speaker Rebecca Kadaga met with legislators and district officials from Jinja and officials from the foreign affairs ministry and examined ways forward of swiftly advancing plans to construct the Mahatma Gandhi Heritage and Convention Centres.



_____________________________


3:04pm | MPs hospitalized after accidents

We understand that MPs Charles Ngabirano (Rwampara) and Anthony Akol (Kilak North) are in hospital after being involved in separate accidents.

#PlenaryUg commences @RebeccaKadagaUG chairs; communicates about MPs Charles Ngabirano (NRM, Rwampara) and Anthony Akol (FDC, Kilak North), who are in Nakasero hospital and IHK respectively having been involved in separate accidents @ubctvuganda @ntvuganda @UgandaMediaCent

— Parliament of Uganda (@Parliament_Ug) November 5, 2019

_____________________________


2:55pm | PLENARY: House in session

Meanwhile, the House is sitting, chaired by Speaker Rebecca Kadaga.



_____________________________


2:30pm | Committee to meet with security officials

Miriam Namutebi at Parliament:

As the education committee finalises with the ministry of education, it is scheduled to meet with the ministry of defence and Police to discuss reported brutality on the students at Makerere University.

Earlier, state internal affairs minister Kania Mario Obiga was sat, ready to face the committee.




After mingling with higher education state minister John Chrysostom Muyingo . . .



_____________________________


2:30pm | In NiE this week

Here is what to expect in your Newspapers in Education (NiE) pullout this week:

• November 19 is World Toilet Day. This rang a sanitation bell into our ears. We ask, how best do you observe sanitation at home?

• There is something called the National Child Participation Strategy in this country. It advocates for, among others, children getting a platform to talk about issues affecting their lives themselves. Do you think this is necessary?

• You too can feature in this pullout by getting your copy and contributing to next week's issue.

_____________________________


1:58pm | Govt loses sh300m daily in halted cases

Senior court reporter Andante Okanya:

The Government loses an eye-watering sh300m daily, when cases involving public projects are halted by court injunctions.

The head of High Court Land Division Justice Eudes Keitirima, has disclosed that the government is at a disadvantage when people obtain temporary injunctions against it.

"Litigation holds up government projects. When cases are filed at the Land Court, the first application is for a temporary injunction. Now, such has an effect on the economy. It stops production," said Keitirima.

He made the remarks during an engagement meeting between the Judiciary and the Commission of Inquiry into land matters.

Ketirima presented a paper 'Land Tenure Systems: What is the effect on the overlapping land rights on the adjudication of land cases in Uganda? What are the effects on Uganda's economic development'.

_____________________________


1:45pm | Low turnout in age limit case shocks Mabirizi


Farooq Kasule in Kampala:

The lawyer challenging the removal of Uganda's presidential age limit at the East African Court of Justice (EACJ) has expressed concern over the low turnout of Ugandans at the commencement of the hearing of the case in Arusha, Tanzania.

On Tuesday, Male Mabirizi told reporters at the EACJ sub-registry in Kampala that only one Ugandan appeared in court.

"I was shocked that only one Ugandan appeared in court on this important matter. I therefore request all Ugandans believing in the rule of law and constitutionalism to pick interest in the case," he said.

On May 3 this year, Mabirizi filed a reference at the EACJ seeking a declaration that the process of passing and assenting to the Age Limit Act did not comply with Articles 6 and 7 of the Treaty for Establishment of the East African Community.

This followed a Supreme Court verdict in which majority justices (4:3) dismissed an appeal in the matter, arguing that despite several breaches which occurred during the tabling, debating and passing of the bill, it had no substantive effect on the process of the entire enactment of the Act.

Chief Justice Bart Katureebe, Stella Arach Amoko, Rubby Aweri and Jotham Tumwesigye upheld the appeal while Eldad Mwangusya, Lilian Tibatemwa- Ekirikubinza and Paul Mugamba dissented.

Article 6 and 7 of the said treaty emphasise good governance, including adherence to the principles of democracy, the rule of law, accountability, transparency, social justice, equal opportunities, gender equality, as well as the recognition, promotion and protection of human and people's rights in accordance with the provisions of the African Charter on Human and Peoples' Rights.

Donning a EACJ T-shirt, Mabirizi disclosed that he has also chosen to withdraw an application in which he wanted President Yoweri Museveni, Katureebe, Amoko, Aweri and Tumwesigye to avail him with their bio-data.

"I took a decision to withdraw my application for documents because court was to determine it next year before which no other step would be taken in the main case which I saw as time wasting yet I want to see the case quickly determined."


_____________________________


12:27pm | Mbonye's bond extended to next Monday

Michael Odeng in Kampala:

Prophet Elvis Mbonye, who was expected to appear at the Criminal Investigations Division (CID) headquarters at Kibuli on Monday for interrogation over alleged sabotage of Government immunisation program, failed to show up.

However, Mbonye of the Zoe Fellowship Ministries (ZFM), who was represented by two lawyers, was said to be having a meeting at an undisclosed place.

"The lawyers appeared at the headquarters and indicated that Mbonye was unable to come because he had a meeting that he had fixed a month ago," CID Public Relations Officer (PRO), Charles Mansio Twine revealed.

Police is investigating claims that Mbonye posted misleading information about the vaccination exercise being carried out by the health ministry.

FULL STORY HERE

_____________________________


12:15pm | 2019 PLE: 12 pupils arrested, detained

Here is an update from national exams body UNEB:


In Njeru, the situation is normal and calm with a case of PLE malpractice, where 12 pupils were arrested and detained over impersonation by Nyenga Police in Njeru Division under CRB 183/2019. It is alleged that UNEB scouts noticed that the pupils were writing uncoordinated names on the answer sheets, so they became a bit suspicious and reported these 12 pupils sitting PLE exams at Bugolosese Primary School in Bugolo village Nyenga division Buikwe district.

Details of the pupils:

1.Namuli Florence F/J15 yrs R/o Ssesse village Nyenga division
2.Nasimbwa Hadija F/J 14 yrs from kira division Namugongo Wakiso district
3 .Nalumansi Mariam F/J15yrs R/o kyoga Buwampa in Nyenga
4. Musasizi Grace F/J 15yrs from Namaziba village in Nyenga division
5.Babirye Ziiha F/J 14yrs from Buwampa in Nyenga division
6.Batuli Keti F/J 16yrs from Namaziba village in Nyenga division
7. Ndaula Isma M/J 14 yrs from Ssesse village Nyenga division
8. Banyonyoza Mike M/J 15 yrs from Kikaula in Lugazi municipality
9. Kauma William M/J 14yrs from Ndolwa village Nyenga division
10. Ampiire Patricia F/J 14yrs from kilandi village in Mukono
11.Bwire Isa M/J 15yrs from Mbumba village in Mayuge district
12.Lwanga Juma M/J 15yrs R/O Kikubobuziika in Nyenga division


_____________________________


11:47am | Makerere officials told to return Wednesday

Here is the moment officials from Makerere University, including Vice Chancellor Prof. Barnabas Nawangwe and university council chairperson Lorna Magara, left Parliament's education committee after being asked to return on Wednesday.



_____________________________


11:34am | Parliament's education committee probes Makerere matter


Miriam Namutebi at Parliament:

The education committee session has failed to take off as Members of Parliament demand for the presence of the education and sports minister Janet Museveni.

She is being represented by the state minister of higher education John Chrysostom Muyingo and Makerere University is being represented by the council chairperson Lorna Magara. The MPs are also asking for the Makerere team to come back on Wednesday as per programme.

Makerere University Vice Chancellor Prof. Barnabas Nawangwe is present.

The Makerere team has been asked to leave and return on Wednesday as the MPs have suggested that it is not right for the two entities to appear at the same time.

The Makerere officials had been scheduled to appear before the committee on Wednesday, but they showed up Tuesday with the education team. The MPs sitting on the committe argue that the Makerere team should appear indepedently to answer questions related to the latest strike at the university's main campus stemming from the divisive fees policy.



_____________________________


11:06am | Mbale and Masaka cities

Cabinet sat on Monday at State House Entebbe.

Ministers approved the operationalization of Mbale and Masaka cities to take effect in the financial year 2020/2021.



Minister Namunyangu says that Uganda's Vision 2040 envisages an urbanized Uganda, an ambitious plan that seeks to elevate it to middle-income status.

"There is no doubt that the future of Uganda's growth will continue to lie in new cities which will be strategic and regional."

For that reason, it is understood that stakeholders from Mbale and Masaka proposed cities expressed readiness for the two cities to become operational starting July 2020.

_____________________________


10:56am | Briefing on cabinet resolutions

So what resolutions did Cabinet make this week?

Local government state minister Jennifer Namuyangu is addressing reporters on this at the Uganda Media Centre.


ONGOING: Hon. Jennifer Namuyangu, the Minister of State for Local @GovUganda is addressing the media about this week's #UGCabinetResolutions. pic.twitter.com/N9ezzTAUVi

— Uganda Media Centre (@UgandaMediaCent) November 5, 2019

_____________________________


10:30am | 2019 PLE: Wrapping up

Today is the second and last day of the 2019 Primary Leaving Examinations.

The candidates are about one-and-a-half hours into the Intergrated Science exam, which officially started at 9:00am.

They will wrap up the exams with English later this afternoon at 2:00pm.


Here's a reminder of the instructions to the candidates:

1. You should arrive at the examination centre or school at least 30 minutes before the examination starts. (Which means you should be there by now).

2. Ease yourself before entering the examination room. You will not be allowed to leave the examination room before the end of the period allocated to the paper, except by special permission of the supervisor. If you are permitted, you should be accompanied and must not take a question paper or answer sheet out of the examination room.

3. Present yourself at the entrance to the examination room/hall for checking by the Supervisor/Invigilator. They have been instructed to check you thoroughly including your pockets, shoes etc.

4. You should be seated in the Examination room 20 minutes before the time for a paper.

5. Do not take materials e.g. notes, textbooks, etc into the examination room. Do not get involved in any form of examination malpractice.

6. At the start of each examination, make sure that one of you examines the examination paper envelope(s) to see if it has/they have not been opened or tampered with before. If the envelope(s) is/are opened outside the examination room, report the case straight to the Executive Secretary, UNEB, P. O. Box 7066, Kampala, Tel: 0312-260753, 0414-699005, 0414-286173/289399. Mobile: 0772-410878 or 0772-410876, Fax 0414-289397 and 0312-260752.P.T.O

7. You should attend carefully to the general instructions that are given on the front page of the question paper, e.g. the time allowed.

8. Do not write the name of your school on the Question Paper. Write the RANDOM Number of your school only.

9. You should write your Personal Number and Name clearly as shown on the Computer print Registers. Do not write a name or Index No. of any other candidate or person as this act will be regarded as a malpractice.

10. Remember that handwriting and spelling will be taken into account. Write your answers with blue/black ballpoint pens or ink pens. In case your pen stops writing ask the invigilator to provide you with another pen because work written in pencil will not be marked except in drawings.

11. If you arrive late, you will be expected to give a satisfactory reason to the Supervisor before he/she allows you to do the examination. No extra time will be given to you. You will not be permitted to do the examination if you arrive 15 minutes after the start of the examination.

12. You must NOT take away any unused question papers from the examination room. These should all be handed to the Supervisors and Invigilators only, and should all be left at the school with the Headteacher.

13. Do not go out immediately at the end of the examination. Witness the checking and sealing of the scripts before leaving the examination room.

_____________________________


9:49am | Today's Premier League action

We have plenty of local footballing action this evening.


Match day 12 of the #SUPL pic.twitter.com/g5ZBQg3CvN

— FUFA (@OfficialFUFA) November 5, 2019

_____________________________


9:40am | Cranes regional tour

A squad of 21 local-based players of the national football team will face the North Eastern Select side in a regional tour match due in Katakwi district.

The tie will be played this Saturday.

Ahead of the game, Cranes coach Johnathan McKinstry has named the cast for tour, which is part of preparations for the upcoming CHAN finals and also, according to local football governing body FUFA, "taking the Uganda Cranes brand to the masses".

It is understood that the team will undergo morning training at StarTimes Stadium Lugogo on Thursday, before departing for Katakwi on Friday morning.

Here is the selected squad, which includes seven from KCCA, five from URA and four Vipers players:

Goalkeepers: Charles Lukwago (KCCA), James Alitho (URA)

Outfield players: Paul Willa (Vipers), Halid Lwalilwa (Vipers), Mustafa Kizza (KCCA), Revita John (KCCA), Kato Samuel (KCCA), Paul Mbowa (URA), Nicolas Kasozi (KCCA), Shafiq Kagimu (URA), Hassan Senyonjo (Wakiso Giants), Muzamiru Mutyaba (KCCA), Allan Okello (KCCA), Bright Anukani (Proline), Joachim Ojera (URA), Vianne Sekajugo (Wakiso Giants), Allan Kayiwa (Vipers), Joel Madondo (Busoga United), Fahad Bayo (Vipers) Ashraf Mandela (URA) and Edrisa Lubega (Proline)


Twenty one players named for the @UgandaCranes North East Regional Tour in Katakwi. https://t.co/QYRGDxfk3J pic.twitter.com/qfB74jX46M

— FUFA (@OfficialFUFA) November 4, 2019

_____________________________


9:30am | Today's Ras Toon

The Police director of engineering and logistics, Godfrey Bangirana, has been scrapped off the Police payroll.



_____________________________


9:13am | Symposium on forensics science and medicine

The Deputy Inspector General of Police, Maj. Gen. Sabiiti Muzeeyi, on Monday opened a three-day symposium on forensics science and medicine in Kampala.

The conference is organised in collaboration with Çukurova University of Turkey.

In the picture below, we see Muzeeyi interacting with Çukurova University professor, Mete Gulmen, and Makerere University Deputy Vice Chancellor William Bazeyo during a tea break.



_____________________________


8:44am | Uganda open for business at WTM London

The three-day global event for the travel industry kicked off on Monday and is running until Wednesday.


#TourismUganda is open for business @WTM_London!

📍#VisitUganda Stand 🇺🇬AF640 #AfricaHall #WTMLDN @Africatembelea #wtm40 @ugandawildlife #IdeasArriveHere @gorillatrekking #LondonTravelWeek🇬🇧 pic.twitter.com/pHR6EkpAhF

— Tourism Uganda (@Tourismuganda) November 4, 2019

_____________________________


8:40am | Richard Quest check in on Uganda's stand


Celebrated English journalist and CNN International anchor Richard Quest popularly anchors the Quest Means Business programme.

He also fonts the CNN shows Business Traveller, The Express and Quest's World of Wonder.

Uganda is participating at the 2019 World Travel Market in London, a global event considered a hub of travel ideas. While there, Quest checked in at Uganda's stand and posed for a photo with the Ugandan delegation, including tourism minister Ephraim Kamuntu.


Celebrated CNN Travel Journalist @richardquest #VisitsUganda 's Stand 🇺🇬AF640 - Indeed #IdeasArriveHere @WTM_London #TourismUganda pic.twitter.com/dwPNup9VQv

— Tourism Uganda (@Tourismuganda) November 4, 2019

_____________________________


8:20am | 'No death registered in Monday Police operation'

Police has spoken out on part of the events that happened on Monday. Here is their statement:

Today, November 4, 2019, we had an operation in the areas of Namboole, Kireka and Bweyogerere, where Forum for Democratic Change (FDC) party had an anniversary event at Namboole Stadium.

FDC informed us about the intended celebration and we wrote back to them advising that they should shift the venue, but they ignored our directives.

Former FDC president Dr. Kiiza Besigye defied Police orders and parked his vehicle in the middle of the road, blocking and inconveniencing other road users.

The car was towed away and he was taken to Naggalama Police Station. At the moment, no charges have been preferred against him but investigators are still gathering evidence.

Meanwhile, there is a photograph circulating on social media purporting that a woman was shot and killed today in Kireka Trading Centre. This is not true. No death has been registered in this operation.


Press Statement pic.twitter.com/jcgIPtRO6n

— Uganda Police Force (@PoliceUg) November 4, 2019

_____________________________


8:05am | Morning health tip



Cut on that sodium chloride. Salt, I mean.

To keep high blood pressure at bay, you are advised the amount of salt you take in a day to less than five grams.

Be sure to also avoid saturated fats and trans fats (in meat and milk fat), among other things, as a way you can rpevent high blood pressure.


This is how you can prevent high #bloodpressure:

❗️Reduce 🧂 to less than 5g/day
❗️Avoid saturated fats & trans fats 🍔
❗️Avoid 🚬
❗️Reduce 🍷
❕Eat 🍎and 🥦regularly
❕#BeActive 🧘‍♀️🏊‍♂️

👉https://t.co/41nS53Umms pic.twitter.com/ERkLQGxiCF

— World Health Organization (WHO) (@WHO) November 4, 2019

_____________________________


7:57am | Today's dose of inspiration

They say that you never know how strong you are, until being strong is your only choice, right?

So my choice for today's inspiration is along the lines of strength. Here goes:


Strength does not come from winning. Your struggles develop your strengths. When you go through hardships and decide not to surrender, that is strength." - Arnold Schwarzenegger



_____________________________


7:50am | Good morning

Hello, it's the fifth day of November - already.

Noticed?

We are in cruise mode, ladies and gentlemen!