Prosecution alleges that the group on October 24 this year at their respective shops located at various buildings in Kampala were found in possession of suspected stolen phones, tabs
CRIME BUGANDA ROAD COURT
Following the recent crackdown of various arcades by joint security forces on suspicion of selling stolen electronics, 35, have today been charged and granted bail.

The groups were arraigned before two separate Buganda road court grade one magistrates who read out the charges to suspects in separate courtrooms.

They were charged with possession of suspected stolen property.

John Bosco Buyondo 28, Gloria Natasha26, Junior Dimba 30, Peter Malwadde 32, Tom Kiryowa 42, Arafat Mukiibi 30, Benjamin Kagezi 20, Rashid Magoola 26, Dickson Odhambo 35 and Arafat Ssebwaana 30.

Others are Kenneth Mvaneeza 22, Hadija Tamale 39, Kenneth Mbulasala 27, Hassan Matovu 19, Godfrey Kiyimba 42, Moses Bulime 54, Fred Kanyike 35, Ibrahim Ssevuma 24, and Bashir Waibi 28, appeared before Grade one Magistrate Robert Mukanza.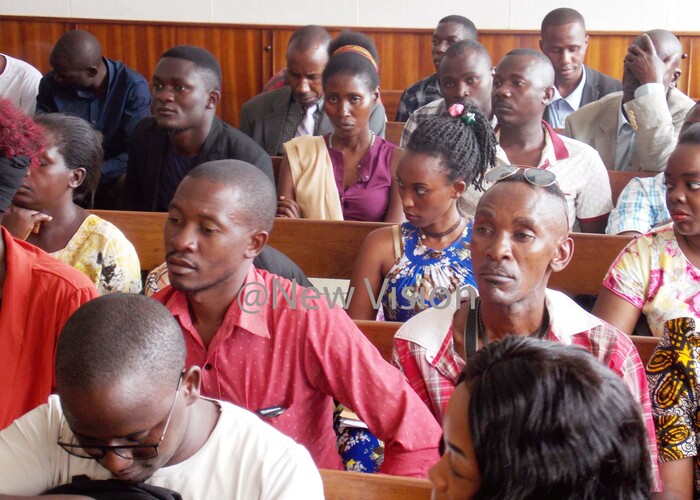 Relatives of the suspects during Court proceedings at Buganda Road Court, Kampala on Oct 31, 2019 Photos by Douglas Mubiru

While Ismeal Ssali, 33, Mulumba Ssemakula 34, Eric Kyaligonza 24, Eric Igadila 22, Muhammad Mulindwa 22, Stephen Ssegujja 37, Isma Katumba 19, Bashir Ssekitoleko 28 and Joram Kagogwe 22 appeared before Grade one Magistrate Esther Nahirya.

Others are Diana Kifampa 22, Joseph Tamale 27, Joseph Ssewanyana 19, Yasin Mutaasa 28, Sulaiman Byaruhanga 45, Richard Muwangukya 26 and Prossy Nambejja 23.

They all denied the charge. The offence contravenes section 315(1) of the penal code act and an offender is liable to imprisonment of seven years on conviction.

The defense counsels, Fredrick Mbazira and Andrew Mugumya requested court to grant the accused bail on lenient bail terms for they were all young entrepreneurs who still have financial constraints.

Upon court finding the accuseds' sureties substantial, each was released on sh5m non cash and their sureties were bonded at sh5m non-cash.

However, court constrained the accused from interfering with police investigations as one of the terms for their bail.

Prior, state attorneys Barbra Kyomugisha and Patricia Cingatho informed court that investigations are still going on.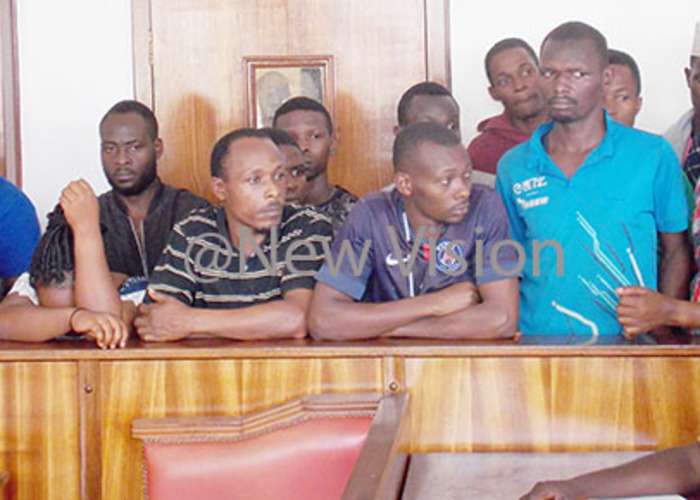 Suspects in the dock during the Court proceeding at Buganda Road. The group are charged with possession of stolen property. This was on October 31, 2019. Photos by Douglas Mubiru.
"Your worship, investigations in the matter is going on. I pray that the matter is adjourned," Kyomugisha submitted.

Prosecution alleges that the group on October 24 this year at their respective shops located at various buildings in Kampala were found in possession of suspected stolen phones, tabs, mobile phone batteries and buttoned scrap mobile phones.

Mulindwa is also said to have been found with 69 stolen card readers and 22 metallic flashs and laptop.

Ssegujja is said to have been found in possession of a stolen portable DVD and Camera.

The arrest of the accused followed the recent spate of robberies and burglaries in Kampala and the neighboring districts.

Kampala metropolitan deputy police spokesperson Luke Owesigyire told New vision that 250 people were arrested in the operation and 170 are still in custody pending police investigations.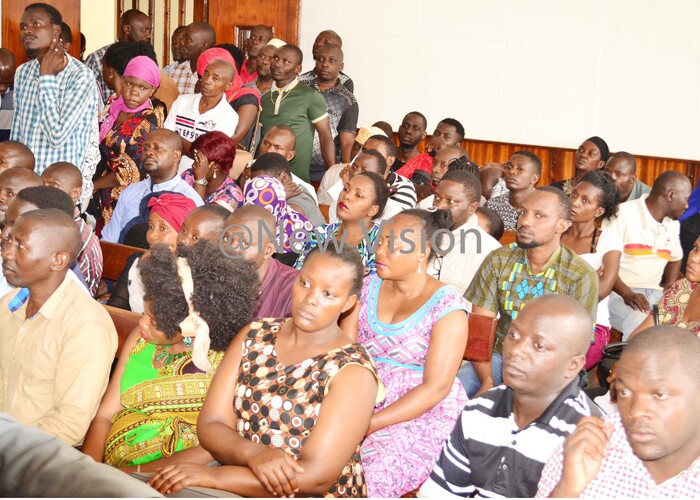 Relatives of the suspects during Court proceedings at Buganda Road Court, Kampala on Oct 31, 2019 Photos by Douglas Mubiru

"Thirty five people have been charged at Buganda Road Court, forty five were also charged at Makindye Magistrates' Court, hence totaling to 80 people. The 170 are still in our custody, pending investigations," Owesigyire said.

The case has been adjourned until November 14.