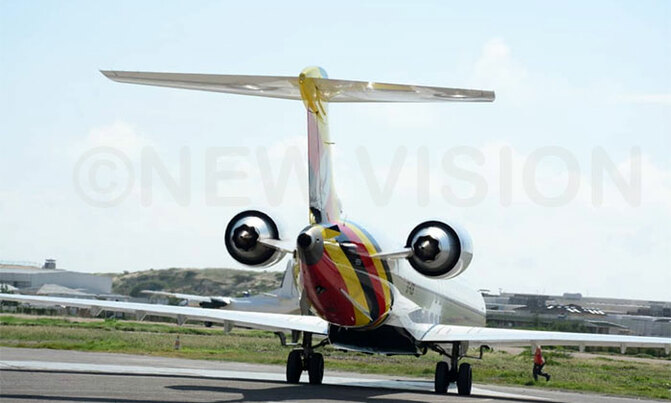 Later on their way to shopping at the Marine Market, the MPs again lit up when the jet took to the skies.
TUESDAY, OCTOBER 29

MOGADISHU - The Uganda Airlines plane excited the Ugandan MPs on a visit to Somalia when it touched down at Aden Abdelle International Airport. The MPs ululated and waved at it.

Later, on their way to shopping at the Marine market, the MPs' faces lit up again when the jet took to the skies. It first shot towards the Indian Ocean but later turned midway and headed to Entebbe.
Achiro shouted from the van and kissed her palms pointing towards the cruising jet.

She said she was so proud that the Uganda flag was once again being seen everywhere in the region.


Earlier, the team was heading to Barawe also known as Brava. This is a port town in the southwestern Lower Shebelle region of Somalia.
The UPDF battle group 26 is based in Barawe and the soldiers were waiting for the MPs for an interaction. The legislators were also supposed to meet the civilian authorities.
Meanwhile, the MPs' trip to Barawe town aborted a few minutes after takeoff from Aden Abdulle International Airport aboard a UN chopper. After a few minutes in the air, the chopper rotated around and returned to the airport. All the 19 passengers, including the Minister of State for Defence, Okello Engola, Contingent Commander Sector One, Brig. Gen. Michael Kabango and UPDF spokesman Brig. Richard Karemire disembarked. No explanation was given but it is suspected mechanical fault.
The team was later picked by a van, taken to the Marine market for shopping and back to the hotel



Streetlife and transport system in Somalia

The MPs visited Parliament and Office of the Prime Minister. They were driven in military vehicles under tight security through the streets of Mogadishu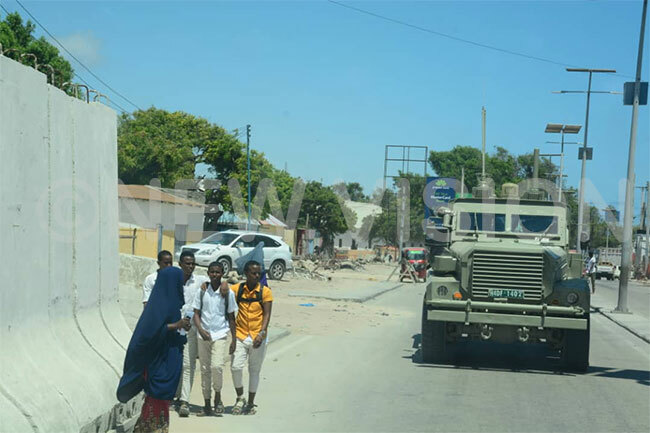 MPs disembarking off the army vehicle


WEDNESDAY, OCTOBER 31
The team visited the UPDF Marine and Maritime base in Mogadishu. The 51 personnel guard the Indian Ocean shoreline in Mogadishu and their base.