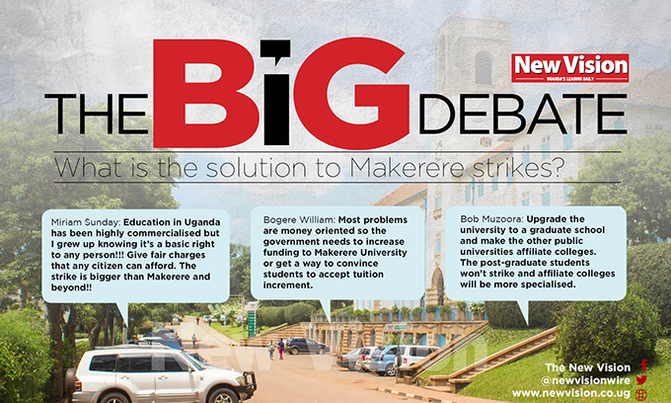 From calls for a review of the university's financial policies to more drastic suggestions that the institution be closed, this is some of what you had to say.
It has been days of ugly scenes at Makerere University as students protest an increase in tuition fees. In our Big Debate on our social media platforms, we asked what you thought the solutions to the perennial strikes at Uganda's oldest university were. From calls for a review of the university's financial policies to more drastic suggestions that the institution be closed, this is some of what you had to say.

Peter Pierre: We need to identify the causes of the different strikes that have happened. I think most of them have a financial link to them. Be it tuition, payment of staff or fees increments.

Boaz Muguta: I think the question should be, 'What is the cause of perennial strikes at Makerere?'. Once the cause is identified, then the solution can easily be got.

Rwashema Julius: Just good management and listening to the grievances of major stakeholders, students in particular.

Mzee Nyabyondo Vitas Muhairwe Redefining the phrase 'Public University'. I think the public misunderstand it and we need guidance on the same. Government facilities are public facilities. Enjoyment is by all. And majority public facilities are enjoyed at a fair or no price at all because the Government is the biggest stakeholder to help the public to overcome a certain condition in life. I think that's how the public understand public facilities, of which Makerere University is one.

@sofia_alio: It's a public university and we as tax payers expect subsidies on some on such services like education. Education is becoming too expensive for an average Ugandan to afford. Hence our literacy level is dropping. Vision 2040#weyayu.

Ali Emusoit The strikes have mainly been caused by increase in tuition and functional fees. This should be abandoned for now. MAK can't survive on fees from students alone. Let the University Council and the VC lobby for other ways of financing.

Miriam Sunday: Education in Uganda has been highly commercialised but I grew up knowing it's a basic right to any person!!! Give fare charges that any citizens can afford. The strike is bigger than Makerere and beyond!!

Walwasa Andre The top administration must be overhauled. This is killing the credibility of the oldest institution because the top administration is based on academic papers, but not on the ability of individuals with leadership talents and skills

Sam Kasangaki: It's a shame for the students to determine the fee structure.

Bob Muzoora: Upgrade the university to a graduate school and make the other public universities affiliate colleges. The post graduate students wont strike and affiliate colleges will be more specialised than the current situation.

Ocitti Wilfred: We should look at the root course of the problem by not forgetting to put students at the frontline during problem identification and coming up with possible solutions to their own problems.

Wabuyi Denis: It is always the police and army which cause fatalities remember. Instead of offering security and guiding students, the police comes in to beat them. The freedom of expression should be allowed

Atoku Emodu: Decentralise the faculties. This idea was brought by Professor Baryamureba long way back.

Munguci Innocent: Proper ways of communication between so called administrators ,parents, student leaders,and entire students body at large...

Nickson Arojjo: The whole world over, strikes and demonstrations are largely started at universities or colleges and or to a small extent, workers unions. This has always been caused by initiations of unpopular policies, like raising tuitions unjustifiably, poor feeding,lack of necessities, poor working conditions and or low wages especially for workers. Makerere University is not, unique in experiencing this. Solution, just avoid initiations of unpopular policies and improve conditions that causes discontent!

Elihuruma Lukumay: Staff and students have highlighted what is wrong! First solve that!

Womugisha Felix: Abolish evening classes, you will see the quality of education. Private students can join other private universities.

Chingu Emma Opuyaileng: I think creating a "neutral" platform for discussion is very Important. Where the Admin, staff and Student body can meet to Debate freely about the intended policies yet to be introduced in the university before actually implementing them.

Prince Kimera Stallone Katabu: The Govt to know that this is a public university which was started with the aim of giving cheap and quality education, our forefathers have not asked for any single coin from the land they gave out for the college to start up, so why do you keep on increasing the tuition

Atwine Aggrey: Closing the university.

Bogere William: Most problems are money oriented so the government needs to increase funding to Makerere University or get a way to convince students to accept tuition increment.

Kal Kaie: If you want a permanent solution, then think of completely closing this university.

@MbbonimpaEmmanu1: Better service delivery by staff, no tuition increment and staff feeling contended by the package they receive

Annet Elizabeth: What are the students rioting for? Solve their grievances.

Kaliisah Jamie The government should allocate more funds to the university because it is always the springboard of all these strikes

Kasibante Alex Casilas: I think the politicising of the university especially the positions at top level is killing the university slowly but steadily. Militarising the university too is a bad thing.

Mwaule Peter: Simple let the institutions run independently without political influence from the state. Let them collect and manage their own finances. The root cause is money.

Charles Magumba: The only permanent solution is to make Makerere a private university.

Richard Okadibongo Habumugisha: There is nothing other than to stop politicising the institution.

Namanya Enock: All workers to be put under contract and they performance appraisal before contract renewal.

Kuguma Richard: Complete review of its policies.