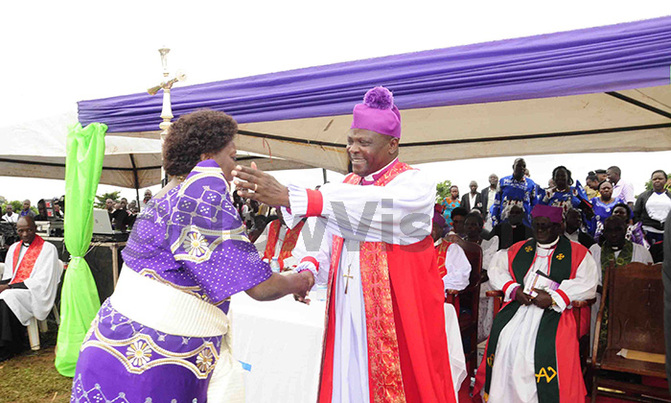 "How can a President give out an order and a Minister fails to implement it yet Archbishop, Janann Luwum's day was gazetted and everyone knows, why does Bishop Hannington day fail ?"
REGIONAL TOURISM
KYANDO - The speaker of Parliament, Rebecca Alitwala Kadaga expressed discontent at the fact that Bishop James Hannington's day was not made a public holiday as promised by the President last year.

Kadaga was also annoyed by the low turn-up of dignitaries from the government and some other workers. She said: "This should stop and in the next celebrations, the whole country should close all offices and respect the death of the Missionary who taught religion in Uganda".

"How can a President give out an order and a Minister fails to implement it yet Archbishop, Janann Luwum's day was gazetted and everyone knows, why does Bishop Hannington day fail ?" she asked.
She said this at the celebrations to remember the death of Bishop James Hannington who was killed at Kyando in Bukatube Sub County, Mayuge district by Chief Luuba on the orders of Kabaka Mwanga on 29th, October 1885 on his mission to spread the word of God in Africa and Uganda in particular.

Kadaga also requested the church to transfer the remains of the late Bishop, James Hannington from Namirembe Cathedral to Kyando so that every tourist who visit the area sees a complete package of the Bishop.
In the church sermon, which was presided over by the out-going Archbishop, Rt. Rev. Stanley Ntagali, asked government to find a permanent solution to stop cult of land grabbing in the country, corruption and torture saying that it has hindered the progress of the economy by few people.
"People should have faith in whatever they do in life and help one another to develop and have ownership over properties of different nature" Ntagali pleaded in the presence of the in-coming Archbishop, Stephen Kazimba Mugalu.
The chairperson Uganda Tourism Board, Daudi Mpabulungi Migereko thanked the church for prioritizing tourism in the country and said that as the government they will ensure to see that tourist attractions are developed to the international standards to help the country earn revenue.
"As UTB we are very happy with the initiative of all churches in Uganda for the efforts to promote religious tourism and we pray for its continuity" he thanked.
The State Minister for Transport who is also the area Member of Parliament for Bunya West constituency, Aggrey Henry Bagiire requested the church of Uganda to build a big Cathedral at Kyando in the memory of the late, Bishop James Hannington which will attract more Christians to throng in the area to remember him every time they wish.
KEYNOTES: ON BISHOP JAMES HANNINGTON?

He was born at Hurstpierpoint in Sussex, England, on 3 September 1847.

He left school at 15 years of age to work in his father's Brighton counting-house.

At the age of 21 years, Hannington decided to pursue a clerical career and entered university at St. Mary's Hall, Oxford.

In 1873 Hannington has ordained a deacon and took charge of the small parish of Trentishoe in Devon.

Around 1882, he offered himself to the Church Missionary Society, and he set sail for Zanzibar on May 17, as the head of a party of six missionaries. After suffering from fever and dysentery, he was forced to return home in 1883.

June 1884, he was ordained bishop of Eastern Equatorial Africa, and in January 1885, he departed for Africa and Uganda in particular.

Under the orders of King Mwanga II of Buganda, the missionaries were imprisoned in Busoga for all most a week, after eight days of captivity, by order from King Mwanga II, Hannington's men were killed, and on 29 October 1885, Hannington himself was speared in both sides.

Joseph Mukasa, a Roman Catholic priest and an official at Mwanga's court, rebuked the king for the deaths and was beheaded for it.

Hannington and companions were among the first Martyrs of Uganda.

Hannington's feast day in the Church of England is October 29 of every year.

In attendance, there was Central Busoga Bishop, Patrick Wakula, Bukedi Bishop, Samuel Egesa and Emeritus, Jackson Matovu of Central Buganda
Others include the Minister for Tourism from the Busoga Kingdom, Hellen Namutamba, Mayuge LC5 chairperson, Umar Bongo, Mayuge woman MP, Julie Mukoda Zabwe and Busiki county MP, Akamba.