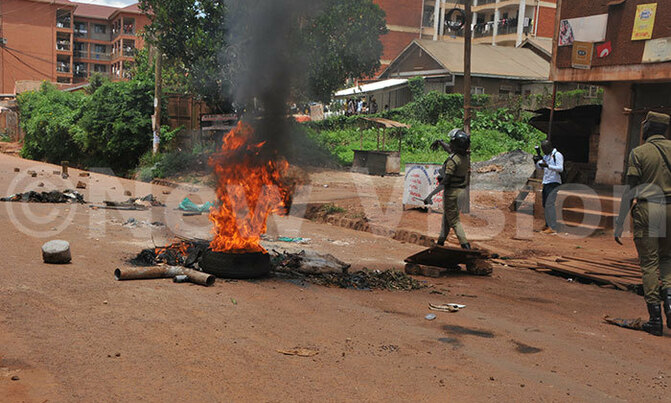 Students riot as they demand better security on campus following the death of fellow student
The discontent had been brewing for a while. And on Monday August 11, 1952 a group of students found an outlet. They presented Bernard de Bunsen, the Makerere College principal, with a petition. In it, they protested the quality of the food they were being served.
According to Frederick Byaruhanga in 'Student Power in Africa's Higher Education: A Case of Makerere University,' the students gave de Bunsen a one-week ultimatum. If their demands were not attended to, they would go on strike. The de Bunsen administration declined to respond to the petition, insisting that the student's complaints be properly presented through the official channel - the elected student Guild Council.
A week later, the students made good on their promise, refusing to enter the dining rooms for meals and blocking those who might be interested from doing so.
On August 20, to defuse the rising tension, the college was closed. When it reopened on September 19, six of the students believed to have been the ringleaders of the strike had been expelled. One of them was Abu Mayanja, who would go on to become a key figure in the Ugandan political story.
This first strike opened the door to various shades of student agitation over the years at the university, the real roots of which sometimes lay way below the surface. Sometimes the strikes came with devastating consequences, leaving a trail of blood and mayhem in their wake.
Just six years after becoming an independent university, in August 1976, Makerere broke out in chaos. Students took to the streets to protest the policies of the Amin government and in particular the killing of their colleagues, such as Paul Serwanga, who was reported to have been shot dead by a soldier just outside the university. That year, in August, the students went on strike again and government troops raided the university. Many students were arrested and allegations followed of torture and in a couple of instances, rape, by their detainers.
In 1981, President Milton Obote banned the Students' Guild following protests by students who believed that 1980 elections that had brought him to power were rigged.
Thirty-eight years later, the strikes continue. Following are some of the main ones over the years.
October 23, 2019: Over 30 students arrested as the Army and Police on Wednesday foil a strike by students protesting a 15% tuition increment.
August 1, 2016: Non-teaching staff go on strike to demand back pay. The strike lasts three weeks.
November 1, 2016: Makerere University was indefinitely closed by President Yoweri Museveni after students' strike over lecturers laying down their tools spiraled into violence.
April 22, 2016: Six Makerere University students, including the guild president, Papa Were Salim, are arrested over protests. Amid heavy police deployment at the campus, the students stage a demonstration over what they call "unfair administrative policies" following a decision to scrap 32 courses.
January 2014: A group students demonstrate over the omission of their names on the graduation list.
March 2014: Lecturers at the School of Social Sciences lay down their tools in protest of the college system of administration. They also demand arrears of up to sh500m.
February 11, 2013: Students protest a directive that 60% of tuition must be paid by March 2013. Eighteen are arrested on the third day of the riots for looting and destroying property at Makerere and its surroundings.
April 24, 2011: Over 70 students injured and seven arrested in running battles with security forces after students protest increases in tuition fees.
September 2011: The University is closed hardly two weeks into the new semester after academic staff go on strike to demand better pay and clearance of their pension arrears. For fear of students reacting with their own protests, the administration sends the students home with heavily armed police on standby to quell any violence.
November 2005: Student guild declares strike to protest the increase of fees for retakes.
November 2007: University shuts down for up to two months as lecturers lay down their tools over pay and students turned rowdy over their failure to study.
November 2006: There was a strike by staff demanding Government to honor a pledge it had made in April 2004 for a salary increase. The cause of this strike was purely related to Staff welfare.

November 17, 2003: Students protest non-payment of allowances and police respond with live bullets to counter stone-throwing students.
December 22, 2000: Makerere students protest the murder of Roger Mugisha, 23, who was stabbed multiple times and his body dumped near the entrance to Nsibirwa Hall.
April 1, 2001: A riot breaks out after Barbara Mwesigwa, 22, dies from her injuries after being shot in her CCE Complex room.
February 2, 2001: Students riot as they demand better security on campus following the death of fellow student Alex Adigaremo, 20, who was shot by unknown assailants. The murder is the second in two months.
October 24, 1996: Riots break out after the name of Northcote Hall is changed to Hall X. Northcote had been closed by the University Council followed by allegations that its residents had poisoned food meant for Africa and Livingstone Hall's joint celebrations on May 4. Thirty-five students, including Guild President Remmy Steven Galogitho, are expelled and over 30 others arrested as riots rock the university.
May 10, 1994: Students protest the introduction of cost sharing. Five are arrested, sparking off fresh demonstrations.
March 4, 1994: A decision by the sports administration to award a rugby game between Lumumba and Mitchell halls to the latter on grounds that the former had fielded someone who was not registered as a student spark off demonstrations.
1991: Students strike over the scrapping of student allowances.
December 1990: Student's lead by guild president Norbert Mao reject a Ministry of Education-imposed Guild constitution. The abolition of allowances also forms the core of student grievances.