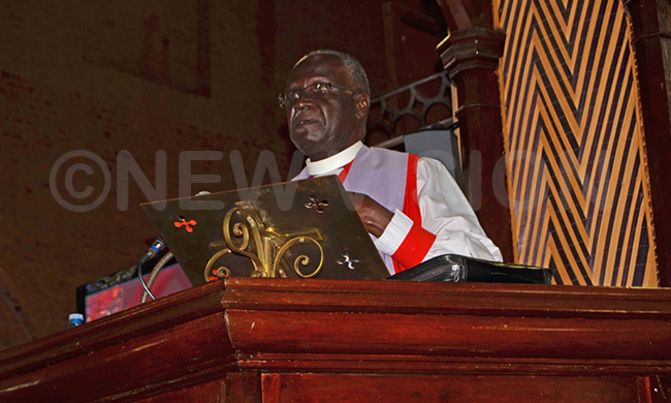 "Peter was not a wish-wash lawyer. He would ask questions such as what, why, where, who and why..."
EULOROGY

KAMPALA - The Bishop Emeritus of North Kigezi Anglican Diocese, the Rt Rev. Dr. Edward Muhima has spoken highly of the late Hon Peter Nyombi, Uganda's former Attorney General, describing him as a seasoned legal guru, who also lived an exemplary Christian life.

"Peter was not a wish-wash lawyer. He would ask questions such as what, why, where, who and why. But he was also a tender-hearted man who would challenge evil uncompromisingly. He loved the Lord and served Him faithfully.

"He never joked about bad things. He was never antagonistic. He withstood the temptation of arrogance and ego-centrism. He had the heart of living with those he disagreed with. His admirable qualities were because of his relationship with Jesus, whom he made his point of reference in every situation. Peter still lives by the virtue of his Christian legacy."

Rev. Muhima made the remarks during the 1st death anniversary memorial service of Hon Nyombi at St Paul's Cathedral, Namirembe on Sunday.

Muhima prayed for Nyombi's family, relatives and friends to remain steadfast in the Lord, despite the difficult situation they are going through.

Eulogies

Hon Nyombi was eulogized passionately by various people, who included his family members, friends, and clerics.

Rev Canon Dr. John Senyonyi, the Vice-Chancellor of Uganda Christian University, Mukono, said of his brother.

"He was amazingly intelligent. He was a unique Budonian because he went straight to King's College Budo, after his PLE at Nakasongola Church of Uganda PS, in 1966. He was also the only student who passed with a first grade in the entire district. He then opened the door for the rest of us. Subsequently, I also went to Budo for my A-Level.

"Peter always wanted the best from each of us. He was my personal counselor and friend. I always consulted him on major decisions, including work-related issues. Peter did not live for nothing. He lived a full life. He built our parent's house in the village single-handedly. He impacted positively on us."

The congregation broke into a thunderous chant of Tukutendereza Yesu (the anthem of the East African Christian Revival Movement) when Senyonyi re-affirmed that Hon Nyombi had got saved in 1980.

Juliana Nyombi, the widow, thanked the family, friends and the Christians for giving her moral and material support.

"When my husband died, I was devastated because he was my provider and protector. He provided everything I needed and he also defended me from creatures such as rats and snakes that I fear so much. So, I did not know how I was going to go about life. But I thank God because you have been there for me. You have prayed for me and comforted me."

Sarah, who spoke on behalf of the 'cousins' referred to Hon Nyombi as a pillar of the family.

Andrew Makanga Kijjo, Nyombi's son, said his dad taught him to love people, to serve God and also, to work hard.

Hon Nyombi was also eulogized by his other children: Patricia Nyombi, Hannah Nyombi, Phoebe Mirembe, and Solomon Nyombi, who described him as his "rock, hero, mentor, father, anchor and pillar of strength." The children later sang the Christian hymn It is well with my Soul, in acknowledgment of their dad's Christian commitment.

Christian brethren such as Stephen Mutyaba and an elder Zebuloni Kabaza also gave moving testimonies about the undisputed Christian salvation of Hon Nyombi.

Choirs like the Canaan Gents (acapella ensemble) and the 8:45 am English Service Choir of Namirembe Cathedral added colour to the function, which climaxed with a surprise reception/cocktail outside the Cathedral.

The function was graced by prelates such as Bishop Eliphaz and Maama Eunice Maari, Dr. Zac Niringiye, Canon Augustine Magala Musiwuufu, Rev Joy Magala (from the US) and the Very Rev Fr Aloysius Ssekamatte of the Missionary Society of White Fathers (from Nairobi).