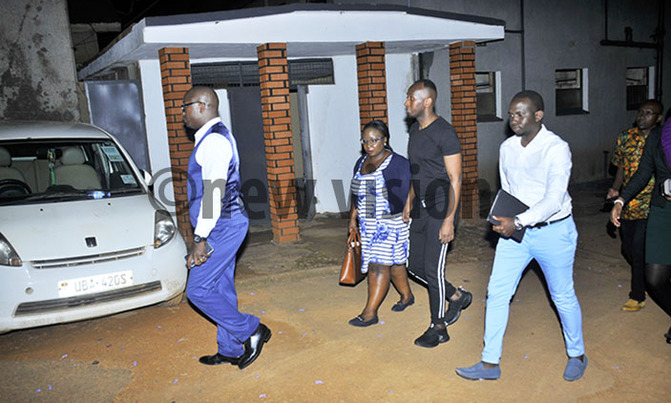 "A person shall not make, cause to be made or publish any misleading statement or information regarding the use or effect of any vaccines."
Prophet Elvis Mbonye of Zoe Ministries (dressed in black t-shirt) leaves Police premises after being interrogated at Criminal Intelligence and Investigations Directorate (CIID).

The interrogation went on for over three hours, on allegations of misinforming the public on Mass immunization exercise of Polio, measles and Rubella.

The Police had earlier issued criminal summons against Prophet Elvis Mbonye of the Zoe Fellowship Ministries (ZFM) over decampaigning the national immunisation drive.

When contacted, the CID spokesperson, Charles Mansio Twine, said: "Mbonye faced cases of sabotaging government programmes and other offences, as provided for in the 2017 Immunisation Act."
Section 23 of the Act makes it an offence for any person to publish misleading information about vaccines.

"A person shall not make, cause to be made or publish any misleading statement or information regarding the use or effect of any vaccines."

If found guilty, Mboye will be charged under article 23 he will pay a fine not exceeding forty-eight currency points (about sh960,000) or imprisonment not exceeding two years or both.
Government recently carried out a mass immunization of all children in the country, which saw the health minister, Jane Ruth Aceng's daughter immunized at Green Hill Academy.

Earlier

The first summon was communicated in a letter dated October 17, 2019, addressed to Mbonye, signed by the deputy director of CID, Joseph Obwona.

Obwona said the directorate is investigating an online publication on a Facebook account - Mugisha Elvis Mbonye - for posts on October 9 and 10 titled: The Current Vaccination Really Disinformed.

"The purpose of this communication is to direct you to report at CID HQTRS Kibuli on October 21 at 10:00 am, before the acting commissioner of media crimes for an interview and statement recording, in respect to the above publication," Obwona stated in the letter.


Parents arrested

The measles, rubella and polio immunisation campaign targeted children aged 15 years and below.

Police in Kibaale arrested some parents who reportedly refused to take their children for the immunisation exercise.
Kibaale District Police Commander David Otabong said the people arrested included Catherine Turyasingura, 34, of Kabasekende village in Kabasekende sub-county, Kibaale district.

Turyasingura allegedly hid her children but was later forced to lead the health workers to where she had hidden them.

She claimed that she had been misled into believing that the vaccines reduce one's life expectancy.

The Police and health workers had to gain entry into the home of Joseph Kasaija, 56, at Ibanda village in Muhorro sub-county, Kagadi, to immunise his five children.

Kagadi District Police Commander Romeo Ojara said on several occasions, Kasaija had chased health workers from his home.

Mbonye was interrogated by the acting commissioner on media cases, Henry Mugume and was later granted police bond where he will be required to report back on Thursday.