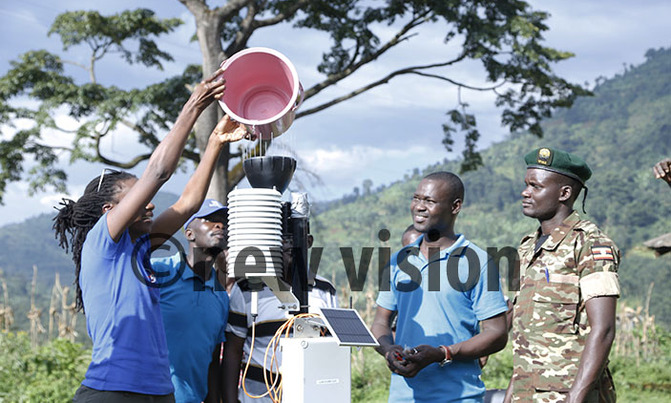 "Establishing such technology does not mean that we are going to stop with the relocation exercise."
The government in partnership with the University of Maryland in the US and Strasbourg University in France has started installing early weather warning applied research equipment for monitoring landslides in the Elgon region.
The installations got underway on Saturday in Bushiyi sub-county in Bududa district and at Gateway Monitoring Centre at the Bududa district headquarters.
According to the team leader, Dr Catherine Nakalembe, also an assistant research professor from the Department of Geographical Sciences at the University of Maryland, the equipment being installed will help to monitor the amount of rains that can result into landslides.
"These rain gauges being installed are of high sensitive wireless communication technology that collects weather data concerning landslides, amounts of rain, floods, moisture and send it directly to the centre for action," Nakalemba said.
"Landslides and floods are a result of rainfall interacting with soils on steep slopes and this early warning equipment will be able to establish the amount of rain that results into landslides and floods so that people can be alerted to vacate the dangerous areas," she added.
Nakalemba said that the equipment being installed will be able to monitor the weather and collect data from a distance of 15 kilometres from each other and send to the monitoring centre.
She said that for the pilot project, only five devices are going to be installed, adding that each one costs $5000.
Nakalemba noted that the equipment has a wind cup, humidity sensor, leaf wetness sensor, radiation shield, rain collector cones, solar panel and a sensor recalibration for signals, adding that they have a five-year guarantee before being tempered with.
Nakalemba also said that they are working on how the technology can be passed on to students at Makerere and Kyambogo universities.
However, Nakalemba expressed fear that the equipment would be vandalised if security is not provided, adding that the government should forge a way of making sure they are protected.
Emma Okecho an official from Office of the Prime Minister said they are working on having the equipment placed at the Uganda Wildlife Authority rangers' camps for a security guarantee.
"We are grateful for the researchers from Maryland and Strasbourg universities for the support offered to see that our people are saved from landslides. Our weather machines have been outdated," he said.
"Establishing such technology does not mean that we are going to stop with the relocation exercise. We shall continue but we need them as the process continues," Okecho said.
He also noted that they are going to map all the old and new landslide-prone areas across the region, adding that the exercise has been completed in Bukalasi sub-county in Bududa district.
Felix Einyu a senior meteorologist in charge of installations and inspections said that with the installation of the new technology, the process of collection and analysing of weather data will be quicker.
"This technology will also solve the challenge of accuracy and response. We are also scared of vandals that have always destroyed the facilities," he said.