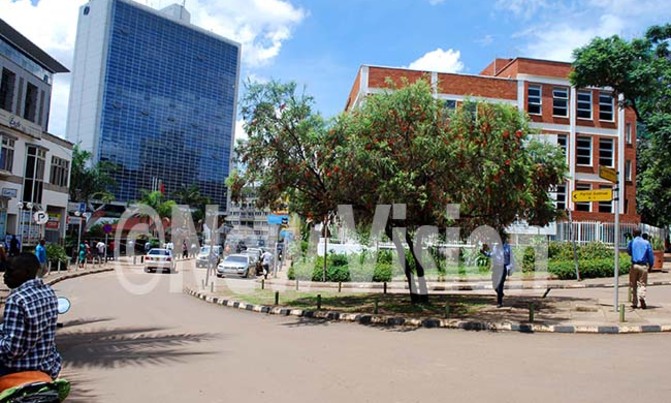 Today, a number of roads, mostly in the affluent suburbs of Kampala, derive their names from personalities of the British occupation era.
IMPERIALISM KAMPALA

Uganda was under British rule from 1890 until it gained independence in 1962. During this pre-independence period, a number of personalities played key roles in the colonial administration.

Today, a number of roads, mostly in the affluent suburbs of Kampala, derive their names from personalities of the British occupation era.

Johnston Street: Is home to Arua Park. This dusty street was named after Sir Harry Johnston, who was the British commissioner from December 1899 to November 1901. He signed an agreement with Buganda in 1900.

Colville Street: It is a one-way street stretching from Kampala Road, past Christ the King Church. It was named after Henry Edward Colville. He was the British protectorate commissioner from November 4, 1893, to May 10, 1894.

Portal Avenue: Located behind Christ the King Church, it was named after Sir Gerald H. Portal. He was the first British Commissioner in Uganda from April 1, 1893, up to May 30, 1893.

Lugard Road: Located in Nakasero, it was named after Sir Frederick John Dealtry Lugard. He was the British colonial administrator for Uganda from December 26, 1890, to May 1892.

Archer Road: It passes by the Muslim cemetery in Lugogo and joins the Upper Kololo terrace. This road was named after Sir Geoffrey Francis Archer, who was a colonial governor from August 15, 1922, up to May 18, 1925.

Baskerville Avenue: George Baskerville was a missionary and the archdeacon of Uganda under the Church Missionary Society. The road named in his memory is behind City High School.

Mackenzie Vale: William Mackenzie was the 10th prime minister of Canada, who reigned from 1921 to 1948. With over 21 years in the office, he was the longest-serving prime minister in Commonwealth history. Today, the road in his memory is where the Saudi Arabian embassy is located in Kololo.

Tufnell Drive: The Uganda-Sudan Boundary Commission, was formed in 1914 headed by Capt. Kelly and H.M. Tufnell, who was instrumental in demarcating Uganda's borders in the north. On Tufnell Drive is Beat FM radio station today.

Hesketh Bell Road: It stretches from Shell Lugogo, past the entrance to the Lugogo Indoor Stadium, joining Archer Road. This was named after Sir Henry Hesketh Bell, who was a commissioner for colonial Uganda from November 20, 1907, up to January 31, 1910.

King's Africa Rifles (KAR) Drive: It is located behind the Uganda Management Institute. KAR was a British colonial military regiment in East Africa from 1902 until independence in the 1960s.

MacKinnon Road: Sir William Mackinnon was a Scotsman who founded the Imperial British East Africa Company (IBEA). The road named after him is in Nakasero.

Windsor Crescent: In Kololo derives its name from the current British royal family. Along the Windsor Loop, also in Kololo, is the British High Commission.

Berkeley Lane: Commonly known as 'Bakuli' and the area 'ewa Bakuli', Berkeley Lane was named after Ernest James Berkeley, the British commissioner in Uganda from August 24, 1894, up to December 1899. This road is in Namirembe.

King George VI Way: It passes Embassy House, connecting to Parliament Avenue. The road is named after the father of Queen Elizabeth II. He ruled from 1895 to 1952.

Clement Hill Road: Is the location of the UNDP country office and the Media Centre. Sir Clement de Lestang was a member of the Court of Appeal of Eastern Africa.

Princess Anne Drive: The road in Bugolobi is named after Anne Elizabeth Alice Louise, the only daughter of Queen Elizabeth II.

Prince Charles Drive: Is the longest road in Kololo. It gets its name from Prince Charles A. George, the eldest son of Queen Elizabeth II and Prince Phillip.

Victoria Avenue: Located in Nakasero, it is named after the longest-reigning monarch, in English history, Queen Victoria. She ruled from 1837 to 1901. During her reign, the British Empire grew to include Canada, Australia, New Zealand, India, and Africa.

Phillip Road: In Kololo, the road is named after the Duke of Edinburgh. He is the husband of Queen Elizabeth II.

Elizabeth Avenue: Is named after Elizabeth Alexandra Mary, the Queen of England. She is the heiress to King George VI.

Dewinton Road: Near National Theatre. It was named after Sir Francis de Winton, who was a British colonial agent in Uganda in 1895.

Corydon Road: A turn-off from Jinja Road at the "Esso Corner" named after Sir Robert Thorne Corydon, who was the commissioner for the British Protectorate from February 10, 1918, up to August 15, 1922.