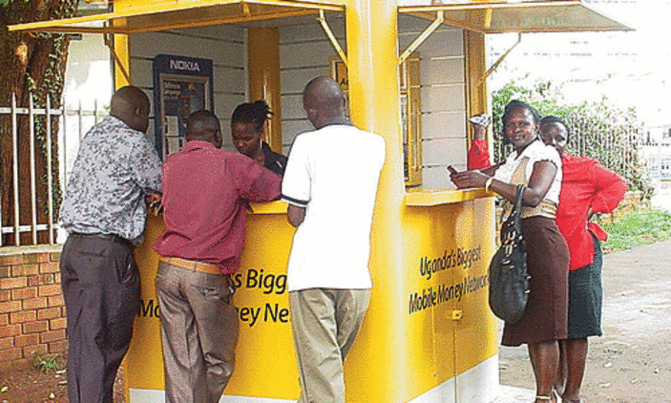 Don't move with huge chunks of money, take precaution when moving back home and always monitor your environment," Onyango advised
CRIME NEWS
Mobile money and Agent banking operators across the country have been urged to be on the lookout especially in light of the new wave of crime in which armed men are targeting them.

Kampala Metropolitan Police Spokesperson Patrick Onyango on Friday cautioned mobile money and bank agents to ensure they don't move, or keep large amounts of money in their premises.

He also advised them to ensure the change their operational routine and not predictable to criminals who he said always monitored their activities before they struck.

"Don't move with huge chunks of money, because this attracts criminals. Ensure whenever you are moving you are safe. Take precaution when moving back home and ensure you always monitor your environment," Onyango told Saturday Vision.


Onyango's caution comes in the wake of series of murders that appeared to have rocked the country of recent raising fears. He also noted that most of those engaged in the new wave of attacks were convicted criminals who had recently been released after serving their sentence or armed men belonging who were security agents and were either serving or had been dismissed from the force while some were deserters.

On Wednesday October 23, 2019, 27 year old Ambrose Asiimwe sales manager for MTN Simba Telecom, Kabale branch and resident of Kagyu cell, Butobere, Central division, Kabale municipality became the latest victim of robbery and murder.

Asiimwe was reported missing Tuesday October 22, 2019 after he failed to return after he went to a nearby DFCU Bank to withdraw shs10 million which was meant for distribution among mobile money agents. His body was found by the roadside in Kayanja Cell, Nyakishenyi Sub County in the neighboring Rukungiri District the following day.

Sources in Security told the New Vision his killers could have trailed him and monitored his movement over a period of time. "They knew at what time he picked money from the bank and when he would circulate it to the other money agents and they could have studied him for a long period. Because he had made it a routine he became vulnerable," Security sources told New Vision.

On the fateful day, Asiimwe reportedly withdrew shs10 million that was taken away from him.

On Sunday October 21st, 2019, three people were shot dead in Lyantonde district and a nearby mobile money shop robbed. Police say the mobile point later became a target because the agent was operating late in a place which was not secure and he became a victim of an attack which was carried out by a family member to the three victims who were shot dead.

Police has since two suspects Ben Kakuru and Nathan Mwebaza who is a Uganda Peoples Defence Force soldier.

On October 6, 2019 Hussein Mutyaba a boda-boda rider identified was shot in the head as chased after two men who had just robbed two ladies who were mobile money operators at their home. The two men attacked the agents at their rented premises at Nakabugo village, Bulaga Parish in Wakiso district at around 9 pm before the struck.

The two women made an alarm and as the men fled on a bike, Mutyaba who was an Internal Security operative decided to follow them prompting them to shoot. Police attributes the cause of this particular robbery to the fact that the two women decided to move with large amounts of money and also did not have enough security at the home when they were attacked.

Security also says the time the women decided to close their mobile money joint was late in the night and this put them at a risk.

"Most of those being attacked are women and vulnerable. Thugs tend to think they are weak and they cannot resist in case they attacked," Onyango said.

In June this year Security agencies arrested five people including three former Uganda People's Defence Forces (UPDF) officers who included Pte Bob Anichan, Pte Dennis Mangusho, L/Cpl Edward Mubale, casual laborer Stanley Mulunda and Nalumunye-Wakiso boda-boda rider Issa Ntale over mobile money theft and murder. The five were accused of being behind the murder of Zzana businesswoman and mobile money dealer Harriet Nalwadda.

Nalwadda together with her employee Maureen Nakabubi were on June 10, shot dead by five suspected robbers, riding on three motorcycles.
The duo was attacked at Zzana trading Centre, as they were heading home. Zzana is 8km along the Kampala-Entebbe highway.

The five, were charged in July at the General Court Martial in Makindye. Court documents indicate that Anichan and Mangusho were dismissed from the UPDF having been convicted of a series of robbery and at the time of the commission of the recent Zzana murder. Anichan had just been released from prison after serving a 14-year-jail term.

The documents further indicate that Ntale's role was to trail victims and transport assailants.

They were charged with murder and aggravated robbery, contrary to section 188, 189, 285 and 286 of the Penal Code Act. On conviction, the offence of murder attracts a non-mandatory sentence of death while aggravated robbery life imprisonment.

It was reported that Nalwadda first struggled with the thugs as they tried to take her bag, which contained money. They finally overpowered her, took the bag and shot her dead before shooting Nakabubi as well.

The duo is also accused of robbing Nalwadda of sh6.8m, using two submachine guns (SMG) that they illegally possessed.

The group were also charged with the murder of Edward Walugembe of Church Zone in Nateete. They were also accused of robbing Mwesigwa Kigongo of sh400, 000 and a Samsung mobile phone on May 14, 2019.

Police records indicate that from the beginning of the year over 50 murder cases have been reported across different parts of the country with the worst hit being the mobile money sector. Security sources also revealed that in most of the attacks targeting mobile money operators, the assailants often times track their victims and know when to attack.

Mobile money attacks is a sudden departure from previous modes of attacks that targeted Petrol station attendants and supermarkets and hardware's across the country. In the previous attacks, security says that criminals also worked closely with the attendants who were accomplices and would notify them on when huge transactions were expected.

Why mobile money is becoming a target

Launched in March 2009, first with the MTN, mobile money platform has over the period of time become one of the biggest financial phenomenon offering totally new revolution in the countries payment system.

A report of Bank of Uganda Annual Supervision Report 2013 indicated that the transactions across all Mobile Money schemes in Uganda by then stood at over 18.6trillion shillings. Mobile money transactions effectively replaced most of the traditional banking and payment systems that endeared it to so many people because it easy accessibility.

One of the worst hit area of recent is Bombo, Wobulenzi and Luweero where scores of mobile money shops have been attacked and robbed within the last 3 months.
Senior Intelligence sources who spoke to the New Vision noted that most of those attacks were being engineered by security men.

Most of those who have been arrested have either been active soldiers or those who have been dismissed from the force.

Police advice

Onyango called upon agents to ensure they monitored their own security first. "Even though it's the responsibility of the Government to provide security you should start by keeping yourself and the business safe," Onyango said.

Some of the precautionary measures an agent needs to take Onyango said include; ensuring one works in a safe and secure place, bank all the handouts received. "You should ensure you bank all the money you have received. Don't stay with petty cash.

The criminals might think you have a lot of money and end up ending your life in the process of stealing," Onyango said.

He also cautioned those operating by the roadside to ensure they have a shop nearby where all large deposits were made before they were taken to the bank.
"When they see you going to the bank they will never be interested in you. Besides never stick to one routine," Onyango added.

For those working in lonely places, Onyango said they should ensure they close their businesses early enough. "Don't stick at lonely places alone," he said.