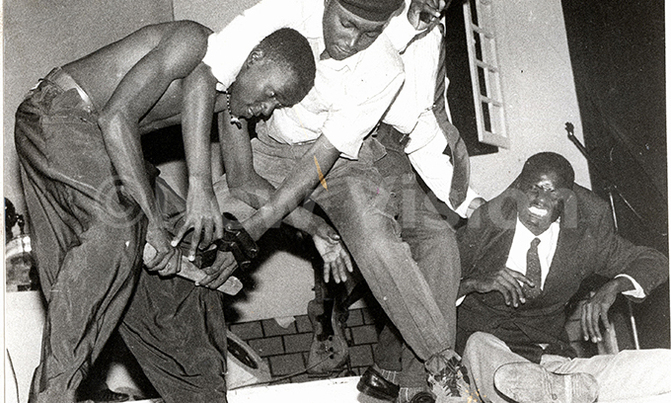 NGO theatre: A group of economists and social workers would sit in an NGO boardroom and decide to hire a drama group to spread their development message to grassroots people.
By Emmanuel Ssejjengo
Something odd happened to our drama in the 1990s. There was a deliberate attempt to make the notion of 'theatre for development' popular.
It was the highest mark of commissioned plays. A group of economists and social workers would sit in an NGO boardroom and decide to hire a drama group to spread their development message to grassroots people.
They would then hire a group, give it all sorts of pamphlets from several seminars and ask for a play about them. The NGO would pay the drama group handsomely.
In another scenario, a playwright would write for a set of NGOs, say those tackling issues of governance. Script in hand, the playwright would walk from office to office until he/she got funding to stage the play.
That era of NGO-drama can be regarded as the lost years of our theatre. The bodies commissioned several plays, most notably those about HIV/AIDS. James 'Siasa' Ssenkubuge later admitted that his group, Bakayimbira Dramactors, played a pivotal role in the fight against HIV/AIDS.
"We were contracted by NGOs to stage plays on HIV/AIDS then and we traversed the whole country with them. Now the NGOs have taken back that advocacy from the stage and back to the boardrooms and infection rates are getting higher," he recently said in an interview. One of such monumental plays was Ndiwulira.
There were other dramas based on law and justice, others on sanitation and the environment. Most of those dramas are hardly memorable. They were tasteless, lacked salt, because they were not "written from the heart".
The attempts at giving boardroom language a life on stage were futile. While the NGOs presented the plays for accountability, the dramatists yawned of boredom albeit with full bellies. Such was the fate of many radio dramas targeting the youth.
Akalaaba (The Guillotine), written by Ashraf Ssemwogerere and mostly directed by Kato Lubwama was one that strived to achieve the commissioner's desires and the populist audience that their group, Diamonds' Ensemble served.
In a production at Cooper Theatre (later broken down for a taxi park), theY packed the cast with populist actors and actresses like Sheila Nvanungi, even when they lacked in skill.
There was a lot of improvisation and actors were even allowed to heckle prominent people in the audience. However, the director was brilliant enough to make the climax scene a dark portrayal of the effect of the death sentence. It was haunting, it sank deep, and like a tragedy elevated the audience into calling for its abolishing.
On a very sad note, NGO theatre was the death of Puppet Theatre, a concept that was started by Denis 'Skido' about 2010. He was a fresh graduate from the School of Film and Performing Arts at Makerere University and he dared to swim in unknown waters.
He went for further training in that specific branch of theatre in Nairobi and returned with all the youthful energy of an innovator. And then he took his puppets to the Uganda AIDS Commission instead of a theatre.
He staged puppetry shows for technocrats who were only satisfied with lines like, "I use condoms and my friend abstains. That is why we have secured our future." When your motivation is to appease one commissioner, you will hardly squeeze creative juices out of the fruit of your brain. Skido has since delved into book publishing.
With less donor money now on offer, many have gone back to the good old ways: creating plays that are attractive to audiences.
"Climate change is the new HIV/AIDS" is now the motto for those who are still seeking for money from the donor community. It is hard to predict how far they will go with it.
Part 4: A new birth