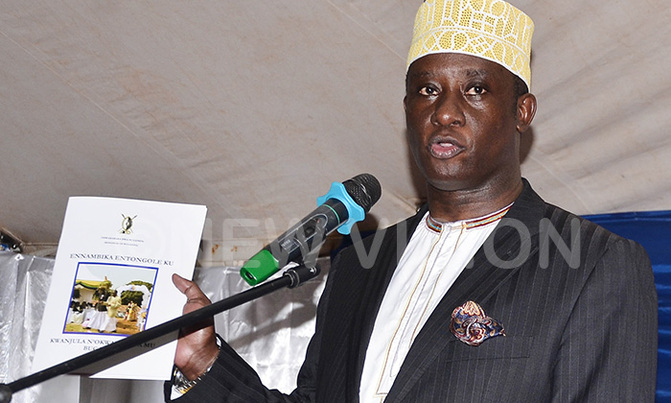 Nakibinge, a cousin to Kabaka Ronald Mutebi II, represented the Kabaka during a sensitization training for the Abataka (clan heads in Buganda kingdom).
KAMPALA - Prince Kassim Nakibinge has called upon the youth in Buganda to take on leadership positions to pave the way for key decision-making processes that affect the growth of Buganda.

"Youth in Buganda have been left behind because they have let others make decisions on their behalf, which has affected them negatively. It is high time for them to have their voices heard and stand out to fight for what is right," he said.

Nakibinge pointed out that if the youth actively engage in various political and leadership positions at all levels, they will deliver effective leadership and participation in democratic governance.

"The right agenda for the youth is to take part in key decision-making processes, and engage in legal activities that affect the growth of Buganda kingdom and the nation at large," added Nakibinge.

He added: "The first step is a change of mindset; the youth need to learn how to figure out things on their own, and the era of waiting for the government to fix all our problems is long gone."

"We need to teach the youth and Ugandans, especially the underserved communities to accept and adapt to the prevailing tough economic environment by being more frugal and shrewd in enterprises," explained Nakibinge.

Nakibinge, a cousin to Kabaka Ronald Mutebi II, represented the Kabaka during a sensitization training for the Abataka (clan heads in Buganda kingdom).

The annual event attracted hundreds of participants, including Buganda former premiers Dan Muliika, Mulwanyammuli Ssemwogerere, and John Bosco Walusimbi. It took place at Kabaka's palace on Friday at Lubiri Mengo, a city suburb.

The training focused on how parents should balance between nurturing children and working to earn a living.

The training focused on the traditional and cultural norms of the Baganda under the theme: "Firm foundation for families the future for Buganda kingdom."

Nakibinge cautioned that leadership should not be mistaken for politics.

"Leadership is the ability of an individual or a group of individuals to influence and guide followers or other members of an organization. It involves making sound, sometimes difficult decisions with a clear vision, establishing achievable goals and providing followers with the knowledge and tools necessary to achieve those goals."

To the clan heads, Nakibinge said only visionary Buganda clan heads can take the kingdom forward.

"The task of restoring our heritage and culture that had been destroyed, developing our people at all levels requires visionary clan leaders because they are respected people and their respective clans are seen as role models,

Buganda kingdom has 52 official clans where the Baganda trace their ancestry. Each clan is associated with totem- a symbol to represent the clan. Totems, as exemplified in the heritage of Buganda, are symbols of social units.

These symbols are usually in the form of animals, plants, insects and other objects.