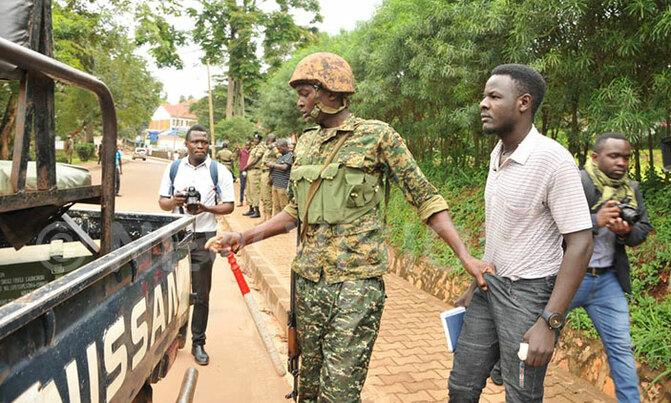 Every day we bring you a selection of photo highlights. Take a look at what we have in store for you today.
Uganda News in Pictures
Makerere University strike enters day three as more students are arrested. The students are protesting a 15% tuition increment. Karim Ssozi brings you images from the scene.
BELOW: Jordan Kiwanuka, his brother Adnan Kiwanuka and their mother Beatrice Kavuma Kiwanuka at Makindye family court where they had gone for a court ruling on their family property. The case has been pushed to October 29 (Photo credit: Miriam Namutebi)
Beatrice Kavuma Kiwanuka arrives at Makindye family court.
International day for rural women
The International day for rural women 2019 celebration is being held in Soroti. The day started with a match at Arapai sub-county headquarters to the Arapai market where the celebration is taking place. The state minister for gender Peace Mutuuzo is presiding over the event themed rural women's economic empowerment through savings and affordable credit (By Godfrey Ojore)
BELOW: Heavy downpour leaves Kamengo Police officers homeless. All their household items were destroyed. (By Paddy Bukenya)
Police crackdown on stolen motorbikes in Kibuye
State of the roads in the city
Leader of Opposition on Makerere strike
Leader of Opposition Betty Aol and her education minister Mathias Mpuga want the government to investigate alleged sexual harassment by security personnel on Makerere female students during the recent strike. She made the remarks at a presser at parliament this morning. (By Maria Wamala)
The 2nd UMI international conference
BELOW: Deputy speaker Jacob Oulanyah and Gulu University officials meet at Parliament (By Maria Wamala)