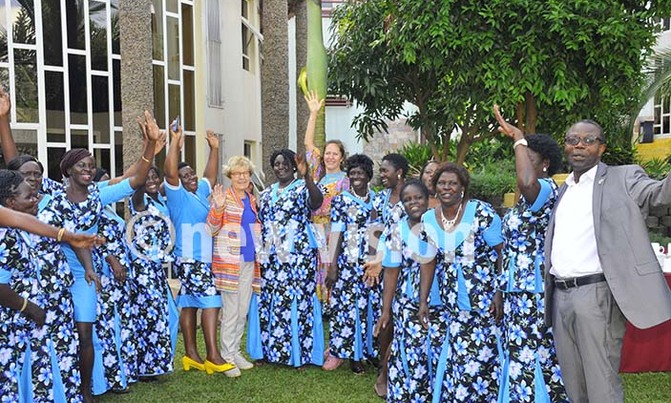 Over the years, 63,000 children who have been looked after by SOS have been integrated into public life.
It is important for parents to identify and oversee the development of children and harness their talents as they grow up.

Goretti Nanseera, a mother who has looked after children for 25 years at SOS Children Villages-Uganda Kakiri in Wakiso district said that caring for the children is a gift from God, which is referred to as a calling.

"Parents should ensure that they learn and understand their needs. The upbringing of a child matters, as well as the way you relate with them concerning their personal interests," Nansera said.

Nanseera revealed this during the 5th annual mother's forum in Entebbe Wakiso district October 17.

The mother's forum brings together mothers to share challenges and review better ways to look after children.

Naseera said she has looked after 30,000 children whom she has seen turn into successful adults. Currently, she takes care of eight children, two of whom are her biological children.

The children's Act 2016 allows children to express themselves on matters affecting their wellbeing. It allows children access to basic social services without discrimination.

Lillian Mpabulungi, the National program development manager SOS Children's Villages Uganda said that participants were drawn from four locations of Kakiri, Entebbe, and Fort-Portal and district and Gulu.

"The country is going through reforms regarding how best the children are looked after. This includes those who have lost parental care and others who are at risk of losing theirs. Alot needs to be done to prepare children for the future," Mpabulungi said.
Goretti Nanseera presenting a gift donated by SOS children to Adrian Bouwmeester, a special guest from the Netherlands.

"We are looking after 28,163 children and young adults in the SOS villages. We support 654 families under the family care in the villages to increase their economic resources," she said.

Over the years, 63,000 children who have been looked after by SOS have been integrated into public life.
She alluded that they should allow mothers to come along with their biological children to curb child neglect.

"We encourage proper parenting and for children to be raised well because it is critical for a child to stay with their mother," Mpabulungi said.

Sam Bwaya, the SOS board chairman Uganda emphasised the need for a child to be taught extra skills for the purpose of tomorrow's future.

"Education alone may not support you to have a meaningful future. Digitalisation requires one to have multi extra skills. Today's gift should be the dream of your tomorrow," Bwaya said.
A cross-section of mothers from the SOS Children's Villages Uganda