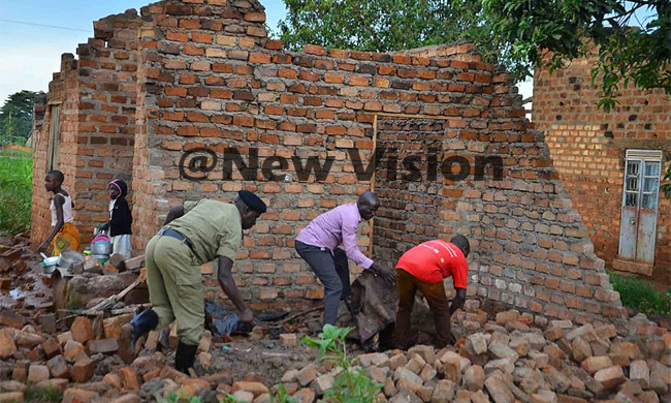 Two police officers based in Kammengo in Mpigi district and their families have survived after heavy rain blew off the roofs of their homes.
ROLLING NEWS THROUGHOUT THE DAY


Presented by Joseph Kizza

@joekizza

(Scroll down the page for earlier updates)

_____________________________


2.00pm | A BREAK

This page is taking a break - for now.

_____________________________


1.45pm | The Kiwanukas appear in court

The Kiwanuka brothers and their mother Beatrice Kavuma Kiwanuka at Makindye Family Court, where they had gone for a court ruling on their family property.



_____________________________


12.49pm | LOP speaks out on Makerere University strike

New Vision's Maria Wamala reports that the Leader of Opposition, Betty Aol, and shadow education minister Mathias Mpuuga want government to investigate alleged harrassment by security personnel during the latest protests at the campus.

This was during a press conference at Parliament earlier today.

Aol has also asked Makerere University to reverse the decision of expelling one of the female students reportedly involved in the protest.



_____________________________


12.37pm | Celebrating rural women


By Godfrey Ojore in Soroti:

The national celebration for the International Day for Rural Women 2019 is happening in Soroti. The function started with a march from Arapai sub-county headquarters to Arapai market, where the celebrations are taking place.

The State minister for gender and culture, Peace Regis Mutuuzo, is presiding over the event, which is themed Rural women's economic empowerment through savings and affordable credit.

Soroti district woman MP Angelina Osegge and LC5 chairperson Girigori Mikiri Egunyu are among the leaders attending the function.



_____________________________


12.22pm | Makerere University protest enters another day

Arrests have been made today.

Students have been protesting against a 15% increment in tuition fees.



_____________________________


12.08pm | Heavy rain leaves police officers, families homeless

Two police officers based in Kammengo in Mpigi district and their families have survived after heavy rain blew off the roofs of their homes.

Bukedde reporter Paddy Bukenya reports that Sgt Eriot Nuwamanya and Col Herbert Ssekabuuza are now homeless and desperate. Their children were hit by debris when the structure collapsed, and were rushed for medical attention.

While they are lucky to survive the accident, the two families are upset with the hopeless situation that the rain has plunged them into.




Sgt Eriot Nuwamanya visibly upset . . .


_____________________________


11.47am | Annual Joint Sector Review under way

The Ministry of ICT & National Guidance Annual Joint Sector Review workshop is happening now at Imperial Royale Hotel in Kampala.



_____________________________


11.32am | 'Stolen' cow recovered in car

Police have recovered a cow believed to have been stolen in a car whose occupants took off when they realise they were being pursued by patrol police in Banda.

The patrol teams intercepted the vehicle at around 2am today.

Police say they are investigating the matter by finding out who the owner(s) of the car and cow is/are.


Search was conducted in the vehicle and a suspected stolen Cow was recovered inside.
Investigations still ongoing to identify the owner of the Cow and the owner of the Vehicle which is also suspected to be stolen. pic.twitter.com/ykAhJqzhMn

— Uganda Police Force (@PoliceUg) October 24, 2019

_____________________________


11.18am | 23 years ago today

Remember what happened on October 24, 1996? It was also a Thursday.



Thirty-five students of Makerere University, including guild president Remmy Galogitho, were expelled and over 30 others arrested as riots rocked the university.

Police used tear gas and rubber bullets to disperse the students who pelted them with stones and bottles. The students smashed vehicle windscreens in clashes in which some Police officers and students were injured. The riot was triggered by Northcote Hall (now Nsibirwa) after it was closed when its resident students refused to name colleagues who had laced fellow students' food with broken glass.

_____________________________


11.07am | Workers MP dragged to court

Workers Member of Parliament Dr Sam Lyomoki has been dragged
to the Civil Division of the High Court over failing to pay a loan of sh70m that he allegedly took in August last year. Herbert Lule claims Lyomoki issued him a postdated cheque, which was dishonoured because his (Lyomoki's) account was dormant.

_____________________________


10.53am | Museveni, Putin meet

President Yoweri Museveni has met with his Russian counterpart Vladimir Putin on the sidelines of the Russia-Africa Summit in Sochi, which is in its last day today.

"Russia and Uganda are co-operating very well in the areas of defence and security. With support from Russia, we are working on building workshops for maintenance and overhaul of equipment like aircraft," tweeted President Museveni.


President Putin and I discussed cooperation between our two countries in the areas of manufacture of human and livestock vaccines, explore space technology, construction, cyber technology and agriculture among others. pic.twitter.com/MCh9SUAdSQ

— Yoweri K Museveni (@KagutaMuseveni) October 23, 2019

_____________________________


10.45am | How's the traffic flow?

It's all good on the Kampala-Jinja Road as you are heading to town . . .



_____________________________


10.20am | Annual Joint Sector Review

Meanwhile, the ICT and national guidance ministry is holding a two-day Annual Joint Sector Review starting today.

The meeting is themed Strategise and tap into the 4th Industrial Revolution for sustainable national development.

_____________________________


10.15am | Media briefing by Deputy Chief Justice

Today, the Deputy Chief Justice, Alfonse Owny Dollo, is addressing a press briefing ahead of the upcoming Fourth African Union Judicial Dialogue in Kampala.

The briefing is taking place in Court Room 1 at the Judiciary headquarters on the High Court building in the heart of the city.

The Principal Judge, Chief Registrar and Registrar of the African Court on Human and Peoples' Rights will be among those in attendance.


_____________________________


10.10am | What happened on Wednesday?

Protests at Makerere University over tuition increment, property worth billions of shillings reduced to ashes on Ruwero island and a Requiem Mass held for Cranes keeper Denis Onyango's father.

This and much more in Wedesday's roundup. READ HERE.

_____________________________


10.05am | Today's Ras Toon

Uganda has secured a huge market in China for local milk and beef producers in the country.



_____________________________


9.45am | And the winners are . . .

New Vision's Carol Natukunda has won the Journalist of the Year award in the Population Media Awards 2019. Other journalists were also winners in different categories.

They were awarded during the launch of the State of Uganda Population Report Wednesday evening in Kampala.

In the picture immediately below are the winners, from left:

• Dianah Kibuuka of CBS (radio),

• Ronald Mugabe of New Vision (online)

• Carlton Scovia Nakamya of BBS TV (television)

• Carol Natukunda of New Vision (overall winner)

• Christopher Bendana of New Vision (print)



_____________________________


9.25am | Are 'panyas' effective nowadays?

Our post on Facebook has got you sharing your thoughts . . .

Godwin Dindi says: "I was stuck in a "panya" last evening for one and half hours....I've learnt my lesson, I will stick with the Wandegeya traffic or Fairway side."

Minster Gerald writes: How i wish all the feeder roads were worked on, it would reduce Jam to 10%

"The panyas around Kampala are no longer panyas. Whenever I try them, I end up regretting. It's better to stick to the main patiently. It will take your time but at least your car will be safe," Mike Payesu weighs in.

Kit Tun says: "Sometimes we don't even know where the panya leads and we just follow some vehicles ahead of us.. why? We are frustrated to wait on the main road."




_____________________________


9.20am | Are 'panyas' effective nowadays?

Have you used a 'panya' (detour) lately? Did you beat the motorist that you left on the highway?

This morning, we want to find out what you make of 'panyas'. Are they effective any more?


#KlaTrafficFrustration

Are the so-called 'panyas' (detours) effective anymore? Looks like everyone knows them nowadays. But aren't they instead deceptive? Once, a car stalled in a 'panya' & created an hour-long jam. Would you rather stick to the main route? #VisionUpdates pic.twitter.com/NawuIffDMc

— New Vision UGANDA (@newvisionwire) October 24, 2019

_____________________________


9.15am | Good morning

Hello everyone. I guess by now you must have gotten used to waking up to wet weather lately.

Sometimes, it starts raining as soon as your wake-up alarm sounds. And that's not nice at all.

Other times, the rain gets you right after alighting from a vehicle, and before you can reach a shelter, you are all drenched - like a river otter.


Fair to say that weather influences our sense of style and fashion.

What do you prefer to wear on a sweltering day? Fancy green shades?

How about on a cold, wet morning?


If rain has a tendency of getting you sunken, no worries - the sun will take over the vast skies sooner than you know it.


For now, just make sure to get to your work place on time to stay in the good books of your boss.

You may be thrust in a motorway hold-up here in Kampala . . .




. . . but you are much better than one who has to share the road space with flocks of sheep and goats in the heart of Spain's capital Madrid.