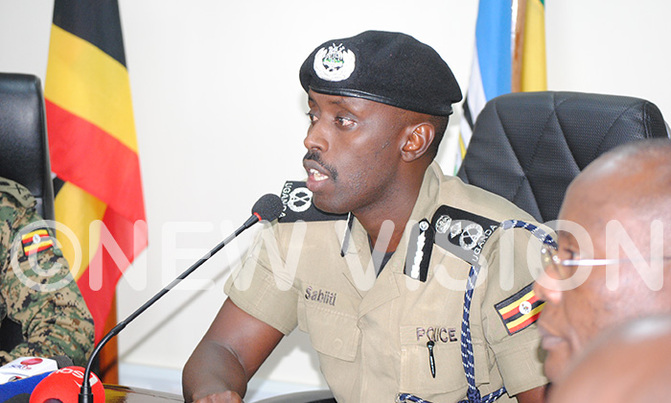 I called one in Kasangati a few days back, they responded and helped us. Thanks to Uganda Police
SECURITY

KAMPALA - President Yoweri Museveni last week gave two days to Maj. Gen. Sabiiti Muzeyi, the Deputy Inspector General of Police to come up with a plan to fight crime in Uganda.

On Monday, Police released a master plan among which is the toll-free number(999) and WhatsApp(0707114114) number open to the public to report any crime which will help in investigations and intensify community-based policing. New Vision asked the public about their experiences and below are their responses:

Stephen Gumisiriza: I will never forget the night of the twin bombings at Rugby Club! Never!

After somehow managing to rummage through and I'm still confused and all, I was still outside the fence, figuring out what to do. So I thought to call the police and I did.

And the guy the other end was asking for my name!!! When I'm telling you about a bomb blast, what is a name for? Dude refused to talk to me before I could give him my name!

I just hang up.

Okeny Charles Kinyera: I used the number early this year in Gulu when the hotel we were living was taken over by an overcharged drug addict from Malawi.

The young man and about 11 other family members had come to Gulu to attend a wedding ceremony. When he overdosed himself with drugs and alcohol, he became unbearably violent, making noise and kicking anything around him from 1:00 am to 5:00 am.

The hotel manager together with the young man's relatives and other people in the hotel tried to restrain him but all in vain.

I called the Police number at about 2:00 am, they told me they would come shortly. I literally sat outside waiting till 4:00am and I called again and they told me we are coming, but all in vain.

Since then, I started looking at the Uganda Police Force as the true enemy of progress.

I have turned my trust in God alone.

That's my experience.

Jackson Sunny Ssekadde: Yes, for about five days. I called every day at different intervals to check its promptness, the response was fast to pick the phone between 2-4 minutes wait. About the actual dispatch, I'm not sure

Matezanye John Bosco: Yes I have ever called several times but they spend most time asking questions that don't help yet when someone calls they have to act immediately. They should change and act responsibly as it is their mandate to rescue Ugandans.

William Kiterie: I'm happy to learn more from you people, all the way from Bungoma Kenya, officers in uniform are the same mostly in developing countries.

Kaylie Liz: I called one in Kasangati a few days back, they responded and helped us. Thanks to Uganda Police

Abi Bigaire: When I called for support, at that time I was leaving in Kisaasi, we had been invaded by armed robbers and they promised to contact the area patrol which never happened until the thugs left the village.

Nambafu Chrise: Our minibus broke down near the electoral commission offices and people were becoming violent. So I called the police and it took them three hours to arrive.


Felix Kyeyune: To be precise, all people at government receptions include those in control of Police urgently need capacity building on how to handle calls and customers in general. The vast majority are naïve, others are arrogant forgetting that their office is far different from personal phones.

Bassam Walugumba: The police are rotten, they only hear executive orders, do you think the problem we have would have been they if we have a genuine police force and clean hand the Judiciary? Of course no, so calling them is immaterial, they only answer: 'We coming over' till morning or after a calculation that gangs have gone is when they appear.

Hamiidah Nakalemba: You call them for help at night, they ask you… are thy armed?? Very lazy and useless.

Ssamulai Joseph: This is only the one thing that has failed them, #olina ezamaffuta is the kind of response when someone is in danger, actually that's one of the reasons why criminals disappear.

Olupot George: They hardly pick and if pick, they take long to respond, personally now use Army boys in case I have a problem they come in very fast.

I used to like Uganda Police Force when my friend was a commander of Kampala Metropolitan but since the guy was transferred, the system is now volongoto.

Betty Asiimwe: I have not used it but what I know is they don't pick and if they pick, they can't rescue like it is in the first world countries where police are trained to rescue and wholeheartedly reserve and preserve nationals.

Okol Lazarus: Even if they pick they don't respond immediately, after three hours. Ugandan police are strong on duty during day time and at night they are strong in other things.

Mukisa Ndereya Dawudi: One day I called them to say hello, then I switched off.

Ruhesi Godfrey: Two weeks back I called 999...Welcome to Uganda Police, stay online. After a few seconds, 'the telephone number you have called is currently switched off'.

Lugai Frank Darwin : Not helpful at all

Kadaali Ivo Andrew: When I call they don't pick, maybe I'll start sending u call me back messages

Es Kefa: Hahaha does the Police respond anyway?

Muhumuza Adolph I don't know them and it doesn't make news to me

Namanya Omunyakigezi: Only to tell me that they have no fuel.

Enachu Frederick Edmos: No one answers when you call

However, when New Vision contacted Luke Owoyesigyire, the Deputy Spokesperson Kampala Metropolitan Police, he said the general public has benefited from the arrangement.

"Despite the challenges like delaying to reply, and failure to locate the places quickly, the general public has benefited. Therefore, those who have questions about it, should come to us directly or to our immediate offices because we cannot act through social media," Owoyesigyire said.

RELATED STORIES
Museveni gives Police two days to combat city criminal gangs