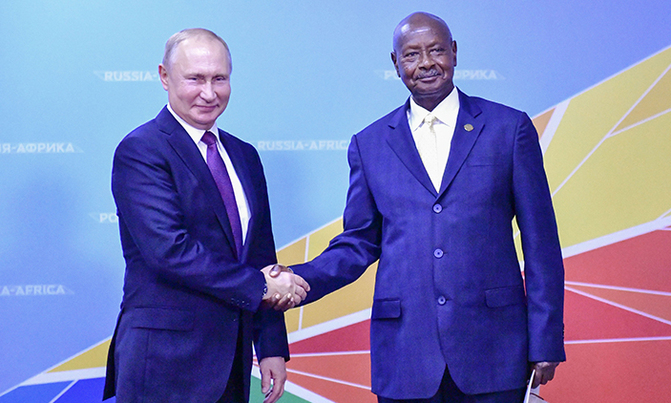 The two leaders had initiaaly interacted at the opening ceremony of the Russia-Africa Summit
President Yoweri Museveni has commended President Vladimir Putin for hosting the first Russia-Africa Summit saying it was long overdue in strengthening the trade and bilateral relations between Africa and Russia.
The summit follows similar meetings between African countries and other developed countries including Turkey, China, India and more recently Japan.
Museveni also hailed the Russian government for reviving the joint permanent commission of cooperation between Uganda and Russia, which he described as going very well, according to a release from State House
The President was on Wednesday speaking during a bilateral meeting with his host Putin at the sidelines of the Russia-Africa Summit at the Sirius Park of Science and Art in Sochi, one of Russia's largest convention venues.
The two leaders had initially interacted at the opening ceremony of the summit and later at the bilateral meeting.
"We have already held meetings with China, Turkey, India and Japan but had not yet had one with Russia, yet when we were fighting for freedom, China and Russia supported us. We have been cooperating very well in the areas of Defence and Security by buying good quality Russian equipment including aircraft. We want to buy more including ammunition," Museveni said.
"Previously, we have been paying cash but this slows down the supply and affects purchases. We want to pay steadily for fast supply. We are working on building workshops for maintenance and overhaul of the aircraft instead of bringing them here which has high transport costs," he added.
Museveni also urged his Russian counterpart to consider cooperating with Uganda on the issue of vaccines for humans and livestock, space technology and cooperation at international fora.
In his remarks, P Putin thanked Museveni for supporting the joint permanent commission set between Uganda and Russia to further boost the social and economic ties.
He noted that Uganda and Russia should consider cooperating in other areas including in construction, cyber technology, and agriculture.
Russia hopes that the use of modern technologies as well as partnerships with foreign companies will help take the African agro-industrial sector to a new level. Russia is one of the largest suppliers of agricultural products to African countries today and is ready to further develop this segment.
The President's delegation to Russia includes several ministers: Sam Kutesa (foreign affairs), Eng. Irene Muloni (energy and mineral development), Dr Elioda Tumwesigye (science, technology and innovation), Lt. Gen. Proscovia Nalweyiso (senior presidential advisor) as well as first daughter Diana Museveni Kamuntu.