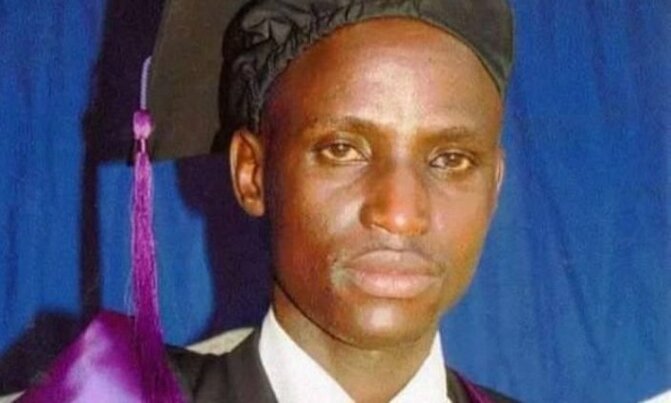 The lawyer who was beaten up by a mob after being mistaken for a phone thief in Mutungo last week succumbed to his injuries on Friday at Case Clinic.
MOB JUSTICE CRIME
The Legal fraternity has urged the Government to ensure Peter Kibirango killers face the full wrath of the law.
The lawyer who was beaten up by a mob after being mistaken for a phone thief in Mutungo last week succumbed to his injuries on Friday at Case Clinic.
On Monday multitudes of Kibirango's friends turned up to an emotional funeral service at St. Luke Church in Ntinda and paid tribute to a man who had distinguished himself as a defender of the voiceless and powerless.
40-year-old Kibirango who had planned to get married to his fiancé Phiona Atwijuka was laid to rest on Tuesday at Kigando village, Nyabuhama parish, Biharwe sub-county in Mbarara district.
Uganda Law Society President Peter Kinobe described the late Kibirango as a person who stood out as a humble advocate who gave his time, brains and his meager resources to ensure that justice was served to all people. He urged lawyers to emulate him.
Kinobe said, "My heart breaks at the realization that he did not have to die. He was young and the beacon of hope for his family." He assured the family that they would not rest until justice was done.
Isaac Ssemakadde the founder of Centre for Legal Aid described the deceased as a key pillar in human rights who had gone out of his way to fight for the underprivileged. "He had a rare gift that made him connect with people at difficult moments," Ssemakadde noted.
James Orima, the Managing Partner at Orima and Company Advocate where the deceased worked described Kibirango as an ambitious and industrious man. He noted that the deceased spent his entire salary on buying land back home in Mbarara and Ibanda as well as growing bananas and rearing goats.
He noted that despite having bought a car, the deceased preferred walking, travelled in taxis and boda boda. He recalled an incident when the deceased forgot his car at office. "He didn't know how to drive but would hire a driver. One time I was leaving office late and it was his car in the parking I called him only to tell me he was home. He told me he had forgotten he had a car," Orima told mourners in church.
On Tuesday Police announced that suspects who had been arrested in connection with the death of Kibirango would now be charged with murder.
Kampala Metropolitan Police Spokesperson Patrick Onyango confirmed that police had opened up murder charges against the suspects who included a Uganda Peoples Defence soldier Sergeant Gad Twijukye attached to immigration training school in Nakasongola under a file SD Ref 04/15/10/19. Murder is a capital offence only triable by the High Court.
Police preliminary investigations report recorded by the Officer in Charge Mutungo police post indicates that on October 14, 2019, at around 10 pm, police received information that there was a suspected thief who was being subjected to mob action in Mutungo. The officers present at Mutungo police station responded and hurried to the scene to rescue the victim.
The police in its statement noted that it later established that, the Kibirango went to a mobile money agent to carry out a transaction. In his hands, he had a charger and a mobile phone.
The mobile money point was being manned by one Ivan and several people were also present at the mobile money point. The victim Kibirango then placed his charger on top of a phone that was on top of the counter of the mobile money point. The phone belonged to Twijukye. upon finishing his transaction the Kibirango carried both the charger and the phone which he had found at the counter.
Twijukye then realized that Kibirango had gone with his phone when he had moved about 100 meters.
The UPDF soldier together with the mobile money agent ran after Kibirango and demanded that he returns the phone. He declined knowledge of the same and all parties agreed to go to Mutungo police. However before they could reach the police, Twijukye saw the phone in peter's pocket and showed it to him.
Kibirango then apologised to Twijukye and informed him that he had taken it mistakenly not intentionally. However Twijukye and the mobile money agent and other onlookers started assaulting Kibirango with sticks and stones, they were joined by other bodaboda riders who accused him of being a thief.
Topher Gimei, the Kampala Metropolitan North Regional CID Commander who shared a bed with Kibirango while they were studying at Uganda Christian University told mourners that they had arrested two suspects including a Uganda Peoples Defence Force soldier over the incident.
"Police responded very first to rescue Kibirango. By the time police reached the place, they had beaten him badly and they were continuing to beat him until police fired in the air several times for them to leave him," Gimei said.
Related story
Mob kills prominent city lawyer