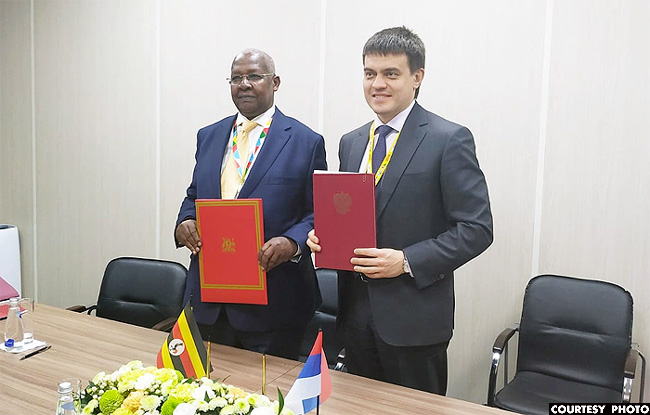 As it happened: Uganda Today - Wednesday, October 23
Uganda and Russia sign a memorandum of understanding on cooperation in the field of higher education.
ROLLING NEWS THROUGHOUT THE DAY


Presented by Joseph Kizza

@joekizza

(Scroll down for earlier updates)

_____________________________


6.55pm | That's all for today

And it's a wrap from me here. Let's do this again tomorrow (Thursday).

Be blessed.

_____________________________


6.50pm | Annual Joint Sector Review

Meanwhile, the ICT and national guidance ministry will hold a two-day Annual Joint Sector Review starting Thursday.

The meeting is themed Strategise and tap into the 4th Industrial Revolution for sustainable national development.


_____________________________


6.46pm | Media briefing by Deputy Chief Justice

On Thursday, the Deputy Chief Justice, Alfonse Owny Dollo, is expected address a press briefing ahead of the upcoming Fourth African Union Judicial Dialogue in Kampala.

The briefing will take place at 10am in Court Room 1 at the Judiciary headquarters on the High Court building in the heart of the city.

The Principal Judge, Chief Registrar and Registrar of the African Court on Human and Peoples' Rights will be among those in attendance.

_____________________________


5.25pm | 🇺🇬 Uganda and 🇷🇺 Russia sign MoU on higher education

President Yoweri Museveni is leading a Ugandan delegation at the Russia-Africa Summit in Sochi. One of the officials in the Russian city is foreign affairs minister Sam Kutesa.

The summit gets under way today.

On the sidelines, Kutesa and Russia's minister of science and higher education Mikhail Mikhailovich Kotyukov have signed a memorandum of understanding between Uganda's education and sports minister and Russia's science and higher education ministries on cooperation in the field of higher education, according to Uganda's mission in Russia.



_____________________________


5.25pm | A rape victim's cry

Here is a sad post on Twitter by user Caroline Ariba.

Shouldn't the victim have been handled by a female Police medic to handle the swab test?


A girl is raped by a man, she seeks out a police station, and sadly another man is allocated to take swabs. "I was raped by a man then I had to part my legs for another man almost immediately!" Kangume Shalot, a rape survivor and activist cries out. @IPPFAR @RHUganda #IGDUg19

— Caroline Ariba (@CarolAriba) October 22, 2019

_____________________________


5.05pm | Mamelodi Sundowns mourns Onyango's dad

As mentioned earlier on this page, the father of Uganda Cranes first-choice goalkeeper and captain Denis Onyango died Tuesday evening.

A Requiem Mass was held Wednesday afternoon, attended by Onyango, himself.

The Ugandan goalie plays for South African side Mamelodi Sundowns, and following the news of his father's death, the club showed support for Onyango and allowed him to travel back home with his family to see off his dad.

Sundowns posted a brief statement on its official website:

It is with great sadness that we learnt of the passing on of the father of Denis Onyango. The club has released Denis to mourn this great loss and he will immediately leave for Uganda with his family.

He has the full support of all his teammates, technical team, management, Board and the Club President. We all wish him and his family all the strength during these trying times.

_____________________________


4.43pm | Have your say

Today's BIG DEBATE is on teenage sexuality.

Why are children having sex? Who is to blame?


#VisionUpdate 10% of sexually active teens aged 15-19, first had sex before the age of 15 (National Population Council Study) Why are children having sex? Who is to blame? pic.twitter.com/mH360ESMDZ

— New Vision UGANDA (@newvisionwire) October 23, 2019

_____________________________


4.27pm | Requiem Mass held for Onyango's father

Mzee Gabriel Onyango died of cancer on Tuesday.


FUFA staff at the Requiem mass of the late Gabriel Onyango father of @UgandaCranes Captain @masindeonyango. pic.twitter.com/ku8RjYaER2

— FUFA (@OfficialFUFA) October 23, 2019

_____________________________


3.30pm | Thousands left homeless after Buvuma fire

Property worth billions of shillings has been lost in a fire on Ruwero island in Buvuma district.

Godfrey Luigi, the Ssezibwa region Marine Police commander, visited the scene located in Lyabaana sub-county and said over 1,000 people were left homeless, according to New Vision's Henry Nsubuga.

The fire is believed to have started from a petrol store which had over 5,000 litres. Luigi said over 110 engines, 60,000 fishing nets, 55 boats, 30 shops, cash estimated at over sh2bn were reduced to ashes.

Read more on this story HERE.



_____________________________


1.40pm | International Day of Rural Women

Earlier today, the Minister of State for Gender and Culture Affairs, Peace Mutuuzo, addressed the public about the International Day of Rural Women.



The Uganda Media Centre posted excerpts of her delivery on its Twitter page:

The day was established by the United Nations General Assembly and is observed around the world on October 15 as a platform for the rural women to raise their voices, air out their challenges and share their achievements.

"Commemorating the day provides us with the opportunity to remind state and non-state actors and other stakeholders to develop programmes that enhance women's ability to increase production, access services and social protection," said Mutuuzo.

"Some challenges faced by rural women are girls include gender-based violence manifested through high levels of teenage pregnancies, child marriages, forced marriages, female genital mutilation among the Sabiny in Sebei region and the Pokot of Karamoja and trafficking in persons.

"Rural women make up over a quarter of the world population and 43% of women in the global agriculture labour force. They till the land to ensure food security for their communities. Seventy-six percent (76%) of the extremely poor women live in rural areas.

"Limited access to services and opportunities - low education levels and access to training, inadequate care and support, lack of legal support and poor health. Heavier workload, including unpaid care work, continue to constrain women's participation in decision-making and politics," said Minister Mutuuzo.

_____________________________


1.23pm | Referee Kiweewa suspended

By Shafik Ssenoga:

FUFA Referees Standing Committee has indefinitely suspended centre referee Emmanuel Kiweewa from all football-related activities for soliciting for a bribe.

In a recorded phone discussion, Kiweewa is heard chatting with Uganda Martyrs University (UMU) coach Noah Mugerwa, requesting for allegedly sh1m to fix their semi-final return leg match with St Lawrence in the University Football League that was played last Friday in Nkozi.

Although the game ended 1-1, St Lawrence qualified for the final after eliminating UMU 3-2 on penalties after a 2-2 aggregate result.

"Tell the manager to finalize everything today. There is no Ugandan player currently who is not worried when I am on the field of play," Kiweewa tells Mugerwa.

Kiweewa allegedly requested for akazeeyi (loosely to mean sh1m in street talk) to fix the match.

Kiweewa has previously been involved in different controversial decisions in different competitions played in the country.

In the mean time, the FUFA Referees Standing Committee has forwarded the matter to the FUFA Ethics Investigatory Chamber for further investigations.

If the chamber finds Kiweewa guilty, he might get banned.

_____________________________


1.10pm | Immunisation - ministry's mesage to parents

Parents and guardians,

If your child under 15 years of age missed the Measles-Rubella and Polio Immunisation, please visit Mulago National Referral Hospital where an Immunisation post has been created and ensure your children are immunised. #MRCampaign19

📷: @KCCAUG pic.twitter.com/RB64BplrsA

— Ministry of Health- Uganda (@MinofHealthUG) October 23, 2019
_____________________________


1.00pm | UPDF wins gold at Wuhan military games

Corporal Sam Mubajje on Tuesday won 100m gold at the 7th CISM Military World Games in Wuhan, the capital of Hubei province in central China.

The competition kicked off on October 15 and will end on October 30, with 23 disciplines and one demonstration sport - tennis.


The UPDF fraternity congratulates Corporal Mubajje Sam.He has won a gold medal in the 100M race at the ongoing 7th CISM Military World Games in Wuhan-China.We wish the entire team all the success as our ambassadors holding high our national flag.

— Brig RichardKaremire (@UPDFspokespersn) October 22, 2019

_____________________________


12.18pm | 'Share plans with local governments'

By Ismael Kasooha in Mubende:

Francis Kibuuka Amooti, the LCV chairman of Mubende district, has asked East African Crude Oil Pipeline (EACOP) project implementers to ensure that all plans are shared with local governments to enable them monitor activities for compliance.

Kibuuka says that water quality and quantity must be taken care of because some areas are water-stressed, which leaves them vulnerable.

There is need for stakeholder engagements to ensure everything is done inclusively, he adds. This is at Kasana grounds in Kitenga sub-county, Mubende district.



_____________________________


11.56am | President Museveni in Russia

President Yoweri Museveni left the country on Tuesday destined for Russia to attend the Russia-Africa Summit.

Museveni, who travelled with his daughter Diana, landed at Sochi International Airport, one of the ten largest airports in Russia.

It is understood the summit is focusing attention on "actual and potential relations between Russia and the nations of Africa, in the political, economic, humanitarian, and cultural fields among others".


Chairman and HE @KagutaMuseveni arrives at Sochi International Airport in Russia for #RussiaAfricaSummit at the invitation of President Putin @KremlinRussia_E @OfwonoOpondo @newvisionwire @OfwonoOpondo pic.twitter.com/1WXrMXJHNm

— NRM Party (@NRMOnline) October 22, 2019

_____________________________


11.47am | Suspected thief cornered

News reaching us is that a suspected thief is trapped inside a supermarket Najjera, a neighbourhood in Kira Municipality in Wakiso district.

Outside, a crowd of people are furious. They want to get a hold of the suspect. It is understood police is yet to get to the scene.



_____________________________


11.40am | 🇺🇬 Uganda Cranes 2021 AFCON campaign launched

By Patricia Turyahebwa

After defeating Burundi both home and away, Uganda qualified for the next round and was placed in Group B alongside Burkina Faso, South Sudan and Malawi for the 2021 Africa Cup of Nations qualifiers.

This qualification stage campaign has been launched at Mengo in Kampala.

On November 12, Uganda will play Burkina Faso away in Ougadougu, before hosting Malawi five days later at Namboole.

Cranes head coach Johnathan McKinstry hopes his side will dominate and maintain their impressive away record.

"Uganda Cranes over the past three years have had a good record playing away, as we make a trip to Burkina Faso, we shall build from there to get a positive result for the team and the fans," said the northern-Irishman.

The tactician, whose first assignment was a victorious (1-0) away international friendly against Ethiopia, talked of the inclusion of locally-based players.

"Of course there will be Uganda Premier League players in the squad to face Burkina Faso and Malawi. The reason why I didn't take them to Ethiopia was because of the CHAN return leg preparations against Burundi," he told reporters during the Cranes campaign launch at FUFA House.

FUFA acting president Justus Mugisha assured Mckinstry of the federation's readiness to support the team with everything they need to make sure the Cranes qualify for Cameron.

Deogracious Kizza, the deputy CEO in charge of football, told the media that the tickets for the Uganda Cranes versus Malawi game will be out by Wednesday.

_____________________________


11.33am | 🇺🇬 Uganda Cranes 2021 AFCON campaign launched

Acting FUFA president Justus Mugisha and Cranes head coach Johnathan McKinstry were among the officials that attended the launch at FUFA House in Mengo.

The Uganda Cranes will fly to Ouagadougou for their AFCON 2021 qualifier against Burkina Faso on November 12, before returning two days later to prepare for their return leg against Malawi on November 17.

South Sudan make up the fourth team in the Group B.


PICTORIAL: The official launch of the #AFCON2020Q campaign. #BFAUGA #UGAMWI pic.twitter.com/8Xbs1BwC2x

— FUFA (@OfficialFUFA) October 23, 2019

(Source: Wikipedia)

The 48 teams of the group stage were drawn into 12 groups of four teams (from Group A to Group L). Teams consisted of the 44 teams which entered directly, in addition to the 4 winners of the preliminary round whose identity was not known at the time of the draw.

The 2021 Africa Cup of Nations host, Cameroon, will participate in the qualifiers with the team guaranteed a spot in the finals regardless of its ranking in the group. Their matches and results will count in determining the qualification of the other teams from their group.

_____________________________


11.07am | Makerere students protesting

Students of Makerere University are protesting against a 15% increment in tuition fees. Running battles involving student protesters and Police have been reported at the campus, with halls such as Mary Stuart said to be placed on lockdown.

Our reporter at the scene has pictured this student being held by Police inside the the hall.



_____________________________


10.45am | What happened in Uganda's Premier League?

There was Uganda Premier League action on Tuesday.



Table toppers Vipers beat BUL 2-1 at St. Mary's Stadium in Kitende to stretch their winning streak to four games. BUL remain in second place after that defeat.

Meanwhile, defending champions KCCA picked up three points on the road against Maroons in a 3-1 result. After a recent stutter, Mike Mutebi's side appear to be steadying their ship while Maroons' indifferent form continues. KCCA have risen to fifth while Maroons are ninth.

Kyetume beat Proline 1-0 at home to climb to seventh while Proline remain second from bottom after registering their third successive defeat.

_____________________________


10.30am | Denis Onyango loses father to cancer


Uganda's national football team first-choice goalkeeper and captain Denis Onyango (pictured) has lost his father.

Mzee Gabriel Onyango succumbed to cancer Tuesday evening.

Local football governing body FUFA said "our thoughts and prayers are with Denis and family".

A Requiem Mass will be held this afternoon in Ndejje for the late Onyango senior, according to a programme tweeted by FUFA.

Burial is scheduled for Thursday at 2pm in Butangazi-Buduri-Majanje Road, eight miles out of Busia town in eastern Uganda.

_____________________________


10.10am | Check one, check two



By Ismael Kasooha:

The second East African Crude Oil Pipeline (EACOP) environmental and social impact assessment hearing is taking shape at Kasana in Mubende district at Kasana.

At the entrance, all people must be checked for body temperature to detect any abnormalities and as a precautionary measure against Ebola. This time round, people are being given antibacterial disinfectant.



_____________________________


10.00m | 🇺🇬 Uganda Cranes 2021 AFCON campaign to be launched

The acting president of Uganda's football governing body FUFA Justus Mugisha is set to address the press today at FUFA House in Mengo, Kampala.


All is set for the official launch of the 2021 AFCON campaign. To address the media is the Age FUFA President @JustusMugisha2 & @UgandaCranes Coach @johnnymckinstry. pic.twitter.com/Pt0B1N18L0

— FUFA (@OfficialFUFA) October 23, 2019

_____________________________


9.48am | What happened yesterday?

A lot of stuff.

Of course it's hard to fill you in on everything that happens around the country, but we try to give you as much as we possibly can.

On Tuesday, most notably, awarding-winning musician Eddy Kenzo flew back home from the US. The Sitya Loss star received a huge welcome at Entebbe International Airport, with his supporters thronging the airport to receive him and others lining the road from the airport to catch a glimpse of him.

HERE is how Tuesday transpired.



_____________________________


9.40am | Embarrassing taxi tales

This morning, we asked you share you embarrassing experiences using public transport. A number of you had interesting - some funny - responses.

For example, Twitter user Philanthropist picked up pair of "able-bodied" fleas from a taxi ride.

"With my new white shirt I sit in this taxi. After a few, it starts raining and unfortunately the roof leaks. As if that wasn't enough I reach office and 2 able bodied fleas are on me," he tweets.


#KlaTrafficFrustration

After sitting in jam for hours, your trouser's crotch gets ripped while you squeeze out of the crammed taxi. Or you have alit from a taxi without noticing a cockroach crawling on you. What are your embarrassing experiences using taxis? | #VisionUpdates pic.twitter.com/WpTnGC6uQL

— New Vision UGANDA (@newvisionwire) October 23, 2019

Facebook users have also got talking on the subject.

User Nalwadda Angie had to ditch going to class after her dress got ripped in a taxi.

"I was going for a lecture and was actually late. My dress got torn on the sides when going out of the taxi. I imagined entering class late with a very torn dress. I cancelled class and planned to catch up with what I missed that very week," she writes.

Another of our followers had a nasty experience - and reminds us at the end of his post that his tale is not made up.

"It was a cold and cloudy morning in Kampala with rain drizzling, when a taxi appeared after a long wait, so I jumped to grab the front passenger seat, commando style I tried to hurriedly enter the front passenger seat, only to hit the upper part of the taxi door of the taxi with my head, the whole taxi vibrated, I was too embarrassed to even touch my head yet it hurt so bad, so I pretended as though it did not hurt not to draw attention, but it really hurt me, I smelt blood, I waited for a minute which was like an hour due to pain without touching otherwise the whole taxi would have burst into laughter, some few young men were giggling stealthily though, when everyone had relaxed about my incident, I passed my hand over the burning area to confirm if there was no blood in the area of excruciating pain. This is a true story not cooked."

There is a lot of reaction on this. Why don't you check it out HERE?



_____________________________


9.25am | Praying for wisdom

Before we dive into the thick of today's goings-on, let's spare some few seconds and reach out to the Omnipotent.


MORNING PRAYER

I pray for wisdom that is peaceable, gentle, and approachable, with lots of mercy and fairness. pic.twitter.com/fyfGW04eut

— New Vision UGANDA (@newvisionwire) October 23, 2019


_____________________________


9.20am | Good morning everyone

Hello good people. Another day is here. Let's get rolling.

Let me start you off with this silhouette that I captureD with my phone as I left home this morning.

I call it 'New Day'.

Cliché, right?