Expert advised parents to seek therapy and self-care because if they break down or are depressed, the children will pick up from that and so will be in a worst state.
EDUCATION PARENTING

KAMPALA - 12 years ago, Pamela Tiiti Kakonge, went to labour with hopes of coming out with a healthy baby just like any expectant mother would pray for at the end of the nine months' journey.

Unfortunately, a few minutes after she had welcomed her bundle of joy, the doctors pronounced the baby girl dead. This was a hard time for the couple and their family.

However, before they could digest the sad news, a ray of hope appeared. "Another doctor whispered to us that the baby had been resuscitated back to life but she was very weak," Tiiti recalls adding that, "In the process though, her brain was damaged."
It was a great relief to the couple little prepared for the journey that lay ahead of them; one of making the hospital their second home.

After two months, the mother and baby were discharged from hospital in an unstable condition. The baby needed all the care in this world to be alive.

One step at a time, the baby and parents fought on and today, the twelve-year-old is living a normal life. She walks well and actively does everything by herself.

Help children with special needs and bring out the best in them

Tiiti, who founded 'Tunaweza children's center' to handle special needs children, shared her story last Saturday with fellow parents.
She emphasized that once these children are supported, they can do all their contemporaries do.

This was during the annual 'Special needs awareness campaign' organized by the British school Kampala (BSK) in Muyenga under the theme; 'collectively appreciating the challenges'.

The school brought together over 20 specialists in handling children and adults with special needs such as those with learning disabilities, hearing impairments and speech difficulties among others.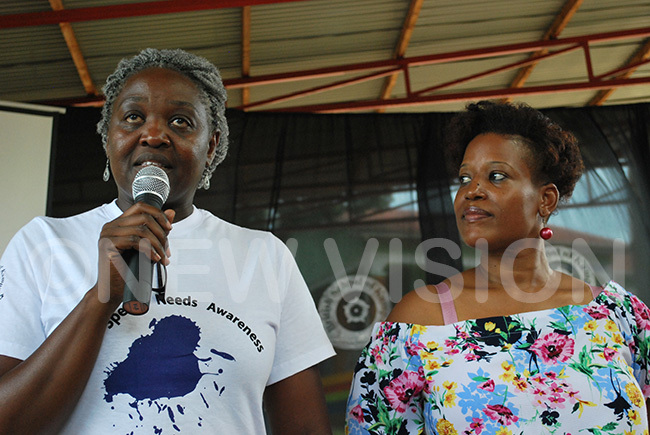 Winnie Bagonza (left) standing with a parent while delivering her remarks
The experts included; occupational therapists, education consultants, clinical psychologists, special needs assessors and speech therapists among others.
They talked to parents on how to appreciate their children and bring out the best in them as they handle the parenting challenges.

Leticia Murungi, a child psychologist with Arch schools, took the parents through the fundamentals of handling a child with special needs.
A parent has to look out for their child's milestones in the five development areas to alert them on areas they quickly need help.

The five areas include; physical, social, emotional, language and cognitive.

According to Murungi, when working with special needs children the multi-disciplinary approach works. This means that different experts work together to achieve best results.

For example, a child might need a speech therapist, occupational psychologist and education assessor to learn better.

"I encourage parents to take it at heart. I understand it's over whelming to work with more than one professional but they are all necessary for the good of that child," she appeals.

Murungi adds that formal assessment is also key as it helps to keep the professionals on the right track to know if the child is progressing or static. For example, just because a child is not reading doesn't mean that they are dyslexic, it might be something else.

Murungi argued parents to get actively involved in the process since they are the main assessors of their children because they know every detail about them.

Suzan Nalwoga, a clinical psychologist advised parents to seek therapy and self-care because if they break down or are depressed, the children will pick up from that and so will be in a worst state.

Deborah Mbuga an education consultant with Able educational support services recalled that a few years ago, the country lacked special needs professionals and a student centered curriculum.

"Today we no longer have to fly in experts such as assessors to help us out. We are also proud of institutions such as BSK for offering higher education and vocational studies to these children," she applauded.

Winnie Bagonza the director BSK, called upon parents of special needs children to uplift their fellows who are still living in denial to start appreciating their children in order to help them live meaningful lives.

"I also request schools to stop taking advantage of these children by admitting them to make profits yet in the actual sense they cannot handle them. Refer them to special needs schools," she appealed.