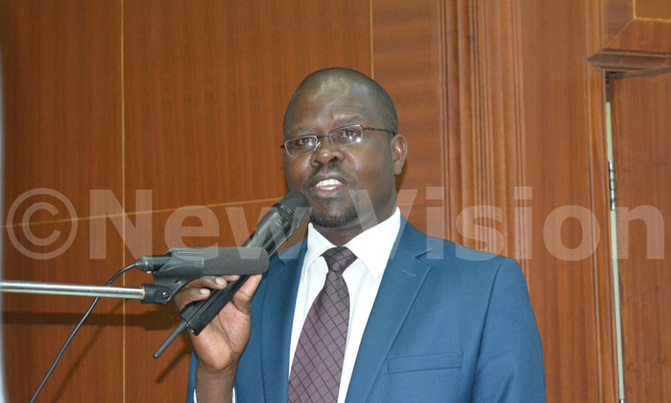 The theme is "Science, Technology and Innovation (STI) as a Catalyst Towards Achievement of East African Community Vision 2050".
Over 200 delegates are gathered Kampala to attend the first East African region Science, Technology and Innovation (STI) conference, and the Academic-Public Private Partnership (APPP) dialogue session.
The three day's event ending on October 25, is taking place at Munyonyo Speke Resort, under the theme; "Science, Technology and Innovation (STI) as a Catalyst Towards Achievement of East African Community Vision 2050".
The event is organized by the Inter-University Council for East African (IUCEA) in collaboration with the East African Business Council (EABC), East African Development Bank (EADB), and the East African Science and Technology Commission (EASTECO).
Addressing journalists gathered in Kampala earlier today; the state minister for East African Community Affairs, Julius Maganda wandera said the conference is aimed at bringing together scientists; technologists, academicians and other stakeholders to deliberate and rein enforce the East African Community (EAC) states' commitment to the promotion of STI as essential ingredients industrialization and sustainable development.
The participants are to use the platform to share their research information towards potential output in different sectors to promote development in the region. The event attracted; employers, manufacturers, players within the value chain and business community, and the national commissions and councils for higher education and councils for science and technology from different countries.
Wandera said the APPP dialogue mainly focuses on knowledge generation, translation and realization to bring a closer convergence between research, innovation and sustainable development to promote value addition and industrialization . The event will also be used to launch the EA Journal of STI.
The Executive Secretary of IUCEA, Prof Alexandre Lyambabaje said event is part of the EAC strategies to achieve the projected vision 2050. "We want to see all of us living in a knowledge based economies and competence based societies. This is part of our task as IUCEA and it involves activities and strategies to realize what we need," he noted.
He said for the region to become a competence based society "we should be able to create knowledge" not only in education institutions, but also in the public and private sector. Lyambabaje stressed that as IUCEA has established 30 centers of excellence in Science, Technology, Engineering, Agriculture, ICT, Mathematics and Medicine; training professionals and young scientists at Masters Degree and PhD level. He said they have also established a specialized centres of excellence in E-Mobile systems.
"The private sector has got research and development entities and our objective of the seminar is to bring together private sector and academia to share knowledge. Previous we had to travel to other countries to share knowledge and as EAC we decided to establish STI forum," he noted.
Lyambabaje said they want to see how to add value to the knowledge generated by 'our scientists' to avoid the exportation of raw materials. "We need to have scientists and skilled people who can add value to our natural resources if we are to become competitive.
IUCEA has established four incubation centres one in Mbarara University for pharmaceuticals, Moi University in Kenya (textiles and engineering), University of Rwanda (renewable energy) and Nelson Mandela Institute of Science and Technology in Tanzania (data science)," he added.
He stressed that once the incubators develop new products; there is always need for uptake of industries and investments; which information can only be attained through such forums so that they can invest and transform the start-ups into fully fledged companies.