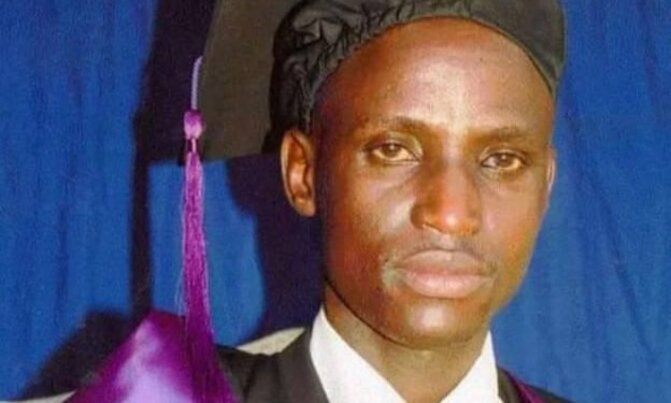 "He would easily fool you for someone less intelligent until he slowly unpeels your case or shreds your witness to pieces through the most lethal cross-examination."
A Kampala lawyer, who mistakenly picked up a customer's phone at a mobile money withdrawal point on Monday and was beaten up by a mob in Mutungo, has passed on.

Peter Kibirango who many described as calm and humble and was an advocate at a city law firm, succumbed to injuries at Case Clinic in Kampala on Friday night.

The Police on Saturday confirmed it has had arrested three suspects, including a Uganda Peoples Defence Force Sergeant who is currently helping police with investigations.

Kampala Metropolitan Police Spokesperson Luke Owesigire confirmed the arrest, noting that preliminary reports indicate that Kibirango on Monday went to withdraw money at a mobile kiosk in Mutungo while carrying a phone and a charger.

"We have been told he placed the phone charger at the top of the counter as he made his transactions. The soldier met him at the withdrawal point and placed his phone next to the charger. After completing his money transaction, Kibirango than picked the phone and the charger and walked away. The soldier and other customers than pursued him and asked whether he had the phone. He denied, but when they called the phone rang in his pocket," Owesigire stated.

He noted that the lawyer than admitted he had mistakenly picked the phone and requested the crowd that had assembled to take him to police. However, the crowd which comprised local Boda Boda riders turned rowdy and attacked him pelting him with whatever there hands could land on. He was only saved after police arrived on the scene and fired several shots in the air.

He was transferred to Mulago Hospital on Friday night. However, his relatives and colleagues transferred him to Case Clinic where he had been undergoing treatment in the Intensive Care Unit (ICU) until Friday night when he passed on. The suspect will now be charged with murder, the Police said.

Uganda Law Society President Peter Kinobe who was one of those who paid him a visit at the ICU noted that "my heart breaks at the realization that he did not have to die. He was young and the beacon of hope for his family," Kinobe said. He noted that they would not rest until justice was done.

Luyimbazi Nalukoola, another lawyer described Kibirango as a civil man and loved good governance. "Kibirango together with Advocate Isaac Semakadde has been representing Habib Buwembo against Rubaga South Member of Parliament Kato Lubwama in Court of Appeal. The government must execute it's duties in regard to enhancement of security," he noted.

Buwembo Habib who was his client at the Court of Appeal noted that he had been saddened by the death of Kibirango.
"He has been such a simple, friendly and hardworking lawyer, who was also passionate about the rule of law. I, therefore, protest that Kibirango deserved a better death cause, not this thuggery or mob."

Mpanga Isaac a lawyer noted that "I met Kibirango while he represented the defendant in Maryanne Karamagi and another vs Fireworks advertising while I represented the plaintiffs. A friendship and mutual respect developed from the way he treated me on the opposite side. He was a stutterer and would easily fool you for someone less intelligent until he slowly unpeels your case or shreds your witness to pieces through the most lethal cross-exam. It's such a shame that he has been senselessly slain. I will forever miss a dear friend and a gentle colleague."