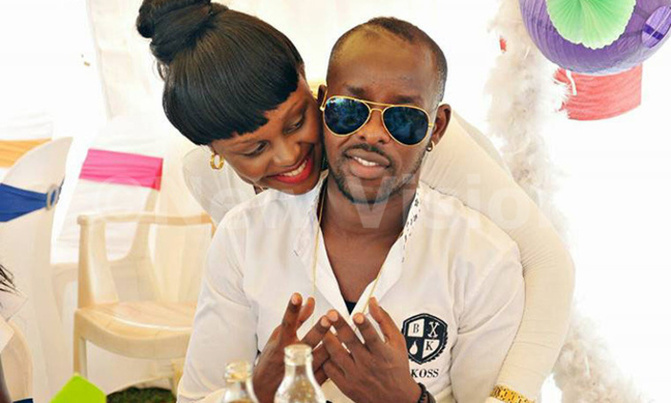 Kenzo turned social media upside down when he penned an emotional letter revealing how much he loved Rema.
"Celebrities never get hurt because all they do is act" is a common saying used since time immemorial.

Did you say they don't have time for stable relationships? Well, the situation seems otherwise as the list of celebrated figures have proved that them too can be crybabies when it comes to love.

Eddy Kenzo
The sitya loss musician has for the past three weeks proved that he is afraid of losses "atya loss". The drama started when invitation cards of baby mama Rema Namakula started circulating on social media with information that she is to officially introduce her new hubby Hamza Ssebunya to her parents in November.
Rema and Kenzo
Kenzo turned social media upside down when he penned an emotional letter revealing how much he loved Rema. "I love you Rema and I remember telling you this in our last two conversations and I have been telling you this from day one," read part of the statement.

The post did not bring her back. The Kyomisinga star immediately resorted to motivational speaking, composed Bibaawo song to help him ease the pain.

Trouble came when Rema's first ceremony, kukyaala, happened. The Bibaawo singer started claims that his daughter had not enjoyed her mama's ceremony simply because Sheikh Nuhu Muzaata had mocked his name.

He later shared a Facebook video telling whoever cared to listen that he and Rema had been officially married religiously.

Looks like the attention given to Kenzo is not enough, the star is currently seeking an apology from sheikh Muzaata for tarnishing his name. Whether he apologises or not, the real issue is not on Muzaata, but Kenzo is simply crying for his love Rema.

MC Kats
The forever young MC has shed tears multiple times for his baby mama musician Fille Mutoni. The two had shared an on-and-off relationship before they called it quits.

However, during the days of there love, Kats proved to the world that his love for Fille was unconditional even when rumour circulated that she beat him.

One moment to remember is when the talents manager knelt on one knee and asked for Fille's forgiveness amidst the crowd during one of her performances at Satellite Beach in Mukono.
MC Kats and Fille

"Please forgive me for Abhi (there daughter) the wrongs I committed. Mama Abhi I love you please forgive me," Kats yearned

The pencil thin Master of Ceremonies had been dropped by the ex-singer over issues related to infidelity. However, his public outcry simplified the situation and he was forgiven. Unfortunately, they called it quits earlier this year.

A Pass Bagonza
The musician and part-time social media comedian had been crushing on radio presenter and news anchor Flavia Tumusiime for a long time.

The sad part is he was never noticed as she later chose and married sports journalist Andrew Kabuura. After Flavia's wedding pictures started circulating, musician A Pass accepted his loss and poured his emotions on his Instagram page.
A Pass
"The best thing to do now is to move on. What has happened has happened. As painful as it may be, I have to go forward like Amama Mbabazi," he noted

Ykee Benda
For starters, one of musician Wyclif Tugume's hit songs singa was inspired by his first love, an Algerian girl he fell in love with at the University but religion separated them.

Later, he got hooked up with Julie Batenga, who introduced him to her parents in Mukono. A few months later, the two separated and he revealed the news to his social media in-laws through a Facebook post.
Ykee Benda
"I will forever celebrate you and wish you nothing but bliss and happiness. I can barely write another statement; my heart is pumping too fast……" he shared.

Ykee Benda must be gifted with love because during the Rema- Kenzo saga, he also penned down a message to a one Jenifer reminding her of the sacrifices he has made in there relationship.

"Jenifer you will curse the day you walked away from me! I gave you my heart, treated you like a queen, taught you how to make money, shared my bed with you and you just wake up one morning and claim you are not feeling this?" Benda wrote.

Jose Chameleon
Musician Jose Chameleon's marriage to Daniela Atim has survived so many divorce rumours and attempts. She first wanted to leave after he reportedly became a Muslim. Chameleone had to choose between Islam and Daniela and since he had not mastered the art of living without her, he chose Daniela and denounced Islam.

There love and marriage have been shaken multiple times with the last happening in 2018 when she accused him of violence, and they had been summoned in court. Heartbroken Chameleon shared on his official Facebook page.


"I can't prove myself more than I have. You have been my everything but enough is enough. I wish you the best," he wrote.

"Heartbroken, but have to make a decision finally," Chameleon added.

He was defeated by love. See what love can do?

Phina Mugerwa
Phina Masanyalaze aka Mugerwa has got her own tales. When her baby daddy Ken Muyiisa chose musician Cindy over her, Phina could not hold the pain that she started releasing the love the pain during talk shows and interviews that on some occasion, she called Cindy a husband snatcher and a whore.
Phina Mugerwa

"I am going to fight for my man until that pig and husband grabber backs off," She said

Her love did not win. She moved on.

Bebe Cool
It would be totally unfair to hand in the list minus mentioning big size Bebe Cool aka ba wa Zuena.

In December 2008, Zuena Kirema wife to Bebe Cool packed her things and left him over accusations of infidelity and other issues Zuena has since kept to herself.

The breakup struck the Gagamel boss. He had to pour out his emotions through the agenze song. The song, however, did not yield positive results but he never gave up as well.
Bebe Cool and Zuena
He later composed Bamugambe a song that sought public attention and help to talk to Zuena on his behalf.

Love wins because after eight months of the breakup storm, Zuena went back to her man and they are stronger than before.