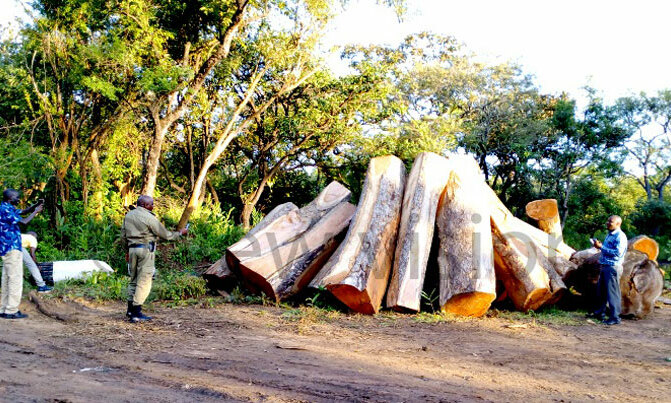 Officials in Yumbe district together with some officers serving in the Uganda Police Force UPF and Uganda People's Defense Forces are accused of aiding illegal lumbering inside Kei forest reserve.


Officials in Yumbe district together with some officers serving in the Uganda Police Force UPF and Uganda People's Defense Forces are accused of aiding illegal lumbering inside Kei forest reserve.

The forest reserve gazette by government and managed by National Forest Authority NFA has endangered tree species of Afzelia Africana.

The Afzelia African tree spices has continued to attract different illegal loggers ranging from the business people, police army and government officials who have been directly involved and indirectly aiding the process of illegal logging in the forest.

Documents New Vision saw indicate that Yumbe district officials working in the forest department have continued to issue documents to the business people buying Afzelia Africana logs inside Kei forest claiming the logs are coming from South Sudan public land.

On April 12, 2019, the sub county officials wrote a letter authored by the Principal Assistant Secretary Kei Sub county Kaiga Abdul Kassim declaring impounded Afzelia Africana logs as property of the sub county.

Another letter addressed to OC Kei Police Station on April 24, 2019, the sub county officials instructed the OC not to allow anybody to assume ownership of the logs.

Council went ahead to authorize auctioning of the logs contrary to NFA operational guidelines. NFA through the regional range manager Robert Owiny wrote a letter dated April 23, 2019 blocking the decision taken by council as illegal.

Section 14 (1) and (2), 32 (1) and (2) prohibits anybody from cutting, disturbing or removing any forest product from a forest reserve under a license granted under NFA and tree planting Act, 2003.

Section 31(4) (a) and (b) of the act prohibits any person from cutting protected tree species whether it being in forest reserve or private land. Afzelia Africana is one of the protected tree species listed under schedule 8 of the NFA and tree planting regulations 2016.

On December 16, 2017, Ministry of water and environment issued a directive suspending all harvesting, movement, trade and any form of clearance in regards to products of Afzelia Africana tree species.
NFA Operations

NFA West Nile office led by the Regional Range Manager Robert Owiny on several occasions conducted operations and impounded trucks ferrying Afzelia Africana logs.

Cases related to illegal logging of Afzelia Africana trees were reported to Kei police station under SD reference SD Ref: 05/01/09/2019, SD Ref: 05/30/12/2018 and SD Ref: 04/10/02/2019.

Despite the ban, Yumbe district officials working in forest and natural resources office issued documents permitting trucks ferrying Afzelia Africana logs claiming the trucks are coming from South Sudan.

One of the trucks impounded with clearance document from Yumbe was got inside Kei forest near River Kaya bordering South Sudan. The truck with registration number UAG547L/417UCA reportedly loaded Afzelia Africana logs cut in Kei forest.

Swali Apeli, the Parish Chief of Palaju Parish in Kei sub county Yumbe district is among the government officials allegedly named in aiding illegal logging.

Apeli in response told New Vision in a telephone interview on Friday that, he is wrongly accused because he only goes to the sub county when there is an activity.


He demands for his accusers to adduce evidence that can pin him and action is taken. Apeli disclosed that, the dealers use illegal routes to access the forest mostly in night hours to load the logs when he is at home.

"It is good that, NFA is arresting and impounding the trucks and logs but they should not label people anyhow." Apeli said.

Edema Habib Sebbi, the forest guard Yumbe district on a document dated September 17, 2019 cleared a truck with registration number UAQ547L/417UCA driven by Moses Kataza carrying Afzelia Africana logs with 22 pieces and the owner paid Sh1m.

Sebbi on September 19, 2019 cleared another truck with registration number UAQ 835X/UAB310Q driven by Musa Baguma carrying 22 Afzelia Africana logs belonging to Bakole.

Police involvement

ASP Julius Twesigye, the OC operations Koboko Police station who served as OC Ludara police post is one of the officers named in the illegal business. He made a follow-up on one of the impounded truck with registration number UAG547L/417UCA demanding for its leases but NFA officials rejected.

Twesigye who served as OC Ludara police post was promoted to OC operations Koboko Police station. While at Ludara, he released trucks impounded and kept under his custody. He also released equipment used for cutting trees impounded from the forest.

On February 28, 2018, four suspects identified as Godfrey Iki, Festo Atiki, George Asega and Charles Batali were arrested by NFA officials with two chain saws steel and three plug spanners. The suspects were taken to Ludara Police post under SD ref: 12/28/02/2018 and 13/28/02/2018.


To the surprise of NFA officials, the suspects were released and file not submitted to Resident State Attorney. Similar cases were reported in Midigo, Midia and Kei Sub counties but the illegal business men and women are left scot free without action taken.

Meanwhile on December 15, 2018, at Mount Kei, Emmanuel Biara and Julius Twesigye were arrested with truck number UAQ889H/UAQ132C. The duo was taken to Kei Police post and a case registered under SD Ref 03/15/12/2018.

This particular case was referred to NFA headquarters in Kampala for further handling. In response, Twesigye told New Vision on Friday in a telephone call, the Rang Manager NFA West Nile region Robert Owiny does not cooperate with police whenever he is called to testify.


He shifted the blame on NFA range manager alleging that, Owiny is directly or indirectly involved in the illegal business. "Many times I report cases to him, but he thinks I am involved in the business. He is the one going against the Presidential and Ministers directive" Twesigye said.

Swaib Andama Solo, the district environment officer Yumbe who is currently acting as the forest officer admitted that, the district is bombarded with massive illegal logging.

He said external business people coming from Kampala trade in Afzelia Africana species. "When we realized that Afzelia Africana tree species are being cut, the district passed a resolution in 2015 stopping cutting and sale of logs" Andama said.

Andama said the, district faces challenge of connivance involving the local community, LCs and other top leaders making it difficult to control illegal logging. The trucks load and transport logs to Kampala and later export them to countries like China.

He said before the ban was issued, the district would issue movement permits in line with forest Act 2016. Andama said the district got a circular from Uganda Revenue Authority to clear trucks coming from South Sudan.


South Sudan bans illegal logging

However, South Sudan government in a letter dated September 22, 2018 issued a directive stopping illegal logging. The directive issued by the Governor of Yei River State is addressed to the Resident District Commissioners of Yumbe, Moyo and Koboko.

The directive explains that, the logs are sneaked through border points of Panume crossing of Morobo County through Kaya River to Busia/Ayupe/Keri and Kagoropa of Koboko district and Puse of Liwolo County to Mijale in Yumbe district.

The order stops such illegal logging as it puts the environment at serious danger and equally encourages armed crimes in the bushes and along the roads of Yei River State frequently.

The directive from South Sudan and Uganda have both been abused with Yumbe and URA officials who continue to clear trucks with logs from South Sudan aiding the business process. URA issues T1 forms with a seal to clear the trucks for free movement inside Uganda.


A business man identified as Hamza Bakole got a contract agreement from Yumbe district government to transport logs from Yumbe to Kampala. The agreement signed on February 13, 2018.

Similarly Bakole obtained another agreement from South Sudan as acceptance letter to invest in logging of Afzelia Africana, Mahogany and other tree species. This agreement signed will run from June 22, 2019 to June 22, 2020, a period of one year.

Andama said every year Yumbe loses 60 to 70 percent of forest and natural cover to activities of farming, illegal logging and bush burning.

He said the police and army have a pivotal role in environmental management. Environmental Police was particularly created to protect environment from degradation but little is done.

UPDF detach in Kei

A few kilometers to Kei forest is a UPDF detach through which the trucks cross to load illegal logs and return via detach to access the main routes. The detach has a check point that checks every vehicle crossing to Kei forest a route that links Uganda to South Sudan via River Kaya.

The construction of a bridge on River Kaya has stalled leaving the bridge incomplete making it impossible for trucks to cross from South Sudan to Uganda.

Locals in Kei told New Vision, UPDF officers guard illegal loggers while cutting trees inside Kei forest. 70 logs were spotted offloaded at the UPDF detach in Kei sub county and later loaded in a white trailer.


On May 13, 2019 at Mount Kei, four UPDF officers armed with guns were arrested guarding a process of tree cutting and loading Afzelia Africana logs in Kei forest belonging to a Woman identified as Jessica Ayikoru and two truck drivers.

The case was reported to Kei police post under SD Ref: 06/14/05/2019. Ayikoru reportedly escaped from the forest and later on May 15, 2019, she reported to Kei NFA sector office and recorded a statement. The two trucks were released and the owners each paid Sh1m.

Lieutenant Ibrahim Sekitto, the UPDF spokesperson for West Nile region denied the allegations saying UPDF is accused for preventing the illegal business.

He said, when soldiers allow trucks to enter the forest and return with logs, it is a wrong practice contravening the directive issues.

The UDPF fourth division commander issued a directive to soldiers to desist from illegal logging business. He said officers who blander on duty are charged once evidence is adduced.

"Sometimes our officers misbehave on duty, but once got, action is taken to discipline such officers. We cannot allow our officers sleep on their duty and allow trucks pass with logs" Sekitto said.


Taban Yasin, the LC5 chairman Yumbe district said, a road was opened through Kei forest for the community to access South Sudan, but this road has turned to be aiding illegal logging. He said the endangered tree species in the forest are not protected from illegal.

Taban suggests to government to provide environmental police officers to NFA like that of Uganda Wild Life Authority to ease enforcement on illegal logging.

"We need over 30 environmental police in Arua and each district in West Nile should have five officers stationed to manage illegal logging" Taban suggested.


The RDC Yumbe, Richard Andama during a visit to the forest gave a period up to December for illegal occupants in the forest to vacate the forest reserve.

Andama directed the UPDF commander at Kei detach to ensure no truck is allowed to cross inside the forest.

Court orders soften grounds for illegal loggers

NFA faces challenge once the illegal dealers run to court to seek court order. Court orders have helped illegal loggers recover their logs once impounded by NFA. This continues to soften access for the loggers to persist in the business.

A court order issued by grade one magistrate Yumbe, His worship Hillary Kiwanuka on July 4, 2019 permitted Anthony Oluka to collect 26 logs from Kei Sub County.

Another court order issued on February 22, 2019 by the Chief Magistrate Arua Daniel Lubowa in the presence of state prosecutor and accused persons identified as Benjamin Ainomugisha and Emmanuel Biara were convicted and sentenced to pay a fine of Sh250, 000 each. However, the lorry of Afzelia logs released to them.

The story was first published on October 18, 2019.