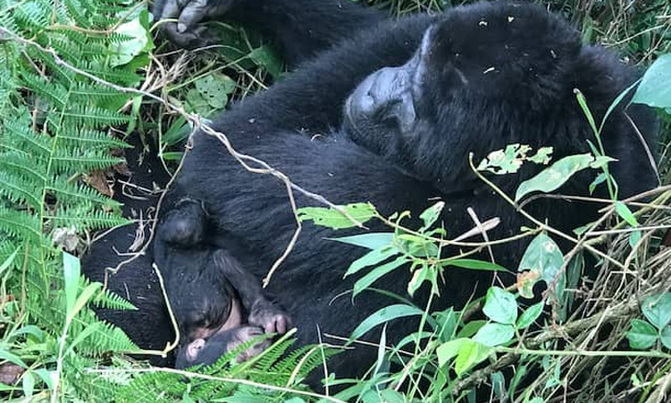 It's good news as Uganda celebrates a new addition to her mountain gorilla family. Mother Businza and baby are in good shape. This and more trending topics today.
THURSDAY, OCTOBER 17

Presented by Joseph Kizza
@joekizza


Wondering what's trending on social media right now? Here are the top trending topics in Uganda.

___________________________

1. #uotnight

The Ugandans on Twitter (UOT) hashtag is still trending on Twitter.

User 'just walker' feels it was the best edition ever.


Best #UOTNight ever🔥🔥🔥🔥💥💥💥💥💥

— just walker 🇺🇬 (@Atuhair96681564) October 17, 2019

Other tweeps are also busy weighing in, some posting pictures from the night.


7. You guys are too much love 💓. #UOTNight pic.twitter.com/jz2A9GG3bq

— King Of East Africa (@Ugaman01) October 16, 2019

The conversation is going on THIS WAY.

___________________________

2. Trump

US president Donald Trump is also trending in Uganda this morning.

His latest tweet is on the issue that has sparked a lot of debate in recent days - his decision to pull US troops out of what he calls "ridiculous and endless" wars.

The American leader is talking Democrats and walls in his post.
I am the only person who can fight for the safety of our troops & bring them home from the ridiculous & costly Endless Wars, and be scorned. Democrats always liked that position, until I took it. Democrats always liked Walls, until I built them. Do you see what's happening here?

— Donald J. Trump (@realDonaldTrump) October 17, 2019

One tweep is saying that the US president is playing the victim card.


Another is fully in support of the president's decision to withdraw US troops from wars, saying the US is not the "world police".

Being a taxpayer, the user says he is fed up of funding endless war[s].



Check out what other Twitter users are saying about Trump HERE.

___________________________

3. Jesus

This is another interesting topic.
Amen. The only power Satan has over us is what we permit him to have. Same as in the Garden. Adam and Eve ultimately blamed Satan for their sin which forfeited their authority to him. Jesus restored the availability of that authority. It is "at hand"

— Who Dat (@WhoDat2391) October 17, 2019

Join the conversation on THIS PAGE.

___________________________

4. #VisitUganda

Did you know that Uganda has a new addition to her mountain gorilla family?

Uganda Wildlife Authority (UWA) says both mother and baby gorilla in doing just fine.

Exciting times indeed for our tourism industry!
It is all happiness as we celebrate a new born in the Mubare group. Mother Businza and baby are in good shape.
Welcome to the world baby Gorilla. pic.twitter.com/tqBYunFNbt

— Uganda Wildlife (@ugwildlife) October 17, 2019

The Twitter fraternity is celebrating.
EXCITING NEWS: Uganda just welcomed another baby mountain gorilla as the number of mountain gorillas around the world continues to surge. #VisitUganda #PearlofAfrica #Gorilla 📸 Uganda Wildlife Authority pic.twitter.com/YvA4IVGGnl

— AUTO #TourismUganda (@TouroperatorsUG) October 17, 2019

Check out the conversation HERE.

___________________________


YOU MAY ALSO BE INTERESTING IN THIS

Uganda's conversations today - October 16