In today's pictorial, we have pictures from the passing out ceremony of 88 UPDF adjutants in Jinja - plus a whole lot more.
TUESDAY, OCTOBER 15, 2019

Here is a selection of pictures rounding up Tuesday:

________________________

It was about going down and dirty at Nakawa market in Kampala during a sanitization health sensitization drive by Makerere University's School of Public Health.




Nakawa Town Clerk Rosette Natumanya (wearing reflector jacket in the picture below) and public health lecturer Christine Nalwadda took part in the exercise.



Here is an aerial view of the packed market.



________________________

Meanwhile, Alfred Owiny, who is the father of Police spokesperson Fred Enanga appeared before the land inquiry commission at the Archives Centre in Wangedeya.



Father and son were quizzed over alleged land grabbing.


________________________


In Ntinda, Cissy Kagaba, who is the executive director Anti-Corruption Coalition Uganda (ACCU) was flanked by Marita Mugisha, the programme officer in charge of research and training at Human Rights Centre Uganda as she addressed a press conference at the ACCU offices.


________________________


In Kololo, officials did a toast during a send-off ceremony for volunteer medical doctors by the Chinese Embassy.



________________________


Katikkiro of Buganda Charles Peter Mayiga toured Joint Clinical Research Centre in Lubowa.




During his tour of the facility, Mayiga and Cissy Kityo Mutuluuza, the deputy executive director of the centre checked out one of the labaratories. In the picture below, Michael Tumwine, apheresis specialist, explained how the apheresis machine that is used in the treatment of the sickle cell disease works.

Katikkiro Mayiga listened on keenly.




Mayiga planted a tree in commemoration of his visit.



________________________

OUCH!

It was some brief cringing as 10-year-old Shadia Nangiya, a Primary Six pupil of Mayuge Town Council Primary School, received a shot against Measles-Rubella from Margaret Tibenda.

Tibenda is an enrolled nurse attached to Wabulungu Health Centre III.




This was during the launch of the Measles-Rubella-Polio Mass vaccination campaign 2019 at Mayuge district headquarters.

Health minister Dr. Jane Ruth Aceng vaccinated three-month-old Rahmat Kwagala against polio as her mother Nulu Ntabadde looked on delightedly.




State minister of health for general duties Sarah Opendi carried this girl after immunization.




World Health Organization (WHO) country representative to Uganda, Dr Yonas Tegegn Woldemariam, mingled with pupils of Hilton Junior School during the launch.



________________________


In Jinja, Maj Alex Byamugisha marched with his daughter during the passing out ceremony of 88 UPDF adjutants.




A graduate after receiving his certificate from Brigadier George Igumba.



The graduates took a group photo.

________________________

In Nakaseke district, Hassan Nginya (left), the chairman of West Nile Development Association, tried out processed mango fruit by Ho and Mu Food Technology (U) Ltd at Kapeeka.

The West Nile Cooperative Union wants to revive the co-operatives into agricultural production.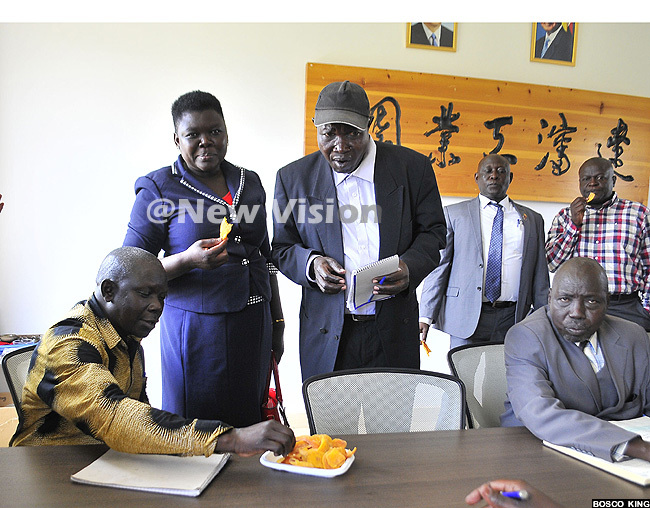 Moses Etukibo, the general manager of West Nile Cooperative Union, admired textile materials at the textile factory.



________________________


Vending bananas on the streets of Kampala . . .




As well as groceries . . .




Meanwhile, at Meat Parkers in Kampala, Abu-Suphian Mulumba, a butcher, shows the quality of meat. Under their association, they call upon Government to consider them in the oil and gas market as the country promotes local content.




Surveillance . . .



________________________

Edward Ntale, the Speaker of the Kampala Arcaders Traders Association, listens to Lawrance Mugisha (right), the chairperson the Trade and Tourism Committee of Parliament representing the Speaker of Parliament at the launch of the Kampala Traders Cooperative and Saving Society.



________________________

The MTN Marathon is back!!!!


Liu Jiawei, the managing director of Huawei-Uganda, addressed the press, flanked by Stanbic Bank's Emma Mugisha (head of corporate investment and banking) and Vision Group's Bill Tibingana (head of strategy) during the launch of the MTN Kampala Marathon at Nyonyi Gardens.