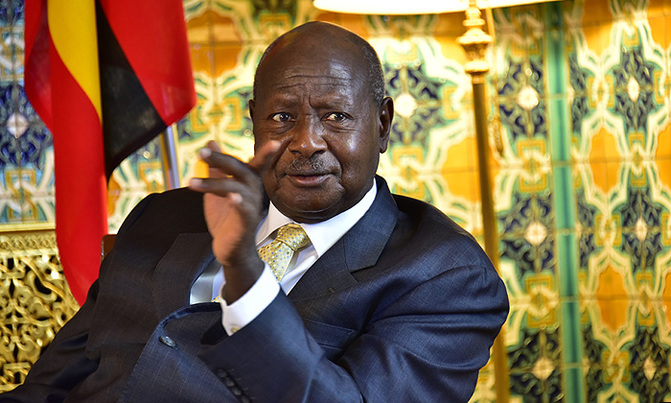 "I have given two days to Commander Sabiiti of the Police to come out with a plan to combat these gangs," says President Yoweri Museveni on the "pigs that are attacking people with pangas and steel- bars".
ROLLING NEWS THROUGHOUT THE DAY


Presented by Joseph Kizza

@joekizza

(Scroll down the page for earlier updates)

_____________________________


4:10pm | Justice John Wilson Natubu Tsekooko

Here is the draft funeral programme for the fallen judge . . .


Tentative funeral programme for Late Hon Justice John Wilson Natubu Tsekooko. @newvisionwire @DailyMonitor @JudiciaryUG @smuyita pic.twitter.com/GCHNejGtZe

— Don Wanyama (@nyamadon) October 15, 2019

_____________________________


3:20pm | Health ministry: 'Disregard false information'

Here is more from that statement by the health ministry . . .

In light of the global burden of Measles and Rubella, World Health Organisation (WHO) recommends that countries take the opportunity offered by accelerated measles control and elimination activities to introduce Rubella Containing Vaccines (RCVs). These combined vaccine delivery strategies provide an opportunity for synergy and a platform for advancing rubella and Congenital Rubella Syndrome (CRS) elimination. All countries that have not yet introduced rubella vaccine, and are prodiving two doses of measles vaccine using routine immunization of Supplementary Immunisation Activities (SIAs), or both, should consider RCVs in their immunization programme.

The primary goal of Measles Rubella vaccination is to prevent Measles and congenital rubella infection, including Congenital Rubella Syndrome (CRS).

In the recent past, Uganda has experienced Measles and Rubella outbreaks in over 60 districts. It is therefore against this background that the Ministry of Health, with support from partners, will conduct a mass Measles and Rubella immunization campaign. The campaign will take place from Wednesday October 16 to Sunday October 20 in schools for the first three days and in the communities for the last two days, targeting all chidren under 15 years of age, whether previously immunized or not.

At the same time, the campaign will be the launching pad to introduce the Measles-Rubella vaccines into the routine immunization schedule of the coutnry.

We appeal to all parents, caretakers and guardians to take ALL your children below 15 years of age for immunization against Measles, Rubella and Polio during this mass immunization exercise. WHO approved the vaccines to be used and they are safe, free and effective.

The general public is advised to disregard false information spread on social media by a one Mugisha Elvis Mbonye on vaccination services offered by Ministry of Health.

_____________________________


3:10pm | Ministry comes out on 'distorted information' on campaign

The health ministry has issued a statement refuting as "false, unfounded and baseless" allegations that have been spread on social media that the Measles Rubella vaccine is hazardous to children's health.

Here is the statement in full:

The Ministry of Health has noted with concern about information circulating on social media platforms by a one Mugisha Elvis Mbonye, alleging that the Measles Rubella (MR) vaccine is dangerous to the health of children.

The Ministry of Health would like to state that these allegations are false, unfounded and baseless, and would like to set the record straight as follows;

For over three decades, immunization has helped reduce infant mortality downwards to 64 percent per 1,000 live births. This has in turn enabled parents to concentrate on developmental issues as opposed to spending most of their time and money treating these known and preventable killer diseases.

Contrary to allegations on social media, the Measles Rubella vaccine does NOT cause autism. Some people have had concerns that Autism Spectrum Disorder (ASD) might be linked to the vaccines children receive, but several studies have shown that there is NO link between receiving vaccines and developing ASD.

One ingredient that has been studied specifically is thimerosal, a mercury-based preservative used to prevent contamination of multidose vials of vaccines. Research shows that thimerosal does not cause ASD.

(More to follow)

_____________________________


2:35pm | Museveni directs deputy IGP on plan against crime

President Yoweri Museveni has come out on the issue of armed robberies, saying he has ordered deputy Inspector General of Police, Maj. Gen. Sabiiti Muzeeyi to "come out with a plan to combat these gangs".



The President has posted his message on Twitter:


Fellow Ugandans and, especially, the Bazzukulu. In a few days, I will get time to respond to your earlier responses. However, for today, I will only comment on the pigs that are attacking people with pangas and mitayimbwa (steel- bars) and robbing them.

I have given two days to Commander Sabiiti of the Police to come out with a plan to combat these gangs. The IGP is away in Peru for a meeting. I will look at that plan, comment on it and it will, then, be communicated to all of you.

It is easy to defeat these gangs. Their crimes will only add to the credit of the NRM because we are going to defeat them. Yet, the People have already seen the bankruptcy and the criminality of these groups and those who back them.

_____________________________


2:03pm | Over 18 million children to get a shot

The fight against measles, rubella and polio is on.


_____________________________


1:50pm | Health minister in Mayuge for mass immunisation campaign launch

Jane Ruth Aceng, who is the health minister, has touched base at Mayuge district headquarters for the launch of the Measles-Rubella & Polio Mass Immunisation Campaign.

She is the chief guest.
Guest of Honor, Minister of Health, @JaneRuth_Aceng arrives in Mayuge District ahead of the launch of the National Measles Rubella and Polio campaign. Under this campaign, over 18 million children countrywide will be immunized against the 3 diseases #MRCampaign19 pic.twitter.com/HnWetWz52K

— Ministry of Health- Uganda (@MinofHealthUG) October 15, 2019

_____________________________


1:20pm | Mayiga tours Joint Clinical Research Centre



The facility has an apheresis machine (worth sh500m). It is used for sickle cell disease treatment.

_____________________________


12:50pm | Immunisation campaign set for launch

By Donald Kiirya in Mayuge:

Today, the health minister Dr. Jane Ruth Aceng is expected to launch the Measles-Rubella & Polio Mass Immunisation Campaign at Mayuge district headquarter grounds.

The campaign theme is: Protect Your Child Against Measles and Rubella - Immunize now.

The mass vaccination will kick off on Wednesday (October 16) and end on Sunday (October 20).



Pupils from various primary schools have arrived at Mayuge district headquarters to be vaccinated.



_____________________________


12:20pm | Teso mourns death of cultural minister

New Vision's Soroti-based journalist Godfrey Ojore says Teso is in mourning following the death of their cultural minister.

Mackay Elesu (pictured), 90, has been in charge of languages. He breathed his last at Soroti Regional Hospital Tuesday morning.


The Paramount Chief of Iteso, Emorimor Papa Augustine Lemukol Osuban, eulogized his minister as courageous, brilliant and committed man who had Teso at heart.

"He loved culture and he has written a number of Ateso books that people read today to enrich our tribes values. His death is like a library that has caught fire," he said, calling on the family to remain united and carry the legacy of their father to greater heights.

Elesu was a retired educationist who served in both President Milton Obote and Idi Amin governments.

His son, Joseph Elesu, said his father had multiple age-related illnesses.

_____________________________


11:55am | 🇺🇬 Let's RETWEET for our homeboy!

Joshua Cheptegei for Male Athlete of the Year 2019. Your retweet counts.


✨ #AthleticsAwards announcement@joshuacheptege1 is one of 11 nominees for Male Athlete of the Year 2019.

Retweet this post to vote for him 🗳 pic.twitter.com/XEim9sE8J4

— IAAF (@iaaforg) October 14, 2019

_____________________________


11:37am | Buganda premier Mayiga tours JCRC

Meanwhile, Katikkiro of Buganda, Charles Peter Mayiga, has made appearance at the Lubowa-based Joint Clinical Research Centre (JCRC) to tour the health facility.

Besides HIV and AIDS care and treatment, JCRC operates a private clinic for general medical care, offering services on a cost-recovery basis.



_____________________________


11:15am | CHAN: Cranes eye Cameroon finals

Speaking of the Cranes journey, McKinstry will be looking to guide his home-based side to the 2020 African Nations Championship (CHAN) finals in Cameroon when they host Burundi for the second leg this Saturday.

Uganda beat The Swallows 3-0 in the first leg.

The second leg will be played at StarTimes Stadium, Lugogo in Kampala.

Local football governing body FUFA tweeted footage of the players undergoing Tuesday morning training and indicated that the team would train again in the afternoon - at 3pm.

_____________________________


11:00am | 'First steps on journey together'

The new Cranes head coach was pleased with his side's performance in Ethiopia and, in a tweet, said the journey has only begun.


Very pleased for all the players, staff & officials to secure a 1-0 away win over Ethiopia to kick-start the next phase of development for the @UgandaCranes.

It is only the beginning, but together we have taken the first steps on the journey together.

🇪🇹🏟️⚽🇺🇬 pic.twitter.com/cJU03TYtFq

— Johnathan McKinstry (@johnnymckinstry) October 13, 2019

_____________________________


10:55am | They are back

Uganda had a friendly with Ethiopia on Saturday, during which Johnathan McKinstry registered his first win in charge of The Cranes. Emmanuel Okwi scored the only goal of the game at Bahir Dar Stadium.


Part of the @UgandaCranes contingent that traveled to Ethiopia for an international friendly returned home today. The rest of the players connected to their respective clubs. pic.twitter.com/e0tDB26wrK

— FUFA (@OfficialFUFA) October 14, 2019

_____________________________


10:20am | Nakaayi basks in USPA honours

Meanwhile, another Ugandan who basked in Doha glory, Halimah Nakaayi, is also enjoying a triumph of her own.

The reigning 800m world champion has been voted the Uganda Sports Press Association (USPA) sports personality for the month of September.



_____________________________


10:15am | Cheptegei continues to shine

Ugandan athlete Joshua Cheptegei is doubling down on his recent achievements. He has made it to the nomination list for the IAAF Male World Athlete of the Year.

The runner has had a phenomenal year - he won the World Cross Country Championships in Denmark in March, before racing to a historic IAAF Diamond League 5000m triumph in the Swiss city of Zurich in August. He then added gloss to a phenomenal year by becoming a world champion in Doha this month.

He is among the 11 nominees - a stellar cast featuring the likes of multi-record holder Kenyan Eliud Kipchoge.


🚨 Nominees for Male World Athlete of the Year 🚨

The nominations of 11 athletes reflects the range of exceptional performances that the sport has witnessed this year, at the IAAF World Athletics Championships in Doha, the Diamond League and in road and cross country events. pic.twitter.com/zjzK30bbIt

— IAAF (@iaaforg) October 14, 2019

_____________________________


9:35am | Two killed in road crash

At around 3:30am today, two people were killed and four others injured when a truck they were travelling in swerved off the road and crashed into a ditch.

Kigezi regional police spokesperson Elly Maate says the accident occured at Hakagyezi stream along Hamurwa Kerere road tall.

The vehicle ( registered as UBE 344D) was driven by one Alex and transported people from Kanungu district destined for Karukara market.

The dead have been identified as Ester Kumara and Ndereya Ngabirano, both from Kanungu. Their bodies, accoriding to Maate, were taken to Kabale referral hospital mortuary for autopsy.

By the time of writing this, four injured have yet to be identified. It is understood though that they were moved to Hamurwa Health Centre IV in stable condition.

The ill-fated vehicle is parked at Rubanda Police Station for inspection while the driver is on the run, Maate says.


_____________________________


9:18am | Measles-Rubella & Polio Mass Immunisation Campaign

The health ministry is in Mayuge district in eastern Uganda to launch the long-awaited campaign, which is targeting children under the age of 15.

In this mass health drive, every child under the age of five will receive the polio vaccine while children aged from nine months to 14 will receive the measles-rubella vaccine.

_____________________________


9:02am | 'Work for the prosperity of your people'



Earlier, I pointed out that President Museveni is back home from neighbouring South Sudan, where he witnessed the launch of the Sudan peace talks in Juba.

Uganda's State House has carried a story on what transpired during the talks.

Here is a bit of it . . .


President Yoweri Museveni has strongly urged political leaders in Africa to work for peace and prosperity of their people and stop wasting time on retrogressive sectarian issues like identity of tribe or religion

The President who started his remarks using Arabic words Tatawir (Prosperity), Hawiya (identity) and Masilaha (Unity) said it was absolute rubbish to waste even one afternoon to talk about identity.

"When faced with tatawir and you emphasize hawiya what happens? What are you going to do? It is absolute rubbish to waste even one afternoon to talk about hawiya. I tell you go to hell. These mistakes that have been going on because of this rubbish hawiya of tribe, religion etc and we have killed each other. When you want to bring prosperity to the people yet you front identity then what are you going to do?" President Museveni said.

The President was this afternoon speaking at the launch of the Sudan peace talks at the Freedom Hall in the South Sudan capital of Juba.

The two-months peace talks convened by the President of South Sudan Salva Kiir Mayardit are aimed at bringing together the leaders of the Transitional Council of the government of Sudan represented at the meeting by General Abdel Fatah Burhan and the over 9 opposition parties in that country that are attending the talks.

Regional leaders who witnessed the formal opening of the Sudanese peace talks included the Prime Minister of Ethiopia Dr. Abiy Ahmed, the Prime Minister of Egypt Mostafa Madbouly and members of the diplomatic corps.

Full story here.



_____________________________


8:50am | Store enough water

Some parts of Kampala will experience water supply interruptions today until 7pm, and according to National Water and Sewerage Corporation (NWSC), this is to "enable our engineers undertake routine maintenance works at Ggaba water treatment plant and other associated system upgrade works".

NWSC has tweeted a list of the areas affected.


LAST CALL: PLEASE STORE ENOUGH WATER.

PLANNED PLANT SHUTDOWN IN KAMPALA
NWSC wishes to inform it's esteemed customers and the general public that there will be water supply interruptions in some parts of Kampala today 15th October, 2019 from 7am-7pm. @NWSCMD @UgandaMediaCent pic.twitter.com/mbO1F63UoP

— NWSC (@nwscug) October 15, 2019

_____________________________


8:40am | President Museveni is back from Juba


I have returned from South Sudan, where I witnessed the launch of Sudan peace talks. I hope that the discussions will be centered in the correct ideology within the factions, to facilitate the building of a new Sudan, in a better-equipped Africa.

That was what the President tweeted after touching down at Entebbe on Monday.



_____________________________


8:25am | Today's Bukedde

Bukedde, New Vision's sister paper, leads with a story that has been developing over the last couple of weeks. Musician Eddie Kenzo is still in the news.

The edition is also carrying a story on a tycoon who was robbed of sh100 at his home.

Read this story - and more - in today's paper or via the e-paper HERE.

_____________________________


8:20am | Today's New Vision

Wednesday (October 16) is World Food Day and in the buildup, today's New Vision leads with a story on nutrition.

The story written by Jacky Achan says that a total of 4.4 million adolescent girls in Uganda are at risk of developing health complications, including anaemia, stunted growth, diabetes and heart diseases as a result of malnutrition caused by poor feeding habits.

Anaemia is known to leave teenage girls at the risk of weakened health and deteriorating quality of life, according to the Fill the Nutrient Gap study jointly carried out by the World Food Programme (WFP) and Office of the Prime Minister last year. The full report is expected to be released this week.

So what's the solution?

The World Food Programme, which is the food-assistance branch of the United Nations, says school feeding is a critical opportunity through which Uganda can improve what its adolescents eat. But the girls need to be kept in school, and their meals must go beyond staples.

It states in its findings that a basic school meal comprised of a staple, beans and fortified oil, such as what it provides in Karamoja, combined with fresh foods, such as dried fish, green leafy vegetables and a vitamin and mineral powder, has the greatest potential to improve nutritional wellbeing.



Read the full story - and more stories - in today's paper or via the e-paper HERE.

_____________________________


8:15am | What's leading in the news today?

Now that we are awake, how about we start off this Tuesday with a peek at today's dailies?


_____________________________


8:10am | Good morning


Feeling languorous this morning?



If it's one of those sluggish mornings for you, the it's wise that you climb out of that comfort that is a bed and crawl all the way to the shower for a morning splash . . .



Don't hold yourself back . . .



Trust me, you will feel a whole lot better after. That shower (or bath) will surely activate every region of energy in you.

Right then, good morning everyone. Let's get this day rolling.