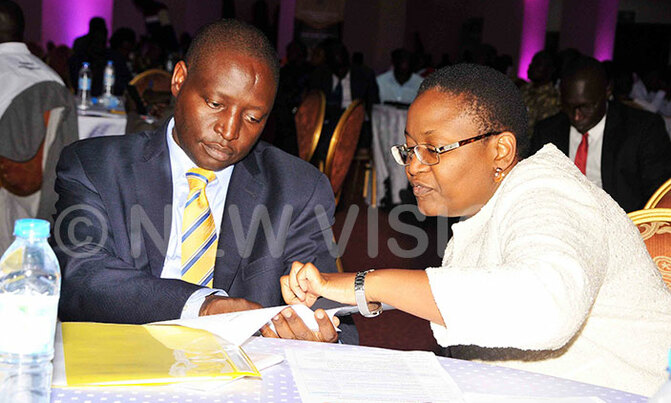 According to the 2016 UDHS report children born to very young mothers are at increased risk of sickness and death.
TEENAGE PREGNANCY
The United Nations Population Fund-UNFPA has asked the government to increase its efforts towards the fight against teenage pregnancy in the country saying it is affecting the attainment of Sustainable Development Goals (SDGs).
SDGs are a set of 17 ambitious, transformative and universal goals with a total of 169 targets that will guide national and local development up to 2030.
According to the UNFPA country representative Alain Sibenaler, teenage pregnancy (25%) still remains an issue in Uganda and, contributing to high school dropout and high maternal mortality rates which affect the country's development agenda.
"Due to teenage pregnancy Uganda is also struggling with high fertility (5.4 children per woman), a high population growth rate of 3.0 percent and a youthful population with a high child-dependency ratio of 103," Sibenaler added.
Sibenaler called upon leaders to stand against teenage pregnancies which also lead to poverty, high school dropout rates, HIV/AIDS, and high maternal mortality rates among others.
"It requires a concerted effort to fight the vice. Let us all ensure the safety of our girls. We wouldn't be here being productive if we were eaten up by teenage pregnancy plague," Sibenaler added.
He noted that teenage pregnancies need to be curbed if Uganda is to achieve its vision of attaining middle-income status by 2020.
"We need improved health services and reduction of these vices. We cannot reach middle-income status if our people are not healthy and girls getting pregnant while young," Sibenaler said.
Sibenaler attributed to the stagnating increase in vice lack of access to contraceptive and family planning.
"We need to empower girls to make fundamental decisions about their own bodies. They must have the power to choose when to get pregnant, which man to marry, choose the contraception to use and have the power to say no," Sibenaler said.
The Uganda Demographic Health Survey (UDHS) report 2016, shows about 25 percent of adolescent women aged 15-19 years were already mothers or pregnant with their first child.
According to the 2016 UDHS report children born to very young mothers are at increased risk of sickness and death.
Teenage mothers are more likely to experience adverse pregnancy outcomes and are more constrained in their ability to pursue educational opportunities than young women who delay childbearing.
Sibenaler's made his call recently; he said the world is marking 25 years since the International Conference on Population Development (ICPD) was held in Cairo in 1994.
At the time, governments globally adopted a revolutionary agreement calling for women's reproductive health and rights to take center stage in development efforts.
This year governments will again meet in Nairobi in November to access the achievements and the shortcomings over the years.
The State Minister of Finance for Planning David Bahati commended UNFPA for its support towards the implementation of ICPD.
"In Uganda, 35% of women use modern family planning methods, an increase from 26% in 2006. The number of women who die from pregnancy-related causes has dropped from 506 per 100,000 live births in 1995 to 336 in 2016," Bahati said.
Bahati said: "child marriage is unbearable and as a country, we should make focused efforts to end it and promote gender equity and women empowerment so as to reduce gender-based violence and the ripple effects of poverty.
Bahati added: "Uganda's GDP is still largely dominated by the low level of productivity in agriculture, minerals, and tourism. Over 68% of the population is in the subsistence economy, with little or no commercial endeavors."
Bahati said: "As a result of the low productivity, job creation in the economy has not kept pace with the surge in the numbers of youths joining the labor force. Sound economic policies are needed to transform economic growth into human development gains."
Bahati said: "Industrialization should focus on areas of comparative advantage, including building on agriculture and the extractive industries that would support the country to move up the ladder of value chains. We need to create jobs for our big young population that will soon graduate to the working-age group,"