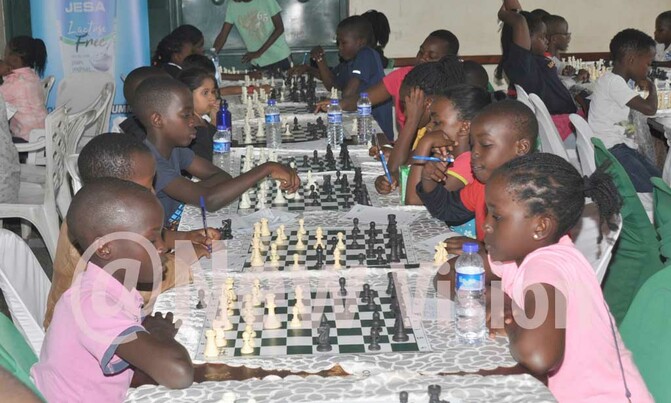 The Chess Championship qualifiers is aimed at developing and growing the quality of chess-play among children in Uganda
Chess Championship qualifiers start at the Aga Khan Primary School today, October 12, 2019, Photos by Michael Nsubuga
SPORTS CHAMPIONSHIP CHESS

Kampala welcomed the fifth round of the Chess Parents and Guardian Association (CPGA) Chess Championship qualifiers at the Aga khan Primary School today.

The Kampala event has attracted the biggest number of entries since the qualifiers started in Jinja in June.
All the top players in the region are in action over the two days of action. They include Shiloh Tandeka, Mary Kevin Ndagire, Janice Namiiro, Nakasi Kiwanuka in the under 12 as well as Ssubi Kiwanuka, Zuri Tatiina, Joyce Mary Ndagizimana and Scarlett Mbaaga in the under-10 among others.
The tournament is designed for players in the U-8, U-10, U-12, U-14, U-16 and U-18 categories, from which the top 6 players in each category will advance to the finals to be played at Sheraton Hotel next month.
The championship is sponsored by Jesa, Stanbic Bank, Sheraton, and Vision Group and runs under the tag; "Creating a Generation of Great Thinkers".
Other CYCC regional qualifier events were held in Gulu (North), Masaka (outer Central), Kampala (Central) and Mbarara (West).
It is the first of it's kind tournament pitting children and youth from different regions against each other in a competitive setting. It is aimed at developing and growing the quality of chess-play among children in Uganda