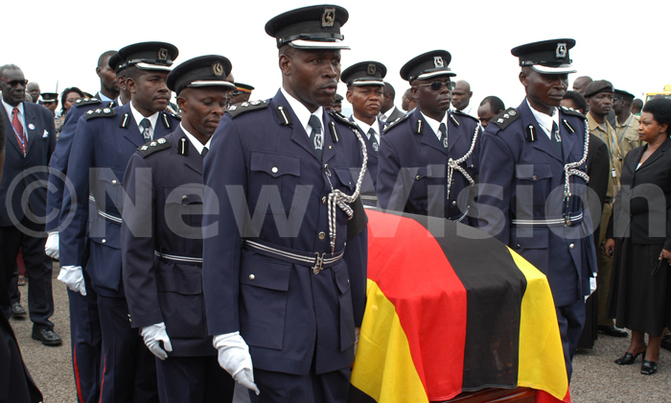 On the evening of October 10, 2005, doctors pronounced Obote dead. His body was taken to Jorrisen Street, a Braamfontein-based Doves Funeral Home.
DEATH OBOTE ZAMBIA EXILE AKOKOLO
On September 9, 2005, Obote suffered a kidney complication and he was flown to Morningside Clinic in South Africa aboard South African Airways.

The first X-ray conducted didn't reveal one of his 5-inch kidneys. This left concerned doctor wondering whether it had been removed in an earlier operation. On October 7, 2005, while on dialysis support, Obote asked for peas to eat. Minutes after, Obote surprisingly slipped into a coma as they prepared to serve him peas.

On the evening of October 10, 2005, doctors pronounced Obote dead. His body was taken to Jorrisen Street, a Braamfontein-based Doves Funeral Home.

It was later flown to Zambia for a requiem service at Lusaka Holy Cross Cathedral attended by President Levy Mwanawasa and his predecessors; Frederick Chiluba and Kaunda.

Thereafter, the body was flown to Uganda. On October 25, 2005, Obote was buried at Abyeibuti village, Akokoro near the graves of his late father and mother, Stanley and Priscilla Opeto.
Obote's grave in Akokoro village in Apac district
In August 2005, Obote had announced his intention to step down as leader of the UPC. In September 2005, it was reported that Obote would return to Uganda before the end of 2005. Unfortunately, he died before he returned to the country he had left 20 years and two months before.


Milestones in Milton Obote (1925 - 2005)
born on 28th December 1925 to Stanley Opeto and Priscilla Aken Opeto.

November 9, 1963, he married Miria Kalule at Namirembe cathedral in a colourful ceremony that was graced by Kabaka Mutesa II (then President).

Prime Minister Apolo Milton Obote takes to the floor with his wife Miria Obote at Acholi Inn

Their reception was held at Lugogo Indoor Stadium. They were wed by Dr. Leslie Brown, the then archbishop. Together they have 4 children, among who is Jimmy Akena, MP Lira Municipality.

He began school at the age of eleven when he joined catechism class later joining Ibuge Primary School, and then Boroboro Primary School near Lira from where he went to Gulu High School, then to Busoga College Mwiri in 1946 up to 1947. At Makerere, he went to do intermediate and studied political science and geography.

Milton & Maria Obote at Henry Kyemba's wedding Namirembe 1960s

He was given a scholarship by Lango Local Government to do law at Khartoum University hence leaving Makerere to go to Khartoum. However, the British did not want anyone from Lango to go and study law at that time. This was communicated to him in a letter that was written to him by the former DC in Lango. In rebellion, he went to Kenya, transferred to Nairobi and later got a job with Stanbak, an oil company.

Joined Kenya Africa Union (KAU)

founder member of Uganda National Congress (U.N.C.) which was formed in 1952.

1956, left Kenya for Uganda to join UNC demonstration against the British government's land tenure system change from communal to private ownership in Lango but arrived after the demonstration had taken place the previous day. He was arrested on accusation of leading the demonstration but was later released.

Independence celebrations, State House in 1962

He joined politics in Lango and began preaching the UNC policy of "Self Government Now; One Man One Vote".

1958, the Legislative Council (Legco) elected him as their leader.

1960, UNC was merged with the Uganda Peoples' Union to later form Uganda Peoples' Congress (UPC) for which he was president.

February 24, 1966, as Prime minister, he suspended the constitution and hence the posts of president and vice president on advice from the Attorney General, Godfrey Binaisa QC. This came as a result of Muteesa asking for massive military assistance from the British High Commissioner, as a precaution against trouble.

April 15, 1966, he introduced the 1966 constitution in parliament whose only difference from the 1962 constitution was to merge the office of the prime minister with that of the president. There were 55 votes for it and only four votes against.

July 31, 1969, Pope Paul VI visited Uganda's first family at their home on Plot 21 Prince Charles Drive at Kololo Hill in Kampala.

1969, at the closure of the UPC delegates' conference, he was shot at, breaking his tongue and teeth. He was taken to Mulago Hospital where a nurse tried to kill him but he was saved by his sister, Mey.

On January 11, 1971, he reluctantly left for the Commonwealth conference in Singapore. While in Singapore there was a coup, Amin planned to assassinate him upon arrival at the airport. He flew to Bombay, then to New Delhi to meet President Nyerere who was on a state visit, and later went to Dar es Salaam.

1980, upon UPC's win of the polls, Obote was sworn-in as the President.

1985, while organising for the December 1985 elections, Tito Okello carried out a coup that eventually led to Obote getting asylum in Zambia where he stayed and lived from August 1985 until his death in October 2005.

He was flown to South Africa suffering from acute respiratory problems where he was admitted to Morningside Medi-Clinic, a high profile private hospital in Sandton City in Johannesburg.